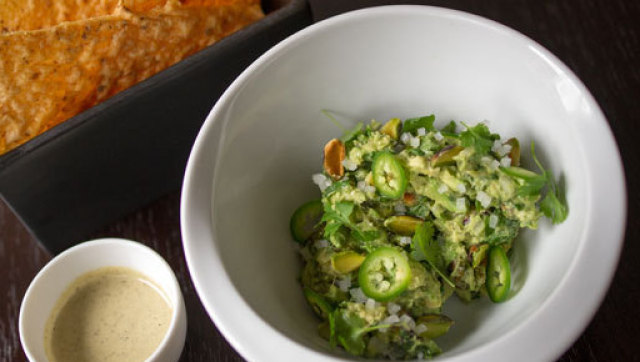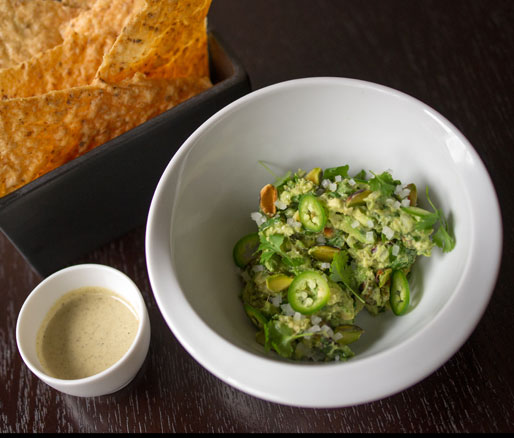 by Anna Mowry
When it comes to guacamole upgrades, we used to think that we had seen it all, but we were happily proven wrong at Empellón Cocina, where the house guacamole comes loaded with pistachios. Chef and wd~50 veteran Alex Stupak, who tells us that his favorite flavor is "crunchy", gently toasts the nuts in olive oil, then folds them into a minimal mix of avocado, jalapeno, onion, cilantro, and lime juice. A little toasting oil, infused with flavor of the pistachios, is spooned over the dip before serving.
The guacamole will be on offer when the Empellón team cooks at the James Beard House on February 4.
YIELD: 4 to 6 servings
INGREDIENTS
1/2 cup olive oil
1/2 cup hulled pistachios, roughly chopped
Kosher salt as needed
1/4 cup minced white onions
3/4 cup loosely packed cilantro leaves
3 ripe Hass avocados
2 jalapenos, stems, seeds, and inner ribs removed, and minced
Juice of 2 limes
METHOD
Heat the olive oil in a sauté pan or skillet over medium-low heat. Add the pistachios and lightly toast for 2 minutes. Use a slotted spoon to remove the pistachios from the oil and transfer them to a paper towel-lined plate to drain. Season with salt and reserve. Let the oil cool to room temperature and reserve.
Place the minced onions in a fine-mesh sieve and rinse under cold running water for several minutes. Set aside.
Roughly chop half of the cilantro leaves. Leave the remaining leaves whole.
Halve the avocados and remove their pits. Scoop out the flesh and place in a large mixing bowl. Mash the avocados with a small potato masher, whisk, or large fork, being sure that the flesh retains some of its texture.
Pour the lime juice over the mashed avocados. Add the chopped cilantro, jalapenos, onions, and three quarters of the pistachios to the bowl. Season with salt and gently fold the mixture together.
Transfer the guacamole to a serving bowl and garnish with the whole cilantro leaves and remaining pistachios. Drizzle with a teaspoon of the reserved olive oil. Serve with tortilla chips.
Find more chef recipes at jamesbeard.org/recipes.