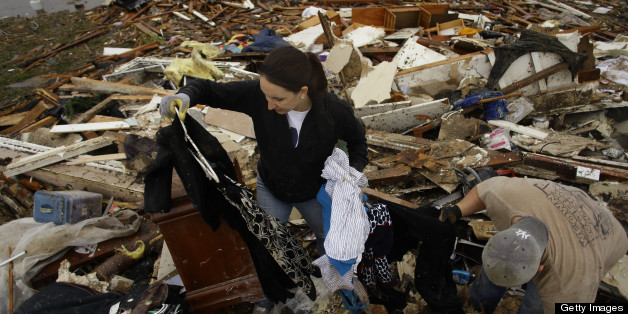 On Sunday, May 19, moments before tornadoes ripped through central Oklahoma, I stood in a backyard near Oklahoma City University, where I teach, and officiated my first wedding.
Then, the tornado warning sirens blared.
Thankfully for our outdoor wedding party, the tornadoes missed us.
My two best friends, Austin and Lacey, exchanged rings and the happy couple kissed in front of friends and family.
The skies cleared.
Unfortunately, about 45 minutes east of Oklahoma City, a tornado swept through Shawnee, Okla. that afternoon, demolishing a mobile home neighborhood and killing a 79-year-old man.
There but for the grace of god go we.
Before Sunday's end, other tornadoes touched down across the state in Edmond (a northern OKC suburb), Luther, Prague, Arcadia and near Wellston.
And then, Monday afternoon came.
Moore, Okla., residents know that they live in the very heart of tornado alley, just as suburban residents in Seattle and Tacoma, Washington, understand that an active volcano, Mount Rainier, rests in their backyard.
On Monday, May 20, a 1.3 mile-wide tornado devastated suburban Moore and sections of south OKC, a horrific reminder that humans can't control everything, especially the weather, no matter how hard we might plan, try, or pray.
This tornado, an EF5 on the Fujita scale, remained on the ground for nearly 50 minutes and traveled eastward across 17 miles, with wind speeds around 210 miles per hour.
Around 2:45 p.m. on Monday, tornado sirens wailed again across OKC.
In Oklahoma, one hears these tornado sirens at least once each spring.
Every Oklahoma grade school student practices tornado drills, teacher-led exercises where we would all run to interior hallways and "duck and cover" to shield ourselves from Mother Nature's wrath (i.e. from super strong winds carrying untold amounts and types of debris).
This particular tornado, however, was quite a different monster.
As the powerful storm ripped through Moore, wiping out entire neighborhoods and destroying commercial businesses, my 69-year-old mother, a retired registered nurse, spoke to me by phone.
She sat glued to her television, as she learned that the EF5 tornado was heading from Moore to where she lived in Midwest City, a suburban enclave home to Tinker Air Force Base located 15 minutes east of OKC.
"They say on the news that there's no way to survive this strong of a tornado unless you're underground in a storm shelter," she explained to me, her voice growing with trepidation.
"And I don't have a storm shelter."
Words can't describe the sense of helplessness blues that I felt in that awful moment.
With every weatherman on local TV screaming, "Don't get in your car," how could I possibly save my mother when I live 15 minutes away in OKC?
The short, gut-wrenching decision was simple: I couldn't. Dear god, I couldn't.
The only thing that I could do was tell her to hide in her house's most interior hallway closet and cover her and her small dog with pillows.
Before the tornado reached Midwest City, however, it dissipated and disappeared into the clouds, a truly sublime moment to watch unfold on live television.
For the next few hours, Oklahomans outside the tornado's path learned about the carnage that the EF5 had unleashed on our Moore neighbors.
News reports warned against coming to Moore as rescue crews searched for survivors.
We learned that the Orr Family had lost their farm and nearly 75 horses.
We heard about young children trapped in two Moore schools, Plaza Towers and Briarwood Elementary School.
Then came the Oklahoma Standard, what former Oklahoma Gov. Brad Henry calls "resilience in the face of adversity. It means a strength and compassion that will not be defeated."
The world saw the Oklahoma Standard immediately after the 1995 bombing of the Alfred P. Murrah Federal in downtown OKC and again following the May 3, 1999 tornado.
It is what Oklahoma writer Nathan Gunter describes as "not only a community's response to a disaster but an exhibition of something essential to the Oklahoma character."
Immediately following the Moore tornado, I heard one question from every single Oklahoma friend on my Facebook news feed: How can I help?
Iguana Mexican Grill, a popular downtown OKC restaurant, started asking for donations for survivors (food, water, clothes).
News 9, a local CBS affiliate, asked viewers to bring donations to its studios.
Churches became shelters for those who had lost their homes.
The Boom, an OKC gay and lesbian nightclub, asked Facebook followers for donations.
Oklahomans volunteered at the Oklahoma Humane Society to help with displaced pets.
People sent trailers and horse veterinarians to Moore to help the Orr family.
My mother and I purchased cat and dog food to donate to the OK Humane Society. I dropped off canned food at Iguana.
We help because that's who Oklahomans are.
We are a resilient folk. It's in our DNA, from the Native peoples who first settled this land to the Dust Bowl to this very moment.
We stare horror in the face, and we perservere because we know that the skies will clear again.
That's what being an Okie is all about.