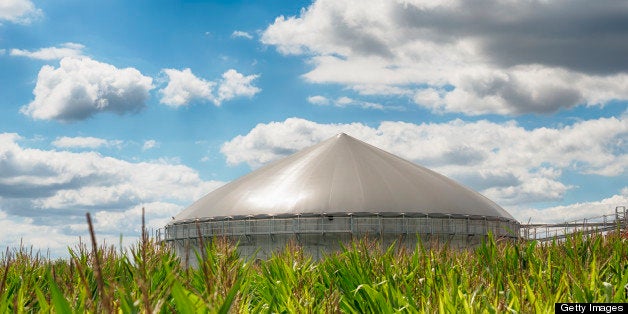 One year, 200 analysts, 850 participants, and an energy report with surprising results came out of this year's Bloomberg New Energy Finance (BNEF) Summit on the 42nd year anniversary of Earth Day. The key takeaway would not found in the analysis, but in the summit's message of "ROI."
A double play on the term for investment, BNEF CEO Michael Liebreich and his research analysts drove home the importance of the new acronym from a renewable energy vista: "Resiliency, Optionality, Intelligence."
The ROI for sustainability.
Why were these three words important? Perhaps the for first time in a while, the promise of renewable energy was delivered through a lens of energy reality. No false promises. No hype. Renewable energy investment is down to 2009 levels.
Why the decline in investment? At the core of any early, transformative segment within an existing industry there's volatility and uncertainty. Not the prescription for safe harbor of investing. Contributing to the decline has been a variety of factors, from incremental steps in innovation to a still fragile economic recovery.
At the opening press conference, BNEF released details of its report: "Global Renewable Energy Market Outlook 2013." Delivered by Guy Turner, Director of London-based New Energy Finance, he laid out three scenarios: Traditional Territory, the New Normal, and Barrier Busting growth that forecasts 3.5 percent surge in the global economy over the next 25 years. There is plenty of investment opportunity ahead.
As a result of the fluctuation in energy prices, Turner went on to underscore that the countries with the most growth will be found outside the developed economies, which already have "a high penetration of renewables." He sees the Middle East, North Africa, and Asian countries for the strongest growth in renewables. "But in the OECD, demand is dropping with spare capacity in the loosening of fossil fuel supply that will fill the gaps," he said.
The report foresees an extra investment in storage, backup, and transmission systems with 57 percent growth in new power generation will be renewables. "Underlying all of that is the cost of technology will continue to drop, which will drive the penetration for new products," he said. In Europe, he pointed out, "Efficiency improvements and poor economy will keep prices down. There will be a fairly steep reduction in fossil fuels usage."
ROI as the New Hallmark of Renewable Energy
The term ROI wasn't confined to Turner and Liebreich. Mark Taylor, head of research into what BNEF calls NICE (non-intermittent clean energy sources such as geothermal, biomass, hydro, carbon capture and nuclear power), discussed geothermal opportunities. He explained how the world has only tapped 6 percent of the total knowable reserves of 196 GW of geothermal energy potential. He used a graph to show that most geothermal wells were stuck on the far left of a long horizon chart at the "go", "no go" decision gate. That is due to the high costs -- in the millions of dollars -- of drilling the exploratory wells.
In an earlier session that Tuesday morning, Liebreich gave an inspired ROI speech, going into detail on the deeper meaning of each letter in the acronym. Before he got there, he said, "Asia offered tremendous growth and investment in renewable energy. China will do a 2 to 1 investment in the sector over the U.S."
He noted that gas is a regional, not a global market. "What we don't know: What will be the cost of extracting shale gas in China? And that's an important question."
On Resiliency, Liebreich asked: "Don't ask what is the expected outcome? Ask what is the worst that can happen? The first responsibility of investment manages is not to lose the assets invested, before they start to earn returns."
With that setup, he repeated the word "shocks." Shocks in energy. Shocks in cybersecurity. Shocks to water supply and demand. Shocks to information systems. "Threats and uncertainty. Is the Tar Sands shale socially acceptable?" he wondered. "Climate change is the biggest source of uncertainty."
On Optionality, Michael Liebreich discussed investment flexibility. He listed energy efficiency, power storage, and demand management as keys to optionality. He also spoke about operational options, from natural hedges and R&D, to diversifications in sector, market, and value chain.
In explaining Intelligence, the New Energy Finance CEO bemoaned the tsunami of too much information. "Are you surfing or are you drowning?" in too much data. He clicked through slides on smart grid, machine knowledge, human intelligence, and the networked world. To understand human behavior, you must know the mammal heuristics. The trial and error, the experimenting. "Not everything can go onto a spreadsheet. So we take shortcuts to understand the world, to scale, to vertically integrate."
He finished with the question, "Are you a dinosaur or are you a mammal?"
Interview with Michael Liebreich
Later that morning, I sat down with Mr. Liebreich in the Grand Hyatt Hotel in midtown Manhattan, where the BNEF Summit was held.
"What has changed in the last two years?" I asked, since attending the BNEF Summit in 2011.
"Four energy realities have come into very sharp focus in the last two years," he began with his British, no nonsense, authoritative voice. "Unconventional oil and gas: The revolution is real and substantial. Energy intensity: We now have five to six years since the big shock of the global financial crisis. We now have the data; we can interpret the past five years. In the developing world we see a return to economic growth with falling energy use. Meanwhile, China has reversed the trend from the first few years of this century towards a more energy-intensive economy, and it just keeps going.
"The other two new energy realities are cheap clean energy, and the extraordinary change going on in energy, the difficulty in forecasting where we'll end up."
He noted that there is a mindset to "control, but we can't control the period of turbulence. We need to be more nuanced in strategies, much more nuanced in technology."
At the close of day one, the BNEF "New Pioneers" took stage. In a competition with more than 200 companies, the top ten were selected with each firm giving a three-minute presentation of their company, technology, and solution. Each one of the CEOs was a seasoned veteran with deep domain experience.
"The Pioneers have substantial revenue already. They are led by serial entrepreneurs," Liebreich said. "This year is the Pioneers' fourth peer group. The intention of the competition is for the Pioneers to meet with experts in finance, policy, economics. Our core expertise at BNEF is in finance, policy and economics. But we need to keep track of changes in technology. The Pioneers help us give our clients three to five years foresight into significant trends, which will affect their business."
More Pioneers and Future of Energy
A complementary sponsor at BNEF was Zayed Future Energy Prize, a United Arab Emirates government initiative that launched in 2008. Dr. Nawal Al-Hosany, who has a Ph.D. in Architecture and is the Director of Sustainability at the UAE clean tech investment firm Masdar, leads the $4 million annual prize.
In sitting down with Dr. Al-Hosany, she said, "Masdar offers a complete value chain to renewable energy. Full development from R&D with a commitment to investment. We have an integrated, holistic approach. A university with a clean power investment arm for sustainable development globally."
She explained Zayed Future Energy Prize was created to "bring honor to the nation and to the memory of its founder, Sheikh Zayed, and to inspire innovation, identify leadership and ideas."
She noted, "For the Prize winners the challenges get bigger. How to expand their distribution methods and client base." In a word, become part of the global fabric in clean power generation.
"In the next five years, the Zayed Future Energy Prize will grow into an innovation hub, a community hub. Enlarge the technology community for renewable energy."
To echo her sentiments, Michael Liebreich said, "Our role in the marketplace is to serve the finance community, serve government, big companies, tech companies. We sit in the middle. We translate and network, as energy is a multi-stakeholder sector. You can't be an entrepreneur in the energy sector with no contact to the government or big energy companies."