To think that Akamai, guiding a third of the world's web traffic, was created at the apex of the Dot Com era in 1998, went through their IPO in 1999, survived the Dot Com bubble bursting a year later, suffered the loss of its founder Daniel Lewin being killed as he tried to prevent the hijacking of American Airlines Flight 11 that crashed into the North Tower of the World Trade Center on 9/11, and which the company almost went bankrupt in 2003, is a story to behold. It's even more impressive that the company known for the 'backbone' of the Internet with respect to their Intelligent Platform™ has risen again.
Daniel Lewin, whose name now is carved in granite at the World Trade Center Museum in lower Manhattan, was an American-Israeli and a MIT graduate. He developed the algorithms with a MIT professor that became the foundation of Akamai's Intelligent Platform, and has indelibly left his mark on a company that has pulled out of many troughs and economic downturns in a hyper competitive world of technology.
Like a flowing river that swells with spring floods and contracts in droughts, Akamai has soared out of the 2008 Great Recession chasm as a stronger, better, and more secure company. Mr. Lewin would be proud of that achievement today.
With a Hawaiian name that translates to "cool" and "intelligent," Akamai's Intelligent Platform spans the globe, delivering five pillars to the hyperconnected world: Web, Enterprise, Security, Media, and Network.
At the Cloud East Expo in New York, Akamai didn't disappoint. Besides two informative and lively presentations by Gary Ballabio, Product Line Director Enterprise Web, and Neil Cohen, VP Global Product Marketing, at its booth Akamai showed its vast reach in real-time on a plasma screen of with a million rays of lights at datacenters around the globe, or what they refer to as the GNet application for 'Global Network.'
The Last Mile of the Internet
In a technical brief, "Front-End Optimization on the Akamai Intelligent Platform," it shows a graph on the web pages loading in terms of back-end (10%) or database calls time to the middle mile and front-end last mile (90% combined) "delivering content to the end user." Without the Front-End Optimization (FEO), which streamlines both the number of HTTP requests and the size of the data, speed for loading and opening webpages would be greatly diminished. With FEO there are few requests and few bytes of data.
In reading the white paper, there's an entire section devoted to Mobile Performance Optimization that profiles the limitations of the cellular networks, browser, and devices. Again, it refers to freeing the bottlenecks of the "last mile" in terms of page and DNS "prefetching" and image placeholders.
Just as important as performance to Akamai is security and the prevention of data loss from Distributed Denial of Service (DDOS) attacks, for which, "DDOS has become the weapon of choice for multiple types of attackers, from political activists to criminals, and potentially even nation-states," as noted in a separate Akamai brief: The State of the Internet Q4 2012.
In the paper, pie charts show how the breakdown of DDOS attacks across sectors, from Commerce (269 attacks) and media/entertainment (164) to enterprise (155) and high tech (110), with public sector (70) bringing up the rear.
The rest of the "State of the Internet" report focuses on "Internet Penetration" by globe and continent, "Mobile Connectivity," and "Internet Disruptions."
Where is Akamai today?
It provides its Intelligent Platform to 9 out of 10 top banks in the world, the top Fortune 60 companies, and many other breathtaking statistics, which shows the confidence level of their enterprise clients for their secure platform and Internet reach.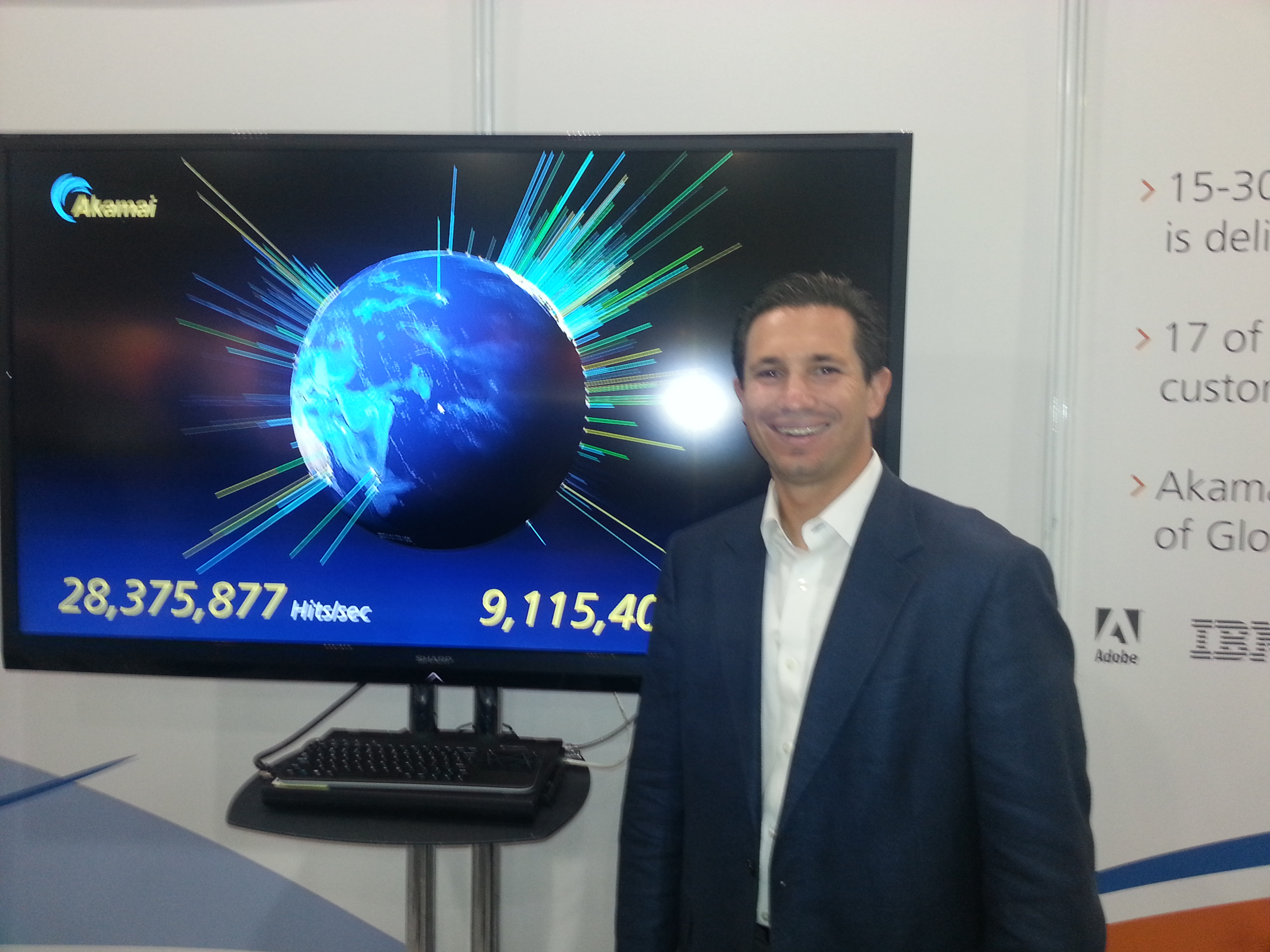 Photo Caption: Akamai's visualization of its globally distributed computing platform (credit: James Grundvig)
Interview with Akamai's Gary Ballabio
Sitting down with Gary Ballabio in front of the Akamai Internet traffic screen, which updates continuously and provides a lens that visualizes global Internet performance, he said, "We have over 120,000 servers located around the world in 80-plus countries that accelerates the delivery of content on the webpage of things, enterprise websites, and the streaming of media."
"What about the explosion of Software-as-a-Service (SaaS) for the enterprise. How does Akamai help accelerate the SaaS ecosystem?" I asked.
"We are moving from Internet adoption to driving cloud/mobile adoption with more and more businesses. Mobile is huge. BYOD, the consumerization of IT," he said. "More people are relying on business critical access. Companies care about the experience on the end. So performance mitigates costs in a centralized environment."
"Will the experience and performance slow down cloud adoption?" I asked.
Young, personable, focused, Mr. Ballabio answered, "The end user experience is critical to the success and adoption of any application running over the Internet and ensuring that global users accessing a centralized environment is optimal from a cost perspective, enterprises want to figure out a way to enable that." He paused, and added, "Our customers are adopting cloud services to reduce complexity, increase agility and we help them ensure optimal user experience for any global end user while minimizing the number of locations they need to build. So that drives down costs, but at the same time we can also provide services to help secure that data, which is also very important to the enterprise."
"What about security in the Cloud?" I asked, without mentioning the NSA data troll.
"Security in the cloud is critical. Of course when you work with Akamai you get a natural defense mechanism, because we are a distributed platform, so that can help from various distributed denial of service (DDOS) attacks. As the same time, you can protect yourself from application level threats, which we can detect and react to in real time," he said.
"What about Big Data transfers over the Internet? How can you help enterprises from that perspective?"
"It's exciting from our standpoint. There are large enterprise companies, construction companies, maintenance information, machinery and the supply chains around the world. These companies collect a lot of data around the world, aggregating it for analytics. Many of them have set up intermediary points to collect this data and they end up asking a question: How can we ease this transfer of data and eliminate these aggregation centers and just send the data directly to a centralized point? This is an area of focus for us. We see it as an opportunity to help companies eliminate these aggregation points and transfer the data to their analytics centers more reliably."
Gary Ballabio sees this as "the power of the Akamai platform."
As the world transforms with the automation of knowledge workers, mobility, cloud computing, and the Internet of Things, which include hyperconnecting sensors and devices, Mr. Ballabio foresees a transformation in the B2C web technology across a lot of verticals.
After discussing the importance of design over an Internet portal, a mobile per user per device metrics, the fragmentation of the different device protocols--Nokia, Blackberry, Apple's iOS, and Google's open source Android--he sees collaboration as another layer to get into as far as the push and pull of data around the world.
On that end, he said, "Front line training and IT training will be critical, as enterprise teams embrace more collaboration tools over the Internet."
In putting Akamai's next phase of growth--no longer survival--into perspective, he said, "We need to protect the applications environment. That includes all initiatives, cloud, big data, BYOD to leverage the intelligence platform, where we will enable the strategies of the enterprise by meeting their deadlines and help contain costs."
Coming out of the interview and panel discussions with Akamai, I wondered what the Internet world would look and perform like without them. It's a what-if scenario that we should be glad didn't come true. We can also thank Daniel Lewin for his spirit that has inspired Akamai to become the success story that it is today.