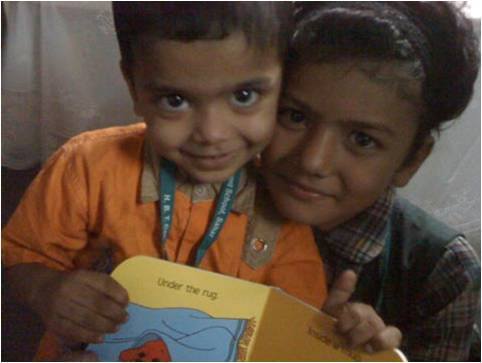 Why you might want do this I don't know, but let's pretend anyway that you're a 3-year-old boy in Mumbai and your parents and sister just died, leaving you totally alone in the world. Fortunately, instead of living in the streets (or worse), you wind up in an orphanage. Orphanages qualify as "Islands of Safety," right?
Now pretend you're still not sure of all the strange faces of the other parent-less children and you still need something to hold on to. Luckily for you, you're in an orphanage with a dedicated library, including reading rug and volunteer to help guide you. You grab hold of a book, Clifford the Big Red Dog, and you page through it again and again, refusing to let it go.
The book becomes your new Island of Safety, and you keep it with you always. Rajeesh, as you've probably already figured out, is an actual boy, and for him this is not pretend.
Bookwallah, which I've mentioned before, serves orphans and children who've experienced trauma early in their lives by building libraries, but also solicits volunteers to read and spend time with these children. They've built libraries in India, Indonesia and Ghana, and are committed to opening more wherever children are in need. They impact outcast boys and girls who are rescued from brothels, victims of child labor, HIV infected, or abandoned for societal reasons, but they accomplish so much more.
Studies show that children with Adverse Childhood Experiences (ACEs) are more likely to act out in school, to become criminal offenders, smoke, do drugs and attempt suicide. Daniel Boorstein, author of How to Change The World, writes in the New York Times, "the way to help children is to create an environment in which they feel safe and can build resilience."
These Bookwallah libraries make sense, then, on many levels. They save society time, money and pain later on, but they also offer a chance to change the world. Hyperbole? Not really. In fact, here are four reasons to value orphans: Aristotle, Johan Sebastian Bach, Herbert Hoover, Steve Jobs. Want a longer list? Google it. You'll be surprised.
So in a series with the goal of helping us create Islands of Safety to support us in our journey across the Inconsistent Sea it's a natural "port of call" for me to write one more time about Bookwallah and their amazing effort to provide children in orphanages around the world with a little more security, a little more hope. They are primarily in India now but their goal is to expand wherever there is a need.
Every day 5,760 more children become orphans.

Studies have shown that 10 percent - 15 percent of these children commit suicide before they reach age 18.

In the U.S., 397,122 children are living without permanent families in the foster care system; 101,666 of these children are eligible for adoption.
Seena Jacob, founder of Bookwallah, has a very personal story of how books helped her through some difficult times in her own life. For myself, as the 13th born in a family of 14, when my dad died when I was 11 and, as the resulting stress nearly incapacitated my mother, there was talk of "farming us out" to family members or of splitting us up. I came too close to being an orphan myself to not appreciate the real feeling of "being adrift in the world."
We'll continue the series of Islands of Safety and touch on topics and "safe harbors" of all types and, hopefully, this concept of vulnerable children is foreign and far away to you and yours, but it is a good idea to take a moment, visit bookwallah.org, or any of the many fine organizations that offer care and support for orphaned children, and do a little something to help them out.
Go ahead, check them out. I'll wait.
Maybe they can't, though.
P.S. -- If you're interested in Bookwallah and want to meet me and get a free signed copy of my book, The Hamlet Secret, plus a free one-hour coaching session, just register for the Bookwallah Dream Launcher event in Chicago on September 18th, 2014.