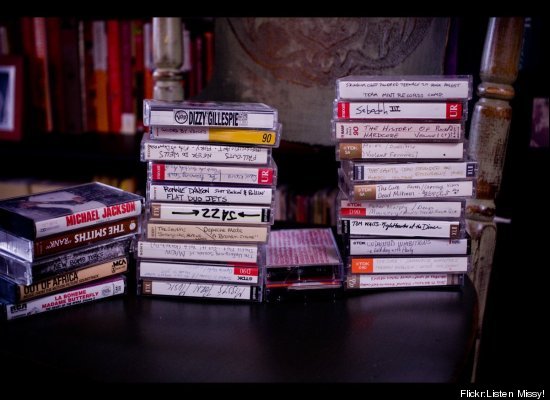 "It was terrifying," said a still-shaken David Winters, recalling the moment that recording industry officials burst unannounced into his apartment. "I had just come across some old cassette tapes while I was housecleaning, and that's when they kicked in the door."
Winters went on to describe how representatives of the music industry's elite anti-piracy squad asked him to step aside while they manhandled the collection of mixtapes he had
made in college, in the years before downloadable music became readily available.
"I get an involuntary shudder just thinking about it," Winters recalls. "They looked at the handwritten playlists on the cassette sleeve, and one of them let out a long, low whistle, saying they had found the mother lode. It was creepy."
The mother lode to which the industry official referred was Winters' well-known aptitude for connecting all the songs in his compilations via a theme or the use of wordplay.
"Dave was legendary at theme mixes," recalls college friend Lionel Chapman, who only agreed to be interviewed after he had safely destroyed all the mixtapes he himself had recorded from both CDs and vinyl years ago. "He would start, like, with "Steal My Sunshine" by Len, and that would go into "Walking on Sunshine" by Katrina and the Waves and then it would be, like, "Sunshine of Your Love" by Cream. Then, before you even knew what he was up to, Dave would follow that with "Cocaine" by Clapton, you know, since Clapton was in Cream, and then you'd be off on a run of six or seven drug-related songs by other artists. And his musical knowledge was encyclopedic, man. Did you know a lot of those old blues songs were about getting wasted?"
Chapman went on to concede that the sobering thought for his old buddy Winters was that he might now owe Len, Katrina and the Waves and Eric Clapton, among others, hundreds of thousands of dollars in unpaid royalties.
"I called my ex-girlfriend as soon as the agents left," Dave said. "Just in case she still had the mixtapes I made to try and seduce her back in college."
But it was too late for Amanda Fielding, nee Roberts, who had married since breaking up with Dave and now lives with her husband and two children in Richmond, Virginia.
"They found me," Amanda revealed. "The fact is I was still holding onto those old mixtapes of Dave's. It was a special part of my youth and I guess I just didn't want to see it go. The guy wooed me with this incredible, eclectic mix of music. Everything from "Laid" by James to that one song about non-conformity by the Indigo Girls. And, of course, the obligatory Billie Holiday number to reflect his ultra-hip retro sensibilities and the irresistible appeal of his unspoken inner turmoil. And as if that wasn't enough, there was barely a second between one song ending and another one beginning. He really had the segues down."
Now, Fielding laments, not only is she being charged with possession of pirated music and might herself owe money to the estate of Billie Holiday, but she is also getting the dagger eyes from her husband, who had no idea she was clinging to the memory of an old boyfriend through the hoarding of his stunningly original mixtapes.
Winters' case will likely be in litigation for many years, but since it represents only the beginning of the music industry's crackdown on DIY compilation tapes, he sounds a warning to every lingering analog aficionado out there. "Don't do what I did," he says. "Destroy them now. Don't be sentimental about any of the music, or of the mix tape abilities you had as a younger person, no matter how prodigious they might have been. It's just not worth it."
"Besides," he adds, "all of the songs you put on cassette back then can probably be downloaded somewhere on the Internet for free."
James Napoli is an author and humorist. More of his comedy content for the web can be found here.