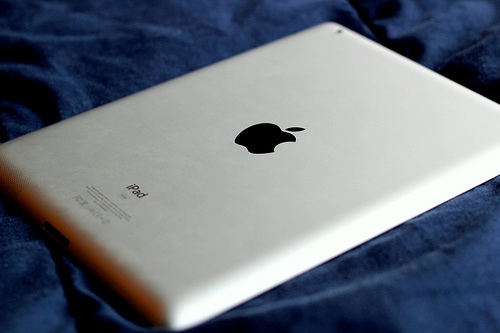 You will not believe the lifelike photographic resolution on the New iPad. The new Retina display has, like, four times more pixels than the previous model -- 3.1 million of them. Plus, it's got 2048-by-1536 resolution and amazing color saturation.
I'm telling you, these photographs of the Chinese workers at the Foxconn plant look like they are right in the room with you.
It's great, too, because there are all sorts of other poorly paid workers in all kinds of technology factories everywhere, and the pictures of them look awesome, too. So real! I've even got some shots of all the Americans left jobless by that industry's move overseas. And let me tell you, their expressions of sadness and disillusionment with a system that keeps making big companies say setting up shop elsewhere is their only viable option -- well, they just look so incredible on that high-resolution screen.
Well, I have to go. The New iPad has a ton of movie making apps, and I want to snag some 1080p footage of my dog playing the zither.
James Napoli is an author and humorist and hardly blind to the tragic irony of having typed these words on his beloved iMac. More of his comedy content for the Web can be found here.