According to Gallup polls, Obama has an approval rating of just 46%. Approval ratings, to politicians, are like blood to vampires. Without them, they die.
In Christchurch, New Zealand, The Press did a poll to determine approval ratings for various individuals. Prime Minister John Key, of the conservative National Party, had 74% approval, Christchurch Mayor Bob Parker was at 63% and the Anglican Bishop Victoria Matthews was near the bottom of the pack at 45%.
As well as Key was doing, he was not at the top of the list. All of these celebrities were bested by a gay, 23-year-old student from Canterbury University named Sam Johnson. The Press survey showed Sam's approval rating to be an unheard of 98%.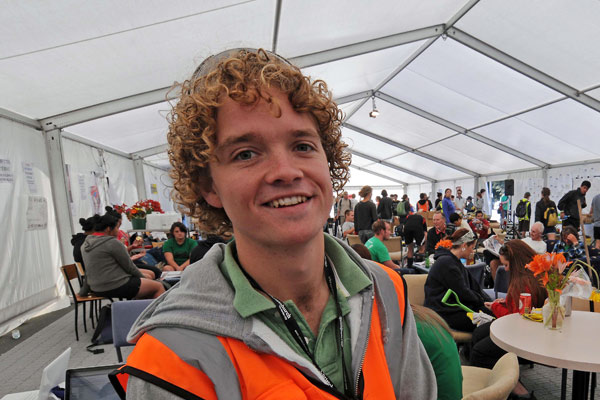 Sam, a board member of the The UpRising Trust, a local gay community organization, says, "A lot of people meet me and don't realize I'm gay." But being gay has been little obstacle to Johnson. In 2010, he ran for a local community board as a National Party member. He was one of the four individuals elected.
He didn't come to fame, however, until September 4, 2011, when a massive earthquake shook Christchurch. Damage from the quake and from liquefaction was extensive. Sam watched television, saw horrible damage, and went to Facebook and saw the typical student reaction was to have a party celebrating surviving. Sam thought the response should have been different.
He created a page inviting students to join him the following day, at a precise location, and to bring shovels, brooms, work boots and wheelbarrows. They were going to the neighborhoods to help people clean up their streets.
Over 100 university students joined him that day. They were a student army of volunteers and Sam was their commanding officer. More of them kept showing up each day and soon Sam was running a call center for those in need of assistance. He'd send students to their homes to help. In other areas, he had students going door to door, volunteering to offer a hand to locals, especially the elderly.
Students were encouraged to be a visible presence on the streets, offering comfort or pointing individuals in the right direction when they needed help they couldn't offer. Old ladies would come out with tea for them, and bless them for their help. Mud disappeared from yards, rubble was cleaned away and people who needed just a smile got that as well.
The
New Zealand Herald
wrote
about Sam's student army two days after the quake:
An entrepreneurial Canterbury University student created a Facebook event page that brought 300 students, carrying shovels and wearing gumboots, on to the streets of Halswell and Hoon Hay ready to help affected residents.
Two days after the quake, Johnson, then just 21, had 1,356 student volunteers on the books. Resident Ellen Cooper said students came to her door offering to help. "If anyone has never had faith in young people," she told the Herald, "well, now they should."
Not everyone was thrilled. Local bureaucrats loathed the idea of volunteer help and Johnson considered giving up.
In the early stages, Mr Johnson says, Civil Defense tried to either shut down or take over the operation because of the risks of students going into a disaster zone.

Some senior city council staff and Army personnel were also particularly 'anti' it". Mr Johnson was told he could be held personally liable if something bad happened to any of the volunteers.

Certainly there were times when I thought, 'Why are we bothering to do this, if we just hit roadblocks the whole way through?"
Even if bureaucrats, anxious to protect their turf, weren't grateful, the community was. Then on February 22, 2011, it happened again. Already weakened structures came down, including Christchurch Cathedral, and 181 were killed.
Sam Johnson's army of students was there. By now, they had grown to 9,000 volunteers. This time, the welcome Johnson and crew received was different. Mayor Parker said:
He inspired a whole city, and actually a whole nation. He delivered to those most in need in our city. He was one of the great heroes of the Christchurch earthquake.
Prime Minister Key told Johnson, "At the worst of times you see the best of New Zealand. You are the best of New Zealand." He suggested that Johnson might one day be elected to his office. This year he was named Young New Zealander of the Year after being given the Sir Peter Blake Leadership Award.
Johnson is already feeling pressure to run for parliament, but says he's far more interested in finishing his degree first. Meanwhile, he has traveled to Japan to help set up a student volunteer army there, and is looking to do the same in the United States.
After reading about Sam's accomplishments, and his 98% approval rating, you have to wonder: "Who were the 2%, and what's wrong with them?" When the first openly gay prime minister of New Zealand is elected, there are decent odds his name will be Sam.
Below is a video which gives you an idea of how the Volunteer Student Works and shows you some of the work they've done.