Debating between the apple earrings and a coffee mug to give your favorite teacher for Teacher Appreciation Week? Oops, did you forget that it's Teacher Appreciation Week? Now that you've been reminded, does it matter?

If you're like me, there's at least one teacher who believed in you, who inspired you, who opened up a new world of learning and discovery. A teacher you'll never forget. Mine is Mr. Greco, and I wouldn't be who I am today if he hadn't planted seeds of inspiration back in the seventh grade.

Now I've got school-age kids of my own. I entrust their teachers with their education and well-being every day when I drop them off at school. Five days a week, my kids spend more of their waking hours with their teachers than they do at home with us.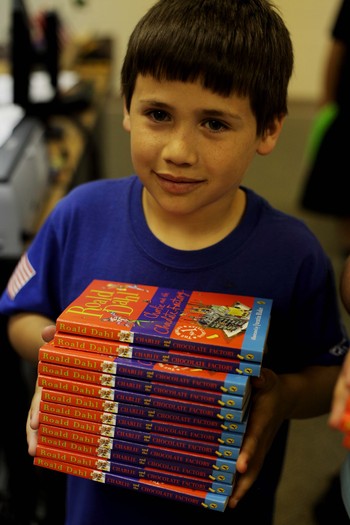 A Henryville Elementary School student
At times, our kids' very lives can depend on those teachers. That's what happened earlier this spring when a tornado ripped through the small southern Indiana community of Henryville. Henryville Elementary was completely destroyed, but not before teachers and staff safely evacuated every one of its 700 students.
Henryville Elementary is rebuilding now, thanks to the incredible efforts of the school's teachers and staff. I'll be visiting Henryville today, along with Adopt-A-Classroom's long-time partner, OfficeMax, to offer our support in the form of funds to help the local teachers resupply classrooms that had lost everything -- from books and furnishings to art supplies and science projects.
On Tuesday, at the church that now doubles as the temporary home of Henryville Elementary, on National Teacher Appreciation Day, I had the honor of attending the school's morning assembly and presenting each of the 40 Henryville Elementary teachers with more than $1,000 to purchase supplies that meet the unique needs of their classrooms.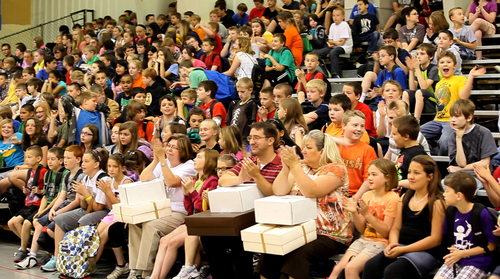 Henryville Elementary School students and teachers at assembly on National Teacher Appreciation Day
I did a lot of applauding that morning. Out of appreciation for what these teachers and staff have accomplished for the kids they teach and care for, and out of gratitude for educators everywhere who might someday do the same for my kids or yours.
So if you're torn between the Teacher Appreciation Week earrings and the coffee mug -- and your budget permits -- go for both. Or better yet, talk with him or her and find out what classroom supplies they need most. Perhaps you can help. Whether in a note, a gift or an offer of support, the important thing is to take a moment this week to say thank you.
Who was the teacher that changed your life? I invite you to share a memory of your favorite teacher in the comments.