This piece was originally posted at the MTV Music Blog
For those who only buy their music on iTunes, Amazon.com, or other online digital music services and retailers, the idea of walking into a "brick-and-mortar" record store and plunking down cash for a physical, mechanical reproduction of a recording (also known, for you youngsters, as a "CD" or "LP record") might seem like a royal pain in the ass. Or perhaps the record shop simply seems like a relic from a bygone era of original Star Trek episodes and 8-track tapes, the province of nerdy, still-goateed Dads who huff and puff that "there are no good bands anymore" (um, not true) and insist that a McIntosh tube amplifier is way better than anything solid-state (um, basically true).
Still, in respect to this month's Third Annual Record Store Day (April 17, 2010), before you dismiss the independent vinyl and CD shop as hopelessly outmoded, ask yourself when was the last time you had an stimulating chat about rare '60s garage-psych bands or the hippest new British electro with one of the sellers at iTunes or Amazon. Right: trick question--they don't have actual people selling records at those sites, of course. Instead, you get the "Genius Sidebar" and "Recommendations," non-humanoid taste-bots that spit out preferences based on your buying habits, all lovingly thought through by a giant server somewhere. Is that really how you want to be turned on to cutting-edge new music and under-the-radar classics? ("Yeah, dude, I got hipped to the awesome new MGMT record by a Hewlett-Packard BladeSystem Matrix.") Sweet.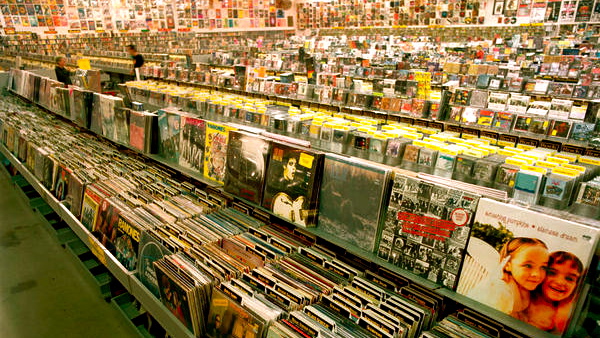 Okay; those taste-bots are a handy part of the home computer mix, I'll confess, but they're no replacement for wandering the aisles and bins of a proper record shop, checking out the featured albums that the store displays to pique your interest, talking turkey with the guys and gals at the counter, and knowing that the money you spend not only buys you a superior product sonically (vinyl and CD quality, of course, literally crushes the tinny sound of MP3s) but helps to support a small business that genuinely cares about putting great music into the world. Do we really want our music consumption controlled entirely by corporate fat-cats who themselves listen mainly to mid-Nineties Phil Collins? Thought not. And while the dudes and dudesses at your local indie record store may not always answer your questions without a certain whiff of hipster snobbery, it's a good bet that your journey of discovery will take turns that you'd never have traveled while surfing the web.
What's more, a good record store acts as a kind of brain trust and cultural meeting place for the music scene that surrounds it. "Hanging out in record shops" is a time-honored way to connect with like-minded (and like-eared) enthusiasts, find out what cool gigs are happening in town, and even meet other musicians who may also be looking for a band influenced by "My Bloody Valentine, Kid Creole, and the Fugs." Getting to know the people behind the indie record racks is a great way to stay plugged-in to the local music scene; without them, you're arguably just another isolated post-modern punter trolling the internet in your Crocs. Whether you're picking up "rare groove" sides by Donald Byrd and Mongo Santamaria and sampling them into Ableton Live, or buffing out your collection of Dick Dale and Ventures singles to brag about in the pages of Goldmine, you're likely to bump into someone who shares your passion.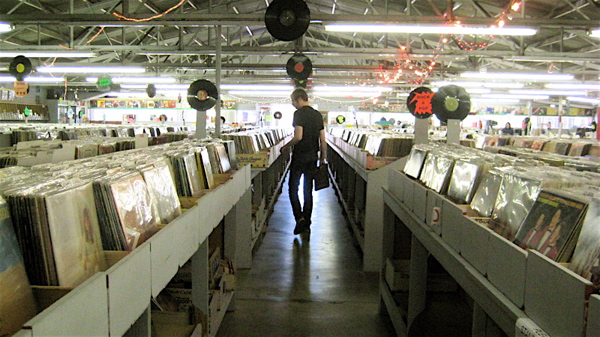 As vinyl records continue their remarkable comeback as a viable, even premium form of music enjoyment, the indie record store becomes even more indispensable, a place of vinyl worship where devotees of the LP congregate to buy, sell and celebrate the sheer pleasure of the polyvinyl chloride-based spiral platter. While the wonderfully visceral thrill of watching the needle on a turntable make contact with the grooves of an LP--and hearing those first comforting crackles and snaps--is easy to rave about, so is the visual force of pulling a full-size LP jacket out of a bin and absorbing the cover art in the open air. Those postage stamp-sized JPEGs on the internet will simply never replace the optic bong-hit of a great jazz, psychedelic or new wave LP album cover (or a luscious prog-rock double-album gatefold!), and there's only one place to have that experience in a way that helps you bring home both the LP and the righteous memory of the first time you held it in your hands: the independent record store, to which we can only say, in the words Mr. Spock used on those original Star Trek episodes: "Live long and prosper."
Read even more, including a list of rock band The Cringe's favorite record stores, at the MTV Music Blog. The author wishes to thank the folks at Criminal Records in Atlanta, GA.