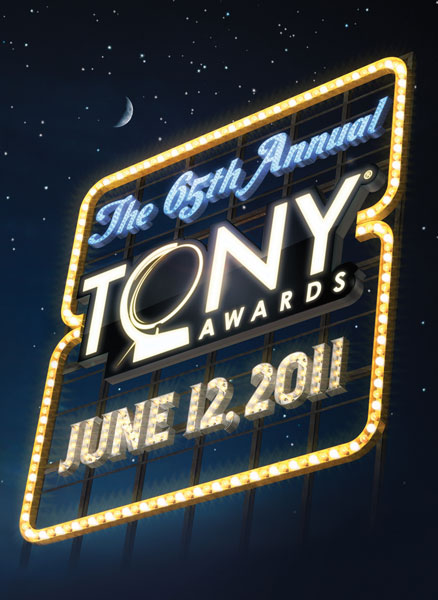 It's that time of year again.  The Tony Awards are nearly upon the Broadway community, although this time they moved a bit uptown, to the Beacon Theatre. While the ceremony won't be in the grand Radio City Music Hall, the statuettes hold the same value.  I've decided to weigh in with my picks for a majority of the categories.  
All in all, it has been a fantastic season on Broadway.  Strong plays, great performances, and a few celebrities thrown into the mix, although star power meant nothing when it came to the Tony nominators... whew!
I'll be live-blogging from the Tony Awards media room during the telecast, so make sure to check Broadway Direct for tidbits from backstage on Sunday night.
Musical: The Book of Mormon is the clear winner. The Scottsboro Boys could've been, had not Mormon landed big with voters.
Musical Revival: With such a limited season for musical revivals, Anything Goes is a sure winner, as the Harry Potter star power of How to Succeed in Business Without Really Trying carried no weight with voters this season.
Actor in a Musical: Norbert Leo Butz busts his hump every night in Catch Me If You Can, although he has a close battle with fellow nominee Tony Sheldon from Priscilla Queen of the Desert. It could go either way on Tony night, but my vote is for Norbert.
Actress in a Musical: Sutton Foster is the darling of Broadway, and works her butt off. I still can't understand who first thought she would make a great Reno Sweeney. But, the gamble paid off.
Featured Actor in a Musical: Give this one to Rory O'Malley for his turn in The Book of Mormon. But great to see two actors from The Scottsboro Boys, Colman Domingo and Forrest McClendon. The sweat alone that poured off of these two boys each night during their brief Broadway run deserves some sort of accolade... or at least a Gatorade endorsement deal.
Featured Actress in a Musical: Laura Benanti took on the likes of Patti LuPone in that disastrous effort known as Women on the Verge of a Nervous Breakdown, and she stole the show... which isn't saying much. Give this girl a Tony, just for making the show halfway bearable.
Play: Between Jerusalem, Good People, The Motherfucker With the Hat and War Horse, it was a tremendous season for plays on Broadway. Strong work from all nominees, but Jerusalem left me with more chills than most.
Play Revival: The Normal Heart tore my heart out, and I'm sure it did the same for a lot of the Tony voters. While Merchant of Venice was another powerful play, it suffers from closing earlier in the season, meaning out of sight, out of mind. Give this one to RENT without music.
Actor in a Play: Mark Rylance, one of the greatest stage actors of our time. If Joe Mantello's last-minute bid for an award in The Normal Heart doesn't gain enough traction, Mark is taking home the statuette.
Actress in a Play: France McDormand is the leader in a strong pack, and makes you forget that Vanessa Redgrave even appeared on stage this season, which is no small feat. But kudos to newcomer Nina Arianda in Born Yesterday. She's one to watch in the next few seasons.
Featured Actor in a Play: A lot of momentum has built up around The Motherfucker With the Hat, so Yul Vazquez has a real shot at winning the Tony, but my vote goes to John Benjamin Hickey for his strong turn in The Normal Heart. On a side note, I had hoped Billy Crudup's turn in Arcadia would have garnered more attention, but that revival was a bit a snooze fest.
Featured Actress in a Play: Ellen Barkin in The Normal Heart. Enough said.
Director of a Musical: The Book of Mormon's co-directors, Casey Nicholaw and Trey Parker have this award in the bag, if for no other reason than Trey's turn from South Park to Times Square was seamlessly executed.
Musical Score / Musical Book: The Book of Mormon is such a strong contender in these two categories, that there is no disputing its deserving a win for book and score.
Choreography: Kathleen Marshall put together a strong revival of Anything Goes, and keeping in mind that Sutton Foster showcases some amazing tap dancing at the Stephen Sondheim Theatre, Kathleen has a good shot at winning.
Orchestrations: Catch Me If You Can deserves some love here, as it was a sturdy contender this season as one of the true "old fashioned" musicals on Broadway. With The Book of Mormon sure to snag many of the awards on Tonys night, Catch Me should take this statuette home.
Director of a Play: The Normal Heart's co-directors Joel Grey and George C. Wolfe brought what was once a pound-on-your-chest warning call for the AIDS crisis to the modern stage, and kept things relevant, if not more important, to a 2011 crowd. These two stage veterans deserve the accolade.
For a complete list of Tony Award nominations, visit here and make sure to watch CBS on Sunday, June 12 for the live broadcast, taking place at New York City's Beacon Theatre.