Countless children in the D.C. area have spent countless happy hours playing at the National Zoo's Kids' Farm and Pizza Playground. When these cherished sites were slated for closure due to budget cuts in 2011, the community banded together to keep them open by holding a "pet-in," a fundraiser, and writing countless letters to zoo administrators letting them know how much these parts of the zoo meant to our children. Some children held lemonade sales to raise money and others donated the pennies from their piggy banks. The outpouring of support for the Kids' Farm and Pizza Playground helped convince State Farm to generously donate $1.4 million to keep the Kids' Farm and Pizza Playground open.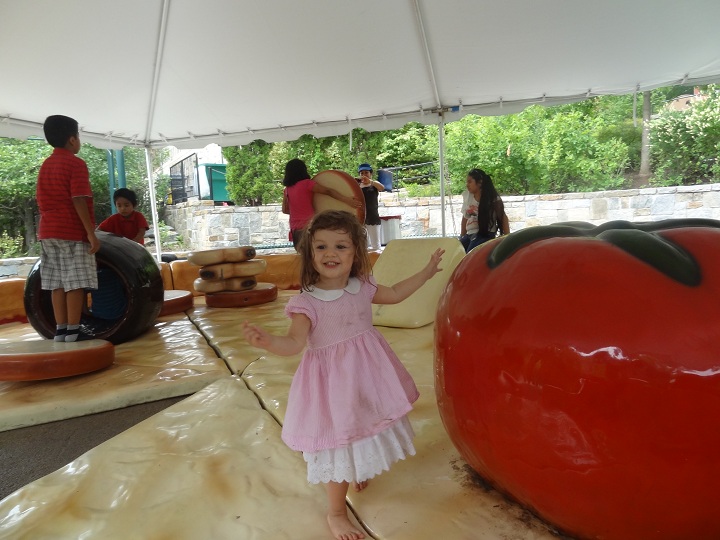 The Pizza Playground at the National Zoo
Since then, children have continued to flock to the Kids' Farm and Pizza Playground -- and it shows. The Kids' Farm's paths are well worn, but sturdy. The Pizza Playground, however, has begun to look shabby after eight years of heavy use. With State Farm's support, the Kids' Farm will remain open and the zoo wants to make a major investment in the Pizza Playground. They are trying to raise $305,000 to transform the current play area, a giant foam pizza, into a "super deluxe" playground complete with new rubber play surfaces; slides shaped like a pizza cutter, knife and fork; and a simulated farmer's garden where children will be able to plant and pick their own food. The renovated playground will continue to allow children to explore conservation concepts through hands-on play.
And, yes, there will be an actual pizza party. Donations of any amount can be made at any time. But, anyone who donates $100 or more before December 31st will be invited to a VIP party to try out the new and improved playground, and of course, enjoy some pizza once the renovation is complete. There is still time to join the party. See you there!