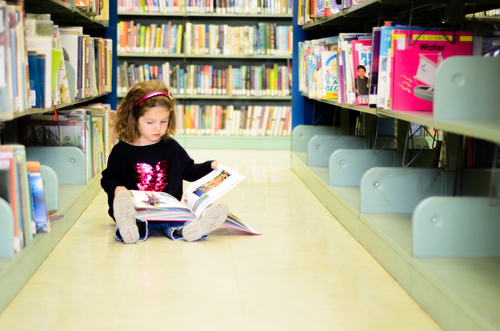 Reading a book that promotes girls' interest in STEM
Editor's Note: This post is part of a series produced by HuffPost's Girls In STEM Mentorship Program. Join the community as we discuss issues affecting women in science, technology, engineering and math.
My little girl loves all things pink. She loves princesses, tutus, sequins and baby dolls. I don't deny her the girly indulgences she loves so much, but I don't limit her experiences to them, either. She loves building as well and I want to encourage this interest that will serve her well in the future and provide a strong foundation for problem-solving in the future. I want to encourage her to explore the STEM disciplines -- science, technology, engineering and mathematics, but it can be hard to reinforce the image of women as scientists and engineers. Little in the pinkest sections of the toy store encourage an interest in STEM, and some that do, such as the much-touted Goldie Blocks, are poorly designed, meaning that girls will quickly loose interest even if the toy comes in a cute shade of pink. But, if you dig deep enough, you can find toys and books that will appeal to the little engineer trying to come out in your little girl.
Rosie Revere, a new book by Andrea Beaty the author of the popular Iggy Peck Architect, features a girl who loves to invent and is encouraged by a supportive Aunt to build a contraption that can fly. Retro-inspired illustrations by David Roberts bring the story to life with detailed plans of Rosie's creations and characters with flamboyant hairstyles. The author is currently on a book tour and will be in DC on November 20th at 4:00 at Barston's Child's Play. Other opportunities to get your own signed copy can be found here.
Magnatiles are a huge hit with my little girl, who requested her own set for her birthday since she was tired of having to share with her brother. If we could have only one toy in our house this would be it. Although a little on the pricey side, Magnatiles cannot be beat for their versatility in what they can be used for. We've built pyramids, princess castles, and more towers than I can count. If combining your girl's love of princesses with Magnatiles will get her to build, I don't see a reason to fight the impulse.
A marble run is a great way to introduce girls to engineering since not only are they configurations nearly endless meaning you can make a new creation every time, but you can play for hours with your marble run once it's been built. It's also a toy that can constantly seem new simply by adding one new piece to the set. We have the Haba set because it's durable, has many available add-on options and my children fell in love with it when one was in the playroom of the American History Museum, but many other brands make quality sets that can encourage your girl to build her own working toy.
LEGOs also have a strong appeal for my daughter. Although many sets, such as Star Wars and Chima, are geared towards boys, standard bricks good for free building can also be found. If your little girl absolutely must have pink there are general building sets available in pink as well as a relatively new LEGO Friends line geared towards girls. My little girl did request some pink bricks and I steered her towards the Friends scientist set rather than the beauty shop set. But, even if your little girl insists on the beauty shop, she will still gain benefits from experience of building.
Finally, don't forget about pain old building blocks. I was pleased to find the other day that my daughter had pulled out our blocks to make a bedroom set for her family of doll house dolls. Even though she does have pre-made furniture for the tiny family, she took great pride in building a new set herself. With all of the complicated toys out there it's good to know that tr aditional blocks are not overlooked. Like Magnatiles, there are plenty of opportunities to blend your daughter's love of dolls and princesses with opportunities to build.
When contemplating gifts to buy your daughter this year, look beyond the girl section -- you just may open up a new world for your little girl. Other toys recommended by Barston's Child's Play to encourage building are Citiblocs by Kapla, Wedgits and Superstructs. Older girls might enjoy building withSnap Circuits electronic kits.
And, if your little girl absolutely must have a princess book consider The Paper Bag Princess, in which a pint-sized princess trades in her gown for much simpler attire to outsmart a dragon, save the prince and live happily ever after on her own.