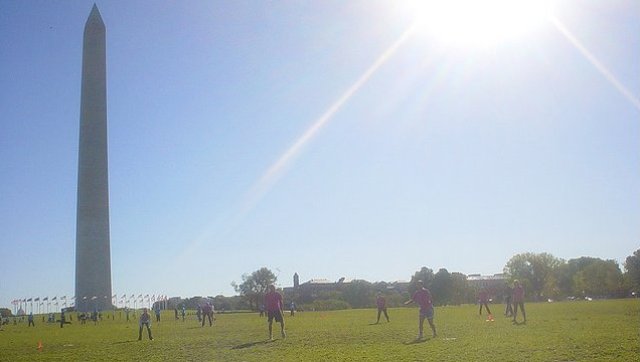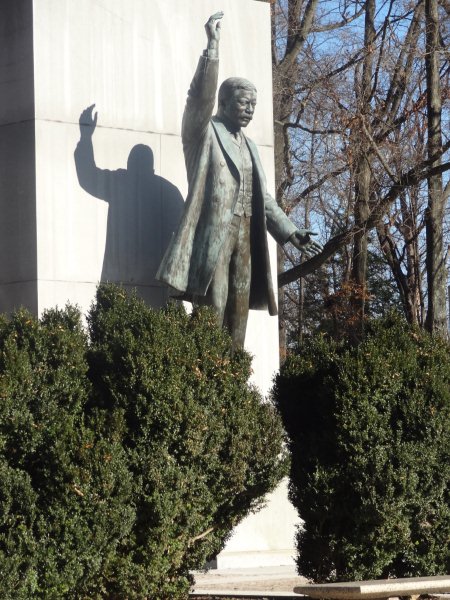 One of the great things about raising a family in the D.C. area is that fun can be had around almost every corner. I was recently reminded of this to my delight when a wrong turn while looking for parking on the National Mall led me straight to Roosevelt Island. I had not been to Roosevelt Island in years, but I knew that my five-year-old son and two-year-old daughter who were along for the ride would love the change to explore its trails and open spaces. We abandoned our plans and headed in to explore the island's wooded trails.
The fun began on the bridge leading to the island where we were able to view a large family of ducks and a beautiful view of the Potomac. Once we arrived on the island we choose to follow a short trail leading to a formal plaza housing a larger-than-life statute of the island's namesake, President Roosevelt. My children had a ball running around the plaza and collecting rocks, sticks, and leaves. Roosevelt Island is located very close to Regan National Airport and it is an ideal spot from which to watch planes flying low to the ground. We spent a while guessing where planes where coming from. My son let his imagination run wild and his guesses included Gotham City, the Island of Sodor, and the planet of Naboo. We sat on one of the benches surrounding the plaza to have a snack and listen to birds.
There is plenty of hiking to do on Roosevelt Island. The island was designed to look and feel like a "real forest" and there are three trails that wind through the woods. The Swamp Trail is the easiest to explore as it is nearly all flat. It is the longest trail on the Island at 1.3 miles, but it meets up with the other trails so it is possible to walk only a portion if it its entire length is too long for little feet. The Woods and Upland Trails are surfaced with gravel and are a little more challenging. The Woods trail is the shortest trail on the Island at .4 miles and it snakes around the plaza. The Upland trail is only slightly longer at .7 miles. We saw a family getting around the Island with a lightweight stroller, but to make things as easy as possible if your child needs a stroller take the sturdiest one you have.
Although frequently overlooked as a destination for children, Roosevelt Island is an ideal place to take children. With its miles of trails, you can choose the route and length that is right for your family. While on the Island children love being able to listen for birds and planes alike and, of course, love running wild through the trees. We will be returning again very soon.
If you go, be prepared to walk! There is no visitor's center on Roosevelt Island but a brochure about the island, including maps of the trails, can be accessed here. Roosevelt Island is located just off the George Washington Memorial Parkway. There is a parking lot with plenty of spaces just before the bridge leading to the Roosevelt Island. Roosevelt Island is a fifteen minute walk from the Rosslyn Metro station via a trail connecting the Key Bride to the Island's parking lot. Bikes are not allowed on the Island. Does are allowed and many visitors take their dogs with them.
If you plan on spending more than an hour or two on Roosevelt Island be sure to pack plenty of water and a snack. It is also a great place for a picnic. There are a few water fountains scattered throughout the Island but be aware that there is only one restroom.
While exploring Roosevelt Island on your own makes for a fun day, the National Park Service occasionally runs guided tours. You can check here to see when an "Island Safari" or other ranger-led program is scheduled.