Dr. Seuss once said that "Children want the same things we want. To laugh, to be challenged, to be entertained and delighted." Dr. Seuss would be happy to know that all of the children at Imagination Stage's production of Seussical that I attended did indeed laugh and walk away challenged, entertained, and delighted by this musical interpretation of his work. As every parent knows, it is hard to choose a favorite Dr. Seuss book and Seussical does an excellent job of weaving together several of the beloved author's most popular stories, including "Horton Hears a Who" and the "Cat-in-the-Hat," along with some of his less well-known stories, such as 'If I Ran the Circus and McElligot's Pool."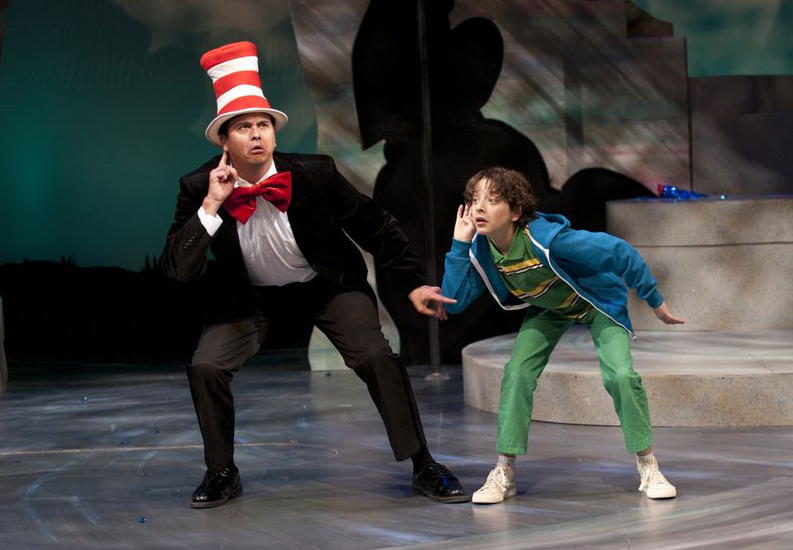 The Cat in the Hat (Jamie Smithson) and JoJo (Simon Diesenhaus) in Seussical at Imagination Stage
The magic began for my children in the lobby where they saw Truffula Trees from The Lorax and cut-out fish from "Once Fish, Two Fish, Red Fish, Blue Fish" lining the lobby walls. Their enjoyment grew when they realized during Seussical's opening scene that one of the stars of the show is a young child like themselves, sixth-grade Georgetown Day student Simon Diesenhaus. The fanciful costumes helped create a magical atmosphere, with birds in bright pink and blue dresses and Whos dressed head-to-toe in varying shades of green. My son was particularly delighted by the various roles played by the Cat-in-the-Hat, including a news reporter, a doctor, and a judge. There were opportunities for audience participation that all children seemed to enjoy, including handing clovers to Horton so he could examine them for his missing Whos and dancing with the actors at the end of the show. The messages of Seussical are familiar and simple, but important for young children to hear and understand. The message of "a person's a person no matter how small" resonates with all children, as do the acts of kindness and responsibility portrayed throughout the show by people big and small.
Seussical did a wonderful job sparking the imaginations of my children. It is a must-see for anyone who loves, or who has ever loved, a Dr. Seuss book. And, let's face it, that includes everyone who is, or ever has been, a child.
My children did not want to see the play end so after we left I told them another Dr. Seuss quote: "Don't cry because it's over, smile because it happened."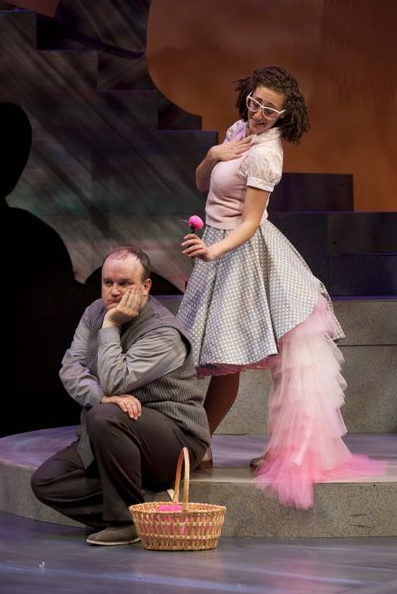 Horton (Matthew A. Anderson) and Gertrude (Shayna Blass) in Seussical at Imagination Stage
If you go, Imagination Stage is located in Downtown Bethesda. There is plenty of metered parking around the theater, but be aware that the two-hour time limit for meters is strictly enforced. Most Imagination Stage productions are well under two hours so this shouldn't pose a problem. Imagination Stage is aware of the strict parking enforcement and, when a longer show I previously attended was delayed, they thoughtfully allowed patrons ample time to go feed their meter before beginning the show. There is also garage parking adjacent to Imagination Stage. Parking in the garage is metered during the week and free on weekends. For those who rather not deal with parking at all, the Bethesda metro stop is a short .5 mile walk. They also have a bike rack out front for those who want to get some exercise on the way to a show.
Since Imagination Stage is purely focused on children, they have a couple of unique features to make going to a play family-friendly. They have an interactive "bubble wall" where children jump up to pop floating bubbles. The wall could keep kids busy for hours and certainly will keep yours occupied if you need to wait a few minutes for the theater doors to open. Imagination Stage has a small café. If you are worried about running late or think your children might need a few minutes to warm up to a new environment before the show begins you can plan to arrive early to grab a light breakfast or snack before the show. Boosters are available for smaller children to be sure they can see everything that happening on stage. Since children may occasionally need to talk, cry, or burn off a little energy during a show there is a sound-proof clear box within the theater where you can bring children who are having trouble sitting still without needing to miss a minute of the show. Imagination Stage has a wonderful gift shop, where all products are carefully chosen to -- what else -- spark children's imaginations. Their stock rotates based upon their current production so you can get your little theater-goer Seussical-themed memento to take home, such as a Dr. Seuss book, a red-and-white striped hat, or a Dr. Seuss-themed game.
One wonderful feature of Imagination Stage is that they believe all children should be able to enjoy their shows. To ensure good theatre is accessible to children of varying needs they offer sensory-friendly and American Sign Language interpreted performances. While these offerings for children with special needs have already occurred for Seussical, look out for them for upcoming shows. There are also several seats reserved for those in wheelchairs and their companions.
Seussical runs through January 6 so there is still plenty of time to purchase tickets as a holiday gift. Tickets start at just $12.00 and can be purchased here or at the box office. While no seat in the house is bad, Imagination Stage's website has an interactive seating chart that allows you to see what your view of the stage will be like before purchase.
Enjoy the show!