Editor's Note: This post is part of a series produced by HuffPost's Girls In STEM Mentorship Program. Join the community as we discuss issues affecting women in science, technology, engineering and math.
By now, anyone not undergoing a technology black-out has seen the much-touted commercial for GoldieBlox, advertising both the original pink and blue pastel spinning machine and the newer princess float. The commercial's feel-good message no doubt prompted many parents to seek out these "girl" toys for their female offspring, based partially on the belief that their pink-loving, princess obsessed daughters would not play with a toy that was not geared specifically to them.
I have no problem with pink or princesses. If my daughter wants to wear a tiara and garish pink tutu it's fine with me. So, I was initially as excited as the next mom of a girly girl about GoldieBlox, hoping its pinkness would spark an interest in engineering in my daughter. But, my enthusiasm died out quickly once I was able to try it, found it as lacking as my daughter found it boring, and discovered from other parents that once purchased the toy tended to collect dust at the bottom of the toy bin.
So, I decided to take off the pink goggles my daughter and I had both been wearing and instead seek out quality toys, of any color, that would hold her interest longer than something purchased for its pinkness. Once we moved beyond the pink, a new world of toys focused on STEM (science, technology, engineering, and math) opened up. And, we discovered ways in which they could easily be adapted to fit right in with her girly girl interests.
Plain wooden building blocks became furniture for her dollhouse dolls and her pride in building her own bunk beds for her dollhouse sisters was written all over her face. Primary colored Manga-Tiles became a ballet studio and, yes, even a princess float that she built with minimal assistance. A marble run was topped with turret-shaped blocks and became fit for a princess. Once we gave these toys a girl spin to grab her interest she was off and running. She will now turn to these toys before any of the many, many pink toys we have sitting around our house, vastly improving the quality of her playtime.
With the pink goggles off, a new world has opened up. I didn't need to wait for a pink and princess-y toy to come along to introduce my girly girl to toys that promote an interest in STEM. I only needed to find interesting, quality toys. If it took a girly girl spin to spark my daughter's interest in these toys that was easy enough to accomplish with all the girly girl gear we already had on hand. No interest in building towers? Build a shoe store, a secret garden, or a horse stable out of building blocks, Kapla blocks, or Magna-Tiles. Want to spark endless ideas about how building can be used to make things happen? Get her a marble run or Snap Circuits set. Want to show your daughter that girls can be smart and adventurous? Get her a Robot Girl, Kawaii Karate, or Pirate Queen Lottie Doll, all of which are adorable even without a hint of pink (although accessory packs are available if your Robot Girl is also a girly-girl who likes to carry a pink purse). Read her Rosie Revere, Engineer about a girl inventor who doesn't care about what she wears.
Whatever you do, don't underestimate your girly girl and think she's so narrow-minded that she won't be interested in science, math, technology, engineering, or pirates unless they are presented covered in pink. Give your girly girl some credit and the opportunity to move beyond girl toys. While you are at it, you will instill her with the confidence that anything boys can do she can do better (or at least equally as well). These are skills and lessons that will serve her well once the tiaras and tutus have been packed away for good.
So, when it comes to holiday shopping for your girly girl this holiday season don't be afraid to smash the pink goggles. You just may wind up opening up a whole new world.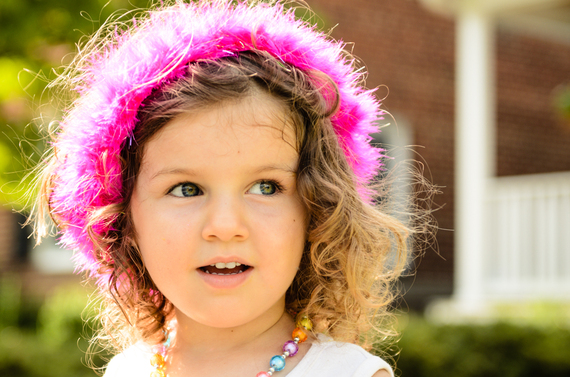 My girly girl can rock a hot pink fairy princess crown and build a mean contraption out of just about anything in any color