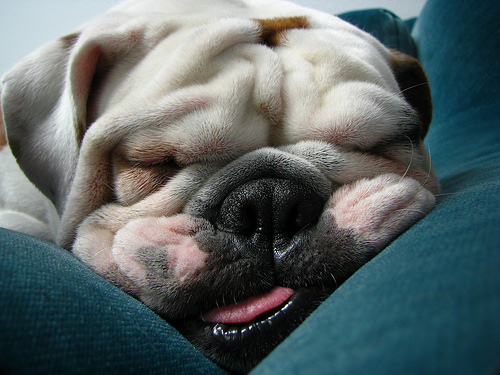 I can usually tell how well my clients have slept the night before within about five minutes of starting our session. We all know how important sleep is, and we all know that without adequate sleep, things can go awry fairly quickly. Knowledge is one thing, but getting enough sleep can be challenging and frustrating. If you're having problems with your sleep, you're not alone: According to the NIH, "At least 40 million Americans experience chronic, long-term sleep disorders each year, and 20 million more experience occasional sleep problems."
About two years ago, sleep and I had a falling out. It took me forever to fall asleep; I woke up four or five times a night and arose the next day feeling more tired than when I went to bed. As if this wasn't exasperating enough, I started noticing an impact on my waking hours, too. I was distracted, irritable, couldn't concentrate, my workouts sucked and I was sluggish all day.
After talking to my doctor, he recommended working on my sleep hygiene. I'd never heard the term before, but left his office with some information and no sleeping pills. I started to take control of my sleeping habits and slowly found myself sleeping longer, deeper and with fewer interruptions. Of course, consult your physician if you're having regular issues with your sleep, but here's what worked for me:
Water
Of course it's important to stay hydrated throughout the day, but drinking too much water before bed can unsettle your sleep. Getting up to go to the bathroom is hugely disruptive to our sleep cycle, so consider drinking a little less water before bed, rather than downing a huge glass. When you wake up in the morning, try a glass of room-temperature water with half a lemon squeezed in there to start rehydrating and to kickstart your system.
Technology
Television, smartphones and computers could also be keeping you awake. Artificial light exposure before bed suppresses the release of the sleep-promoting hormone melatonin, making it more difficult to fall asleep. Try and avoid exposure to electronics during the pivotal last hour before sleep.
Reading
One of the best ways to relax your mind before bed is to read. Fiction is best as it's less taxing on the brain, and try an actual book instead of your iPad -- as I mentioned earlier, artificial light is no good for sleep.
Light
Light triggers the release of hormones and chemicals that keep us awake or that prompt us to wake us up. Turn off the lights, get thicker curtains, better blinds or buy a good old-fashioned eye mask. Reducing the amount of ambient light in your bedroom could be a quick fix to a tough problem.
Caffeine
This one is simple; just don't drink it after around 2 p.m. "Madness!" I hear you cry. Now, I love my coffee and I'm a firm believer that a shot or two in the morning has its benefits, but if you want to sleep better, stop consuming caffeine in the afternoon. If 2 p.m. seems crazy, try having your last cup a couple of hours later and see what happens.
Tomorrow
Thoughts of tomorrow keep us all awake at times. Work, money, personal issues -- all of these can weigh heavily and prevent us from falling asleep. Plan your next day before dinner, make a list of all your meetings, errands, phone calls, and put it to one side until the morning. This should help clear your mind and alleviate stress and anxiety relating to tomorrow. Make a pact with yourself to have this done at least an hour or two before bed and give yourself some quiet time.
Noise
Traffic, neighbors, sirens, your partner's snores or night terrors -- all these things can make it hard to get to or stay asleep. I discovered my love of white noise in a busted old hotel in Miami when I was 21. The soft drone of the antique air-conditioner drowned out my noisy neighbors and helped me sleep like a baby. A small fan works great at canceling it all out; there's even a white noise app that I use when travelling.
If sleep is a problem, give some of these a go. Take a deep breath, relax, and take control of your sleep hygiene.
Sweet dreams!
-- Jamie Galloway
www.trainwithjamie.com
www.facebook.com/trainwithjamie
Photo Credit: Flickr, Jeff Hill Photo
For more by Jamie Galloway, click here.
For more on sleep, click here.