A coordinated campaign to promote the hashtag #endfossilfuelsubsidies during the Rio+20 Earth Summit has taken the internet by storm today.
The online action began at 08:00 GMT and quickly skyrocketed to the #2 trend on Twitter worldwide. As sun rose in the United States, #endfossilfuelsubsidies was still trending at #3 across the country. By evening in Australia, as activists projected tweets at the Sydney Opera House, the hashtag was trending at #2.
More projections are now underway in London and New Delhi, while activists in New York and Rio prepare to beam tweets later on today. At the Rio+20 conference tweets will be broadcast inside the talks at a number of press conferences and events throughout the day.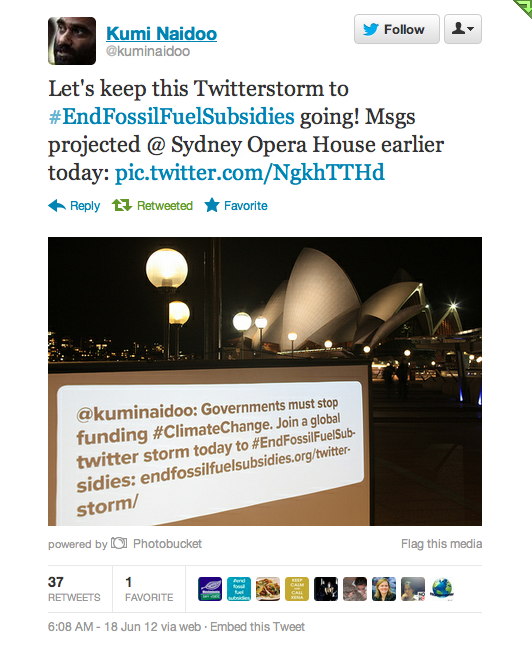 Meta: Greenpeace Executive Director Kumi Naidoo tweets out a photo of his tweet being projected at the Sydney Opera House
The campaign is being coordinated by dozens of environmental groups including 350.org, Avaaz, WWF, Greenpeace, Natural Resources Defense Council, and more. As the storm has picked up speed, celebrities have been jumping on board, with British actor and writer Stephen Fry chipping in and journalist Nicholas Kristof sending out a tweet to his over 1 million followers.
Engineering the Twitterstorm took days of advanced planning. 350.org recruited over 5,000 people to join a core "Twitter Team" designed to drive traffic at key moments throughout the day, as well as target celebrities with large twitter followings and key politicians. For over a week, people have been signing up at endfossilfuelsubsidies.org to get updates on the storm and get ready for the day of action.
All of these pieces may just be enough to break the world record for the most tweets of a single hashtag in a 24-hour period. Justin Bieber currently holds the world record with 322,224, over 223 tweets a minute.
The "Twitterstorm" is timed to coincide with the G20 meetings in Los Cabos, Mexico, and the final days of lead up negotiations to the high level segment of the Rio+20 Earth Summit. Three years ago, the G20 committed to phasing out fossil fuel subsidies but member nations have made little progress. Organizers are confident that even if they can't beat the Biebs they'll be able to generate enough traffic to dominate the online airwaves during the G20 and in the lead up to Rio+20.
Campaigners are looking for world leaders at both the G20 and Rio+20 to make a firm commitment to end the nearly $1 trillion in subsidies that are handed over the fossil fuel industry each year and put the money towards clean energy and sustainable development instead. Just a fraction of the $1 trillion could supply the $30 billion a year sustainable development fund that developing countries are pushing for at the Rio+20 talks.
Who knows, maybe even @JustinBieber will tweet #endfossilfuelsubsidies by the end of the day?