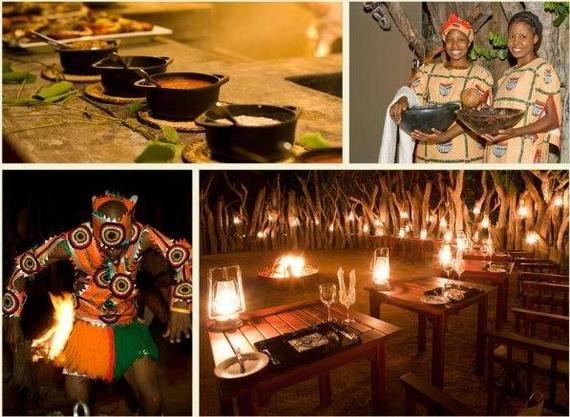 Photo credit: Royal Chundu
As I waved goodbye and the shuttle bus drove away from Royal Chundu Zambezi River Lodge, I unexpectedly found myself cornering a tear. The kindness the staff had bestowed on me during my two night stay had quietly unstitched me.
I'm fiercely independent, wanderlust, wild and free. And after five years of being away from my African homeland, I returned in September to the call of the wild, to join the war on poaching and write 'stories from the trenches.' For most of this year I have been engaged full time in the crisis, interviewing global thought leaders and searching for solutions in this battlefield of greed and poverty, demand and exploitation. Activism doesn't pay the bills, and so by the time I set off on my most recent assignment, a week of full moon anti poaching in Zimbabwe, I was starting to scratch the barrel of my savings.
I had just wrapped up a 10 day assignment at The Rhino Orphanage in Limpopo and I was staying with Youth 4 African Wildlife Founder Dex Kotze and his wife Jenna for the weekend before flying out to Victoria Falls. Friends of theirs came over for lunch, and that's when I met Tina Aponte, one of the owners of Royal Chundu in Zambia.
When I graciously accepted Tina's invite of a couple days of R&R post my Victoria Falls writing assignment, I honestly had no idea what I was getting into. It was like landing on a pile of Christmas. In the past few months I have been on the move nearly every week, sleeping mostly on floors and couches, in trailers and tents -- all of which I am very grateful for -- but waking up to the gentle ting of a cow bell and finding a double shot espresso latte with chocolate chip biscotti biscuits delivered through "the hatch" of the most beautiful suite I have ever stayed in, well it was like wiping a dream from my eyes. I couldn't stop giggling the whole two days I was there.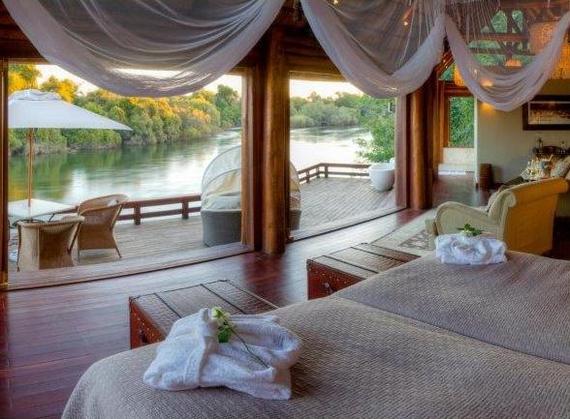 Photo credit: Royal Chundu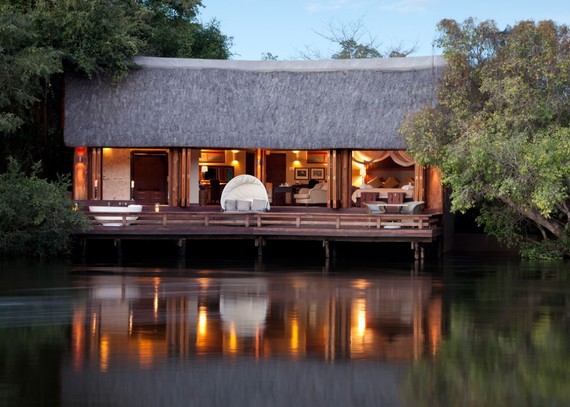 Photo credit: Royal Chundu
The proudly Zambian lodge is a distinguished member of Relaix & Chateaux, an exclusive collection of around 520 of the world's finest hotels and gourmet restaurants. Established in France in 1954, the Association's mission is to spread its unique art de vivre across the globe by selecting outstanding properties with a truly unique character.
Within seconds of arriving at this ecological gem, I was greeted by smiling faces as warm as the basking sun. Hessah, the Assistant Manager exuding African charm, guided me to the open air lounge overlooking the infinity pool and 15kms of private waterways along the Upper Zambezi, home to hippos and otters and abundant bird life. The surrounding land is also stomping ground for elephants, buffalo and water buck. While I became orientated with the ten suite River Lodge, which includes a library and a wine cellar, I was treated to a refreshing ice tea and a much needed shoulder massage.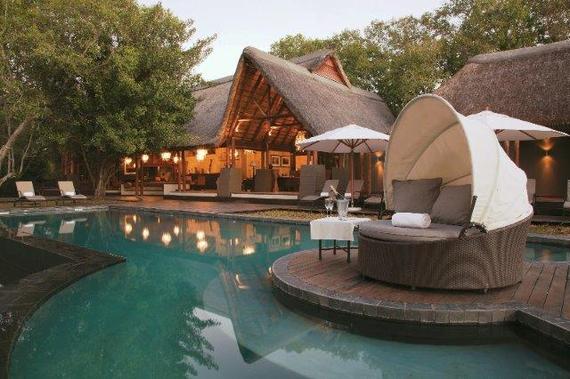 Photo credit: Royal Chundu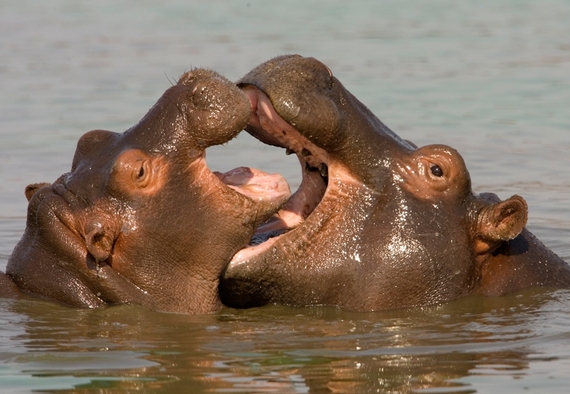 Photo credit: Royal Chundu
After a week of sleepless nights, scorching hot days, warm drinking water and cold showers and the daily battle of trying to stop the screeching cicadas from bulldozing my tent, I suddenly found myself in a terrain of sumptuous luxury like no other. In my previous life I had lived the rockstar lifestyle, spending countless nights at 5 star establishments, but suddenly all of those extras seemed rather bland and stuffy in comparison. Above all else, what stood out most to me, what sincerely touched me deeply, was how Royal Chundu treats their staff and supports their local communities.
Almost all the staff at Royal Chundu comes from the two neighbouring villages. They are meticulously trained up and given every opportunity to develop their talents, such as Charlston, the gardener that became an electrician, and then went on to become the resident photographer. During my recent travels in Southern Africa I have seen firsthand how creating sustainable livelihoods for locals living near wildlife is not only good for the community, but the creation of alternative incomes is also an effective deterrent to poaching. And what is good for Africans is good for Africa!
At Royal Chundu, education is the core in their extended family tree, and children from the neighbouring villages benefit from free schooling; including a healthy breakfast and lunch at the early learning centre the lodge purposely built for the community. I also visited the nearby village of Mushekwa, and my host Bettina took me through her community's lush organic garden, and it was like looking at a "before" display of the Royal Chundu salad menu. All the plant seeds are gifted to the village by the owners of Royal Chundu, and then they sell the produce back to the lodge, and so not only is the food as fresh and tasty as it comes, more livelihoods are sustained, transport costs are cut and the planet gets a break. The village of around 300 residents has mastered the art of sustainability. They live off the land, and a lot of plants are also used as medicine -- such as the Moringa, which is used for 72 different ailments, including the treatment of HIV and immune deficiency.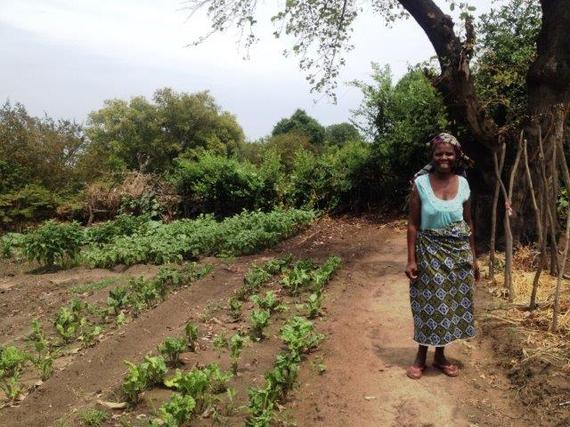 Photo credit: Jamie Joseph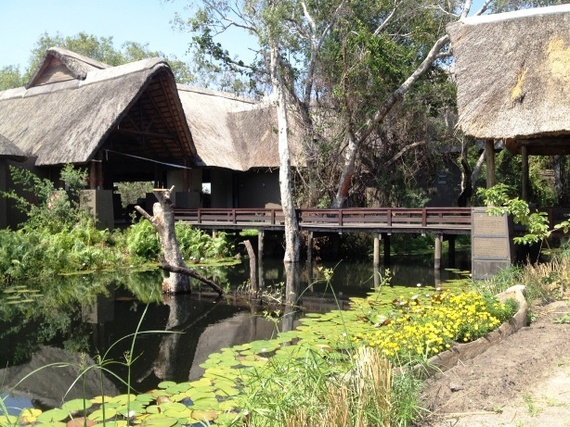 Photo credit: Jamie Joseph
From soil to sun, everything is connected in this circle of life. On my first night I had bream for dinner, and was happy to hear that the large lily pond at the entrance of the lodge is home to a bream fish breeding project; the bream gets released into the Zambezi River, and then in all good time the local fishermen catch the bream and sell it back to the lodge.
The following morning, after a healthy breakfast buffet bursting with colour, Hessah asked me if I'd like to go on a picnic for lunch. Well, a "picnic" consisted of a guided rafting trip down the Zambezi, slip sliding over gentle rapids and then pulling up to a river bank where I was greeted by six members of staff, including a chef overseeing a barbecue, and a barman serving top shelf spirits. I looked around; there was a silver set table, hammocks and a lavish Persian rug in case I felt like an after lunch siesta -- and I was the only guest there. To my delight, the table was set for two, and Kombo, one of my lovely hosts, joined me for this water wonderland experience.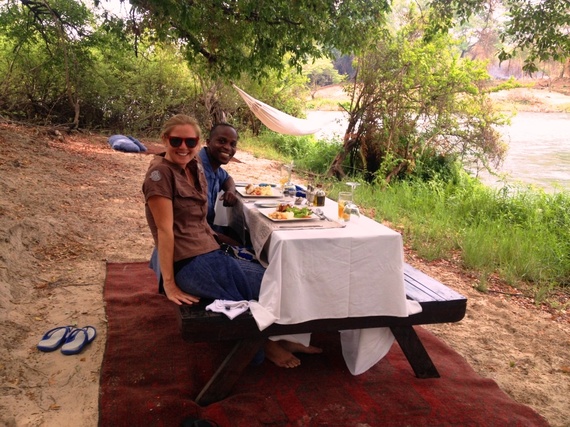 Photo credit: Jamie Joseph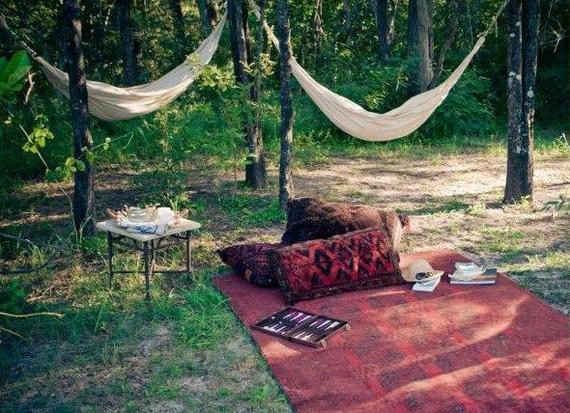 Photo credit: Royal Chundu
The best part about being back in Africa, other than living amongst the wild things, is embracing African culture. For dinner I was treated to a six course Zambian traditional tasting menu, paired up with some excellent South African wines. Behind every meal is a story, and Kombo had this glow about him as he proudly weaved the narrative of his homeland into each chapter of the feast. His passion radiates, and I relished in every detail.
I often find luxury resorts try to imitate the idea of something, but what I found at Royal Chundu was harmony and authenticity in everything they do. I was just a wandering gypsy that, through a stroke of serendipity, stumbled into an African utopia. And yet they treated me with such warmth and consideration, it was an experience I will never forget.
There is that African saying, Ubuntu: I am because we are. It describes the humanity and the connectedness of us all. Ubuntu is alive and well at Royal Chundu, and it extends from the people to the land, and all living things.
Jamie Joseph is a writer and environmental activist. She is the founder of savingthewild.com and is currently based in various parts of Africa, reporting from the frontline of the poaching crisis. Follow her journey on Facebook and Twitter.