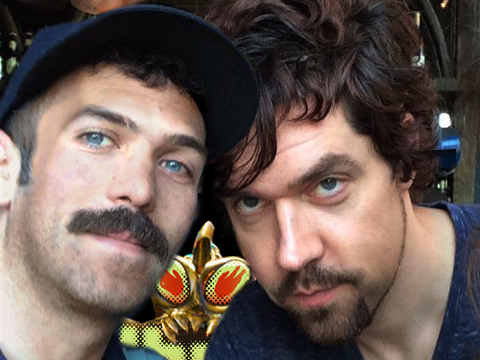 Q: What's gay, gay, gay, and bites?
Fred Sauter (book and lyrics) is an inquisitive, strapping lad, red-haired (will get back to you about whether it's the real color), often spotted in cutoffs and a nice range of whackadoodle tees. He wears a smile that can be turned up from one corner, or both, for full effect. Composer Paul Leschen wears a droll glance at the world around him, and a 'GiRLS gone WILD' tractor cap. Each time you see him, his beard will have been slightly reshaped.
Q: You've been carrying on about Bedbugs!!! for six years. It's a musical, I am told.
PAUL: This is true.
FRED: That's correct. They sing. But it's not a stupid show about bedbugs taking over someone's apartment. It's far grander in scale.
Q: Is it okay if we sorta don't hear about how a case of scabies inspired your show? Ew.
FRED: People always ask me if I've had bedbugs, and I haven't luckily, but I tell them, I've had something just as disgusting, so I know what it was like to go through the experience. That's why I say it. And it did inspire the show.
Q: It's a musical. So plenty of 'gay characters'? Any gay bedbugs?
PAUL: Our heroine's assistant is a gay 20-something, and his boyfriend is a hipster like the kind you'll occasionally see on Girls. He's the one who's ill-fated I guess. His demise presents a catharsis to all New Yorkers of a certain age who can remember the city before that other pestilence infested the town--the smug, skinny, baby-faced Millennials.
FRED: As for the gay bedbugs, there were just TOO many gay side-plots in the last draft. It was dizzying to follow.
PAUL: Just tell them our show is gay, gay, gay.
Q: Okay, will do. What was the first song you worked on together? Did THAT get cut?
PAUL: Our Queen-esque multi-part bug dance number "Bedbug Anthem" was the first song I believe.
FRED: It's the song in which the mutant bedbugs hatch and grow up and 'Cimex' asserts himself as their king. It is very much still in the show.
PAUL: ...I'm retooling it right now actually.
Q: The buzz was delirious when Bedbugs!!! was the darling of the theatre festival circuit. Is it true you have 'Bedheads' who have seen the show several times and are lining up for tickets for the Off-Broadway run?
FRED: Gee, I sure hope so! People seem to like it a lot.
PAUL: Yeah, people always wait until the last few shows and then it sells out and we have a line out the door. Since this run actually lasts for eight weeks, I expect that to start happening a week or so after opening. I've recognized some repeat customers for sure, and I'm not just talking about my cousin Gloria.
Q: Who would you most love to love your show?
FRED: George W. Bush; wouldn't that be amazing? (His war on terror inspired the main character Carly's war on bedbugs.)
PAUL: I would freak out if I found out that David Bowie liked the show.
Q: Who else is a big GLBTQ hero?
FRED: John Waters.
PAUL: These days it's Franz Schubert. That's unconfirmed though. Can I say Matthew Shepherd? His tragic story did so much to further the cause. He's basically the Jesus of Latter Day Queers.
Q: A hero of mine, Rachel Carson, gets referenced in the show. Even though your song 'Silent Spring' is sensational, ultimately do you see yourself as laughing at, or supporting environmental activists - and the truly spooky climate collapse predictions?
FRED: Oh come on, we ALL know global warming is a myth. It's natural that the ice caps should be melting, the water rising, and the temperatures changing. Didn't you know, God put us on this Earth to enjoy and use up all of His resources for us, because we are His children. No use cryin' over spilt oil!
PAUL: Supporting. It's not a laughing matter, and I'm glad there are some unironic, earnest people out there calling us out and trying to make a difference. Even if, ultimately, we are doomed.
Q: Who might be inspired to save the world if you got them to see Bedbugs!!!?
FRED: The cast of Jersey Shore.
PAUL: If only George W. Bush could have seen it. He would have responded to 9/11 in a different way. I mean, when you have a familial grudge on your shoulders and you throw poison back at the chosen enemy, you're only adding fire to the flames. The moral of our story is to, um, let it go. All the bad stuff. The baggage, the issues, whatever you want to call them--those unwanted visitors that torment you every night while you try to sleep.
Q: Do you think the rats, roaches and bedbugs will be happy in NYC after we humanfolk go extinct?
PAUL: Nope. Nobody is ever happy in New York. The rats be like, "I wanna move to LA."
FRED: I think the rats and roaches will do just fine, but the bedbugs NEED us to feed on. After a year with no blood, they are done for.
Q: Your favorite sci-fi musical?
FRED: Well, there really aren't a ton to choose from, so I'll be obvious: tie between Little Shop & Rocky Horror.
PAUL: The Sound of Music Part II: Outer Space.
Q: Your favorite MTV video?
PAUL: From back in the day when they had videos? Total Eclipse, hands down.
JAMIE: Especially the key change when the 'student' lifts the fencing mask and glitter pours out.
FRED: Madonna's Like a Prayer, of course.
JAMIE: The amazing director Mary Lambert and featuring Leon Robinson of Leon and the Peoples! Pretty timely for our 'Summer of Ferguson' 2014.
Q: What's YOUR worst grudge?
FRED: Now how can I choose just one? Aren't all humans just the best thing on the planet?
PAUL: I count myself blessed to have such wonderful human relationships. Especially with my bf and my supportive family. My worst human relationship, I think, is with the woman from Time Warner Cable.
Q: What else makes you feel crushed like a bug?
FRED: You can't crush me, my exoskeleton is impenetrable.
PAUL: Bad coffee, being told to wait to be seated until my whole party arrives, and "We are delayed because of train traffic ahead of us, we apologize for the inconvenience."
Q: Got a favorite Rocky Horror "talk-back"?
(AUTHOR'S INDULGENT NOTE: Back when one could dumpster dive without bedbug phobia, I found a giant cracked prop wedding ring in the garment district - and kids, Rocky Horror midnight screening lord Sal Piro never dolled out credit specifically to me, but I'm pretty sure the ring I held up that night at the Waverly was the first of many to follow.) What's your fave?
FRED: "No, Sue's to blame!" (I love that it's a shout out to the costume designer, and it's just so random.)
PAUL: I just like the toast. I never really got into the whole costume talk back thing. It seems like homework to learn all that stuff. Though I can probably perform every 80s/early 90s Madonna song on the piano right now if you asked me to.
JAMIE: In our crystal ball we see a Below 54 gig for you...
Q: Some of your cast could help you book that gig, too! Performers in Bedbugs!!! are already the stuff of cult legend in theatre circles. Anyone who's seen Chis Hall as Cimex tends to blither excitedly. And Brian Charles Rooney's four octave range is nearly twice that of the Canadian chanteuse that Brian parodies with such relish.
FRED: They are both legends. And both have been developing the show with us since our first reading in 2007.
PAUL: Yup! But Celine Dion does indeed have an enormous vocal range and she isn't shy in exposing us to it.
Q: And then there's Carly, the lonely exterminator who becomes the mutant queen bee (er- queen bug). Grace McLean, fresh from 'Natasha, Pierre and the Great Comet of 1812'... She's sure to reinvent the role since Lena Hall, who completely rocked as Carly, is currently, uh 'preoccupied'...
FRED: We have been lucky to have incredible talent to help us develop this show over the last few years. Each actress has brought something unique to the lead role. Lena Hall was the first, in The New York Musical Festival and she was maddeningly good, and her voice is off the charts. Marissa Rosen was sensational in the Chernuchin showcase production. And we are very excited to see what Grace McLean will bring to the role Off Broadway.
Q: A veritable talent infestation. Fred, what NYU Tisch classmate do you think will become a star- other than yourself?
FRED: Well, Joe Iconis already is one. We had a ridiculously talented class, and I think many of them will. ... Michael R. Jackson, Rachel Peters, Brett Macias, to name a few.
Q: What's the one thing you don't want the world to know about Bedbugs!!!?
FRED: Maybe you should ask that question to the bedbugs...
PAUL: I'm just glad nobody has ever seen some of our script drafts between the NYMF production and the 2012 showcase. There was some crazy stuff in there. Aliens, if I'm not mistaken...
Q: Will you wear a codpiece opening night?
FRED: I don't need to. Duh.
PAUL: Why is this night different from all other nights?
Full journalistic disclosure. Author Jamie Leo is double-dipping here. He has designed all these creepy promotional graphics for Bedbugs!!! that you see all over NYC. Like so many others, he fell into the 'infestation infatuation' after hearing - and becoming smitten - by the score of the show.