Coconut graham cracker crust topped with Key Lime Cheesecake filling and a swirl of whipped cream creates a simple and delicious dessert for every summer occasion.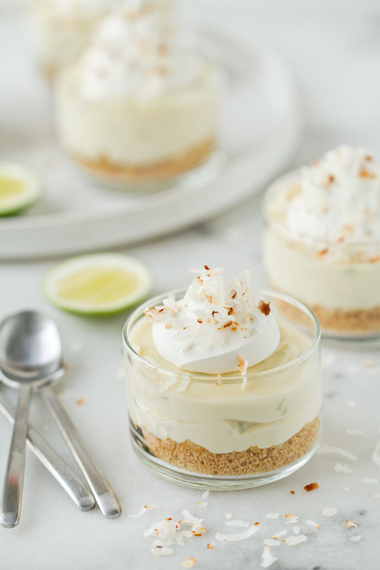 If you've followed My Baking Addiction for awhile, you are well aware of the fact that I have a minor obsession with mini desserts - especially of the layered variety. My friend Glory of the incredible blog, Glorious Treats, recently sent me a copy of her debut cookbook, Glorious Layered Desserts. As you can imagine, it's pretty much my favorite cookbook - ever.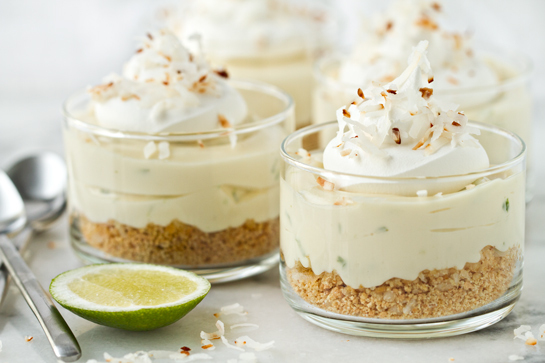 While flipping through the book, I was immediately drawn to Glory's recipe for Key Lime Coconut Cheesecake. Since I just so happened to have all of the ingredients on hand, I made them the very next day. And then we ate every last crumb. I love Key Lime Pie, but the addition of toasted coconut and cream cheese takes the key lime pie eating experience to a whole new delicious level.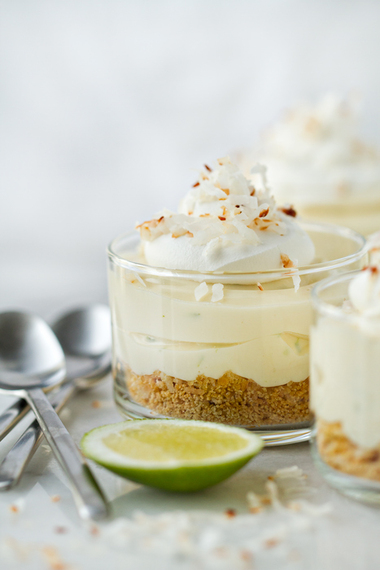 These cheesecakes are simply adorable, and perfectly summery. I love that I've found a new cookbook to adore, but more importantly, I'll be adding coconut to my key lime pie from now on!
If you're on the fence about coconut in general, try toasting it. Even the most die hard coconut-hater I know changed his mind once he tried it toasted. It really changes the texture, and makes it nuttier and sweeter at the same time. So good!
These mini cheesecakes would travel easily to a barbecue or potluck this summer if you make them in small (8-ounce) mason jars. Just layer 'em up, then pop the lids on for safe transport to your party. Everyone will think you're a genius!
Get the Mini Key Lime Coconut Cheesecake Recipe on My Baking Addiction!