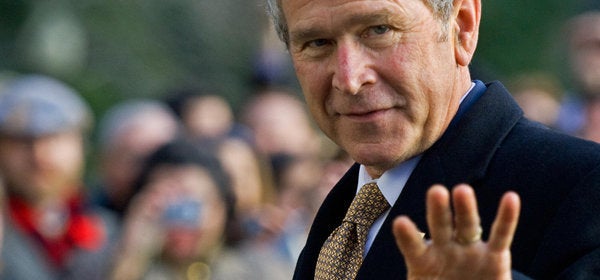 These Days, More and More People Are Looking For Work

Dear Mr. Cheney:
Thank you for your recent letter inquiry about a position with the Gallup organization. As one of the nation's leading polling firms, we are always on the lookout for individuals with talent and experience, and your resume is outstanding. Moreover, you have correctly observed that the reluctance of people to take our surveys is a sizable factor in the cost of our services. However, we have concluded that classifying these people as ``enemy respondents,'' taking them into custody, and flying them to undisclosed locations for a program of enhanced interrogation is unlikely to result in meaningful savings, and as such we do not see sufficient benefit in retaining you to manage such a program at this time. Please be advised that we will keep your resume on file.
Just to let you know, I followed up your suggestion and contacted the commissioner's office, and Mr. Stern's assistant put me in touch with the vice president of in-game marketing. I told him about the video you made where you shout "It's a slam dunk, Mr. President!'', and your idea of showing it on the scoreboards at NBA games to rev up the crowds whenever a player dunks. Frankly, he seemed a little bit lukewarm to the idea, but he didn't entirely say no. Here's a question: Is it possible that you ever said to the president "It's Shaqtastic!"? Let me know.
Please forgive me if I am stepping outside of formal channels here -- I'm sure Mr. Mehta will be replying to you directly -- but I'm just so excited that I couldn't wait to reply. I can't say exactly why he didn't think your manuscript was right for our nonfiction list, but I'm delighted that he recognized the attraction that "Knowns, Known Unknowns and Unknown Unknowns'' would have for us in the children's division. Kids absolutely adore that double-talk kind of nonsense language, and if you're willing to join me in rolling up your sleeves and cutting about 700 pages from your draft, I believe we'll have a classic that even Dr. Seuss would envy. By the way, I can't wait to introduce you to the illustrator. He's done some sketches of that scary Mr. Wolfowitz that are hilarious!
Dear Attorney General Gonzales:
It was good to meet you last week. Your idea for your online legal reference site is interesting. We had no idea that nearly twenty percent of all clients are unhappy with their representation and would hire a different attorney if they could easily find a replacement. We were also impressed by your market surveys demonstrating that no one is more closely identified in the public's mind with replacing attorneys than you. Unfortunately, with so much of our available funds invested in Karl Rove's Revisionist History Book Club venture, we cannot offer you financing at this time.
This is to confirm that you will be teaching a course at The Learning Annex on Saturday, January 31st, to be entitled "Power Enabling: Smart Women, Costly Blunders.'' The cost of the session will be $49.95, and you will provide a free workbook.
Mr. Bruckheimer is in receipt of your proposal, but because he is stuck in casting his new series C.S.I. Wasilla', he asked me to respond. He wanted me to tell you that he likes the idea of a game show, that he likes the idea of calling it The Decider, and that he likes the format where contestants present you their problems, and you in turn give them answers that will leave them more prosperous, more highly respected, and better able to face the future. His only question is: do you have any experience?