"Central heating, French rubber goods and cookbooks are three amazing proofs of man's ingenuity in transforming necessity into art, and, of these, cookbooks are perhaps most lastingly delightful."
- M.F.K. Fisher, Serve It Forth, 1937
The holidays are a time for coming together with friends and family, baking and cooking with and for the children, parents, friends and spouse, gathering loved ones around the table and sharing meals. As we purchase the last Hanukkah and Christmas gifts, be inspired by the holiday spirit, of the traditions in the kitchen and around the table by offering the cooks, bakers and food lovers on your list a great cookbook.
I have selected some of my favorite cookbook discoveries of 2014 - each written by a talented chef and expert - that will make the perfect and unique gift or stocking stuffer. Offer a book and then cook together, eat together and carry on the traditions that strengthen and reinforce our bonds with family and friends, between the generations, and begin now with the holidays.
I have never really considered cookbooks specifically devoted to gluten-free and other special diets as they don't concern my family, but there has been such a huge buzz around each of these cookbooks, and being familiar with the culinary, recipe development and writing talents of the chefs and experts behind each of these books, I definitely wanted to add them to my recommendations this year.
And check out my recommendations for 2013, too! There are some great books - cookbooks and food memoirs - that are still hot!
1) Gluten-Free Artisan Bread in Five Minutes a Day: The Baking Revolution Continues with 90 New, Delicious and Easy Recipes Made with Gluten-Free Flours by Jeff Hertzberg and Zoë François.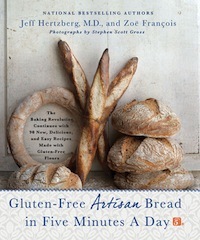 It's no secret that I love Zoë and Jeff's cookbooks and this is my third! I love baking homemade bread and yeast cakes and their foolproof, simple no-knead recipes not only work every single time but make baking bread from scratch easy, fast (yes, easy and fast!), and fun. Now, the winning pair (a doctor and a pastry chef) has come up with a gluten-free mix Master Recipe; which can then be used to create any one of their 90 delicious, entirely gluten-free bread and pastry recipes, each made from easy-to-find ingredients.
Gluten-free? No worry, with Gluten-Free Artisan Bread in Five Minutes a Day you can now make and enjoy pizzas and focaccia or fougasses (flavored and stuffed) and flatbreads, soft pretzels and beignets, coffee cakes, brioches and muffins and more. And of course breads both plain and fancy, breads for holidays, cheesy breads, breakfast loaves that will please everyone... and all kneadlessly simple! The book also includes sources and substitutes. Visit their website here.
2) Silvana's Gluten-Free & Dairy-Free Kitchen by Silvana Nardone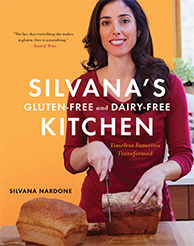 Silvana Nardone, food writer, cooking instructor and founding editor of Every Day with Rachael Ray, embarked on a journey to create and recreate favorite dishes for her son's gluten- and dairy-free diet, dishes that would have to feed her family and please her young children. Not only does she offer fantastic recipes for gluten- and dairy-free breakfast treats, breads, appetizers, soups, pastas and desserts, but she has recreated gluten- and dairy-free versions of favorite takeout foods, restaurant dishes and TV dinners, so neither your kids nor anyone else has to feel deprived when on a special diet. She also shares her formulas for gluten-free all-purpose flour, pancake, waffle, and biscuit mix, and homemade, rich-tasting nondairy substitutes for milk, yogurt, and ricotta and more. Visit her website here.
Try Silvana's Blueberry Swirl Muffins, Fried Cinnamon-Sugar Biscuit Bites, Pretzel-crusted Crab Cakes with Dijon dipping sauce, Rocky Road Brownies and Deep-Dish Pizza Supreme!
3) Gluten-Free Pasta: More than 100 Fast and Flavorful Recipes with Low- and No-Carb Options by Robin Asbell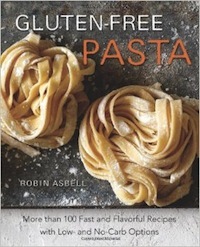 Expert chef Robin Asbell, whose cookbooks include Big Vegan, New Vegetarian and Juice It! has put together the cookbook for those on gluten-free diets who thought pasta was a thing of the past. Asbell brings together a tasty and varied collection of recipes for the pasta lover but not only! Gluten-Free Pasta includes a list of pantry staples, recommendations for suppliers and store-bought pastas alongside her recipes for fresh homemade pastas before heading into dinner territory with Sauces, Soups, Baked Pastas, Cold Noodles and Pasta Salads and Hot Noodles and Pasta Dishes. Try the Noodles with Collards in Spicy African Peanut Sauce, Baked Lamb Pastitsio, Vegetable-Stuffed Shells, Gnocchi and Savory Cannelloni, Mac and Cheese with Red Chiles and Peas. Visit her website here.
4) OATrageous Oatmeals by Kathy Hester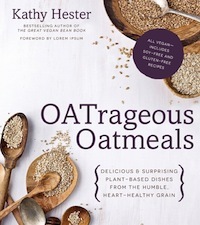 Author of The Vegan Slow Cooker and The Great Vegan Bean Book, Kathy Hester proves that oats are not only for oatmeal. She offers an astonishing collection of scrumptious dishes, both savory and sweet, mains, breakfast dishes, desserts, drinks, soups and stews, using our (well my) favorite grain. Recipes range from the simple to the less-than simple, the homey to the elegant, from Cajun Stuffed Bell Peppers, Southern-Style Oat Biscuits, Gingerbread Pear Crumble to Chai-Spiced Oatmeal Tart with Coconut Vanilla Sauce and Chocolate Orange Pudding. Oh, and don't worry, the humble oatmeal cookie (mix and match) as well as a tempting array of flavored oatmeals, pancakes and granolas, are in there, too. Visit her blog here.
5) The New Portuguese Table: Exciting Flavors from Europe's Western Coast by David Leite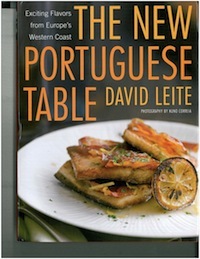 The New Portuguese Table is a thoroughly modern look at the fabulous food of a country with an exciting, varied, flavorful cuisine, a cuisine definitely worth getting to know. David Leite, an extremely talented writer, publisher of the popular Leite's Culinaria, and the son of a Portuguese immigrant family, takes the reader and cook on a colorful gastronomic journey through Portugal's eleven historical and culinary regions and across the islands of Madeira and the Azores, sharing their food culture, traditional dishes, local ingredients typically used in Portuguese kitchens and their wines. David showcases the country's vibrant cuisine and ingredients, sharing fresh, modern takes on classic dishes adapted for the American home cook.
A beautiful book and a cuisine worth discovering. Salt Cod and Shrimp Fritters (we love them!), Stone Soup (with story), Grilled Chicken Piri-Piri (hot sauce), fabulous Braised Beef Shanks with Warm Spices and Mini Lamb Meatballs, and a tempting collection of breads and desserts, including Presunto and Cheese Loaves and Pastéis de Nata, the beloved Baked Custard Tarts.
6) The Great American Slow Cooker Book: 500 Easy Recipes for Every Day and Every Size Machine by Bruce Weinstein and Mark Scarbrough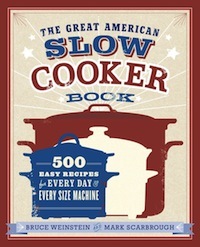 I've been trying to convince my husband that we should buy a slow cooker for years, and we still haven't. But the day I do, I am ordering Bruce Weinstein and Mark Scarbrough's Great American Slow Cooker Cookbook. A whopping 500 recipes for soups, meat, poultry, fish and seafood dishes, vegetables & side dishes, desserts (yes!), breakfast dishes and party drinks from the well-known, engaging, generous writing and recipe-developing duo! Alongside a dizzying number of recipes, something for everybody, the authors include quantities for three sizes of slow cooker, tester's notes with suggestions, recommendations and variations. And if I don't get that slow cooker, I'll have to just wait until Weinstein and Scarbrough's Pressure Cooker Cookbook comes out (hint hint). Visit their blog here.
Top of my must-try list? Polenta with smoked ham and dried cherries, Turkey Pot Pie, Cheddar Cheese and Beer Soup, Best-Ever Lamb Navarin, Scallop and Shrimp Couscous, Fudgy Brownie Cake and Dutch Apple Pancake!
7) My Paris Kitchen by David Lebovitz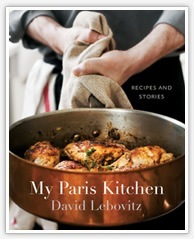 Who's not talking about My Paris Kitchen? My fellow American expat in France, pastry chef and popular cookbook author (The Sweet Life in Paris, Ready for Dessert) and blogger David Lebovitz has created and recreated 100 of his favorite dishes, savory and sweet, traditional, classic and thoroughly contemporary, that showcase Paris and how Parisians eat today. He captures the diversity of the city, her traditions and her lifestyle through his stories and the beautiful photos; he explains how the French cook, shop and eat, the ingredients found in French kitchens and in French recipes (with sources); and he offers a mouthwatering collection of recipes from appetizers through dessert, including French Onion Soup, Croque-Monsieur (and Madame!), Coq au Vin, Cherry Tomato Crostini with homemade Herbed Goat Cheese, Brandade de Morue (a favorite chez nous), Warm Chocolate Cake with Salted Butter Caramel Sauce, French Cheesecake and, just for the season, a bûche de noel.
8) The New InterCourses: An Aphrodisiac Cookbook by Martha Hopkins and Randall Lockridge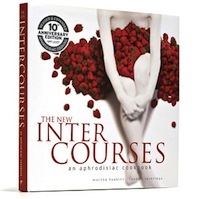 The New InterCourses is the perfect gift for a lover, as the title of this gorgeous cookbook reveals, leaving little to the imagination except what is uncovered in the pages. Organized by type of aphrodisiac, this titillating, sensuous cookbook covers nineteen foods famed for their aphrodisiacal qualities, oysters and strawberries, nuts and asparagus, ginger, artichokes, honey and (of course) chocolate among them, offering each aphrodisiac's history and a sumptuous selection of recipes for each. Prepare a Black Russian Cake, Chocolate Fig Bundles in Phyllo, Chilled Aspargus and Ginger Soup, Wild Mushroom Ragout with dark chocolate, Curried Oysters with Chardonnay, Mango Black Bean Empanadas for your partner and see what happens. The book also includes recipes on how to make edible massage oils, bath salts & scrubs. Cooking... and other things.... for two.
8) Full Belly: Good Eats for a Healthy Pregnancy by Tara Mataraza Desmond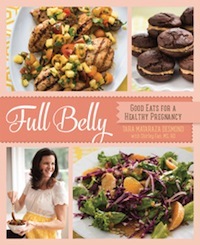 Pregnancy can be fraught with worries - What can I eat? What should I eat? What is dangerous to eat? I need to eat but I feel sick - I know, I've been there. Tara, a trained chef and author of Choosing Sides (130 best side dishes) and Almost Meatless, decided to tackle the problem during her own pregnancy by writing this "nourishing survival guide for moms-to-be". Full of "tips and tricks for making healthful cooking and eating an easy priority" and, I have to say, delicious, tempting and satisfying recipes. And Tara knows that once preparing great meals and eating well becomes a habit during the pregnancy, you will most likely continue doing so once the baby is born and as the children grow. Visit her blog here.
You'll notice that the recipes, including Braised Chicken and Collards with Noodles, Steak and Orange Salad with Sesame Dressing, Bacony Bean Soup, Lime Salsa with Giant Chips, Chocolate-Covered Strawberry Milkshake and Brown Butter Fig Rice Pudding, don't really sound like they are diet specific, but they all pack a nutritional punch for the expectant mother as much as being so good that her entire family will clamor for mealtime.
9) Mrs. Wheelbarrow's Practical Pantry: Recipes and Techniques for Year-Round Preserving by Cathy Barrow.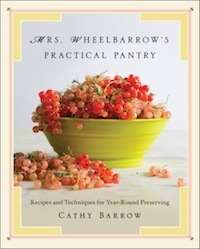 Maybe the hit food book of the year, food-preserving expert Cathy Barrow, aka Mrs. Wheelbarrow, offers an astonishing collection of practical and essential preserving techniques, canning, brining, curing, cheesemaking for the modern kitchen and today's cook; you name it, she'll have you making your own so you can enjoy seasonal fruits and vegetables, sauces, ketchups, jams, pickles, preserved meats and fish all year round, whenever you like. The perfect reference book, Cathy includes tips on preserving safety, the right equipment, freezing, right down to choosing the best produce and ingredients to preserve as well as a tempting selection of her favorite recipes that put the preserves you've made to use.
10) Warren Bobrow's Whiskey Cocktails: Rediscovered Classics and Contemporary Craft Drinks Using the World's Most Popular Spirit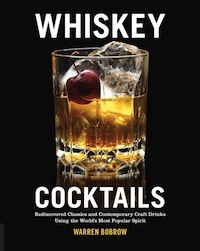 Believe it or not, I have only just recently discovered whiskey. Not as much for drinking as for cooking and baking with it, yet my newfound passion for this libation has me wild about this book from Warren Bobrow, aka The Cocktail Whisperer, author of Apothecary Cocktails. His newest book Whiskey Cocktails begins with the very fascinating history of whiskey followed by a lesson on all the different types of whiskeys, then goes on to feature 75 traditional, as well as original, contemporary and unique recipes for whiskey-based, handcrafted cocktails including the Very Twisted Oat Whiskey Mint Julep to the Rye Cider Mulligatawny, General Jack's Crisp Apple Fizz, Best Hot or Frozen Hot Chocolate.
And be still my heart, he includes a chapter on cooking with whiskey! Soaked fruits including Easy Home-Cured Cocktail Cherries, Oatmeal Raisin Whoopie Pies made with Drambuie, Hearty Barley, Lentil and Vegetable Stew, and how about a Scotsman's Flourish of oatmeal cooked with whisky-soaked dried fruit? The Tasting Table calls Bobrow's book "One of the best new whiskey books of 2014"
11) The Devil in Us: Stories of love, life and redemption by Monica Bhide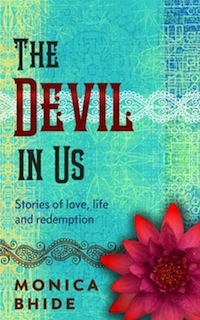 Prolific food writer and writing instructor Monica Bhide just published her first book of non-food writing. The Devil in Us is her first collection of short stories, weaving spellbinding stories of fate, fortune, and love into lessons for life. Monica's beautiful, melodic writing, fascinating story lines and compelling characters take the reader on a journey from the States to India and back, across a wide spectrum of emotions, love, hate, friendship, hope and sorrow. The Devil in Us is the perfect stocking stuffer for anyone who loves enchanting, gripping, haunting, wonderful storytelling. Visit her blog here.
12) Mad About Macarons by Jill Colonna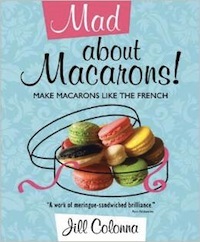 Yet another fellow expat in France, Jill's well-known and loved book on the iconic Parisian treat, le macaron, is one of the best books available for making these little French pastries at home. She takes the home baker clearly, simply and confidently through the process step by step, from her foolproof, tested basic shell recipe through 37 flavor combinations and a variety of fillings, both sweet and savory, from the classics (rose, pistachio, chocolate, coffee, vanilla) to the astonishing (sticky toffee, Thai green curry, Spicy Tikka Mac'Sala, chocolate-beetroot or pistachio-wasabi) and even spectacular macaron based desserts. The book is full of tips (there are more on her blog) as well as suggestions as to which coffees, teas or wines pair well with each. Beware! The measurements are metric! But nothing that a good kitchen scale, a necessary tool for macaron making, can't solve.
For a Baker's Dozen:
13) Two of Rhode Island's favorite bloggers, Lydia Walshin and Jennifer Leal, got together and wrote Rhode Island Recipes: Creative, healthy cooking with iconic local foods, a collection of recipes for 30 family-friendly dishes that feature products from Rhode Island companies and fresh, local ingredients including Baked Clam and Corn Fritters, Coffee Syrup Pulled Pork, Smoky Spicy Cole Slaw and Rhode Island Hot Chocolate. A fun stocking stuffer!
Jamie Schler lives in France where she writes about food and culture. To read more of her work visit Life's a Feast or the award-winning Plated Stories.