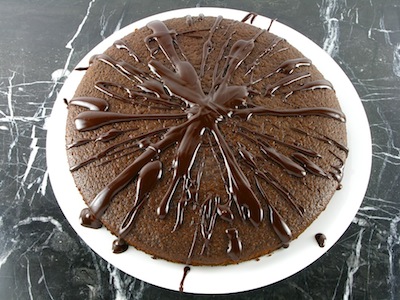 August 15 is holiday in France. A religious holiday celebrating the Assumption of Mary, it is now a day on which families and friends gather for festivities with a somewhat less than religious bent. We awoke bright and early to the joyous ringing of church bells, and prepared for a party. The sun had suddenly broken through the dreary gray skies and the rain that we've been having for weeks on end and seemed to join in the holiday spirit.
My husband announced that we had been invited to a barbecue. Images of crowds of people gathered on a wide expanse of green lawn, milling around a flaming barbecue pit, frosty beers and sodas in hand; tables groaning under the weight of too much food, bowls of salads and slaws, piles of bread and buns, steaming plates of meat carried from grill to table in an endless parade, forks stabbing at this or that, spoons carrying mounds of food to plates already overflowing; hobnobbing with this clutch of people then that one, an impromptu game of football adding noise and movement to an already vivacious outdoor party.... skitted through my American head one after the next and both husband, used to barbecues in my home country, and I were excited to be there.
Visions of an all-American-style barbecue party came crashing to the ground as we walked into the back yard. Oh, the wide expanse of green was there all right, and beautiful it was with its elegant borders of flowing greenery and tall red and pink blooms. But the grill was tucked away in a lovely little alcove, part of a well thought out décor of leather swing chair and Moroccan chandelier. A wooden picnic table was laid out for 6 just outside the kitchen entrance and prettily decorated with dishes, wine glasses and cloth napkins tied up in ribbons, equally elegant children's table off to the side. Nicely dressed children politely greeted us, kissing each of us on the cheeks in the French manner then stood quietly around waiting to be dismissed. Yes, the typical French barbecue is pretty much a replica of a sophisticated indoor dinner party, simply moved out onto the patio.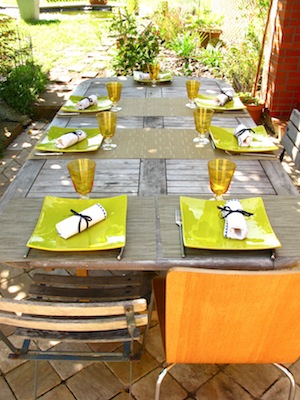 Organized and orderly, just a handful of close friends, beautiful food and plenty of wine, the French concept of the outdoor barbecue or, for that matter, picnics, is just another meal albeit al fresco. We have observed families in the forest, parks or alongside a canal or river enjoying a family picnic: tables and chairs brought from home and set, dishes, cutlery and glasses transported from home as well, nary a plastic utensil or paper plate in sight; coolers bearing pretty much what they enjoy at home for a Sunday lunch: roasted chicken and grated carrots in vinaigrette, quiches and baguettes spread with pâté, cheeses wrapped in thick white paper. We have come upon campsites at lunch time when French families or couples sit at tables, sipping wine, the woman of the family jumping up to carry platters of food from the kitchenette where she has been preparing the meal for half the morning. Sandwiches and chips enjoyed while sitting on blankets spread out on the ground, hot dogs on buns or ribs and chicken legs dripping with spicy sauces, eaten with the hands, mountains of food free for the taking and too much of it... well, that just doesn't happen.
But the French do love their barbecues and nowhere is this more evident than the marketplace. From the first days of June, butcher stands are stocked with everything and anything the French family may desire to toss onto the flames; fragrant pyramids of sausages, pale pink chipolatas speckled with flecks of herbs or deep-red spicy merguez; elegant rows of brochettes, tender cubes of chicken, veal and lamb on long sticks punctuated by bright red slices of pepper or pearly white onions, glistening in robes of an astonishing variety of marinades; even duck breasts twined up and around wooden kabob sticks like lollipops. Served alongside homemade quiche or flan laden with local, seasonal vegetables and bottles of fruity sparkling white or a deeper, aromatic red wine, this is no free-for-all, rather just another elegant French meal. And rather than skipping from one group to the next, changing conversation as one moves around the lawn like some huge rambunctious cocktail party, one sits at the table and enjoys conversation with everyone from beginning to end as the courses are served in an orderly and timely fashion. And, as my husband pointed out, the situation does not allow for a quick nip off to a quiet corner of the yard for a quick snooze after a hearty meal and one too many glasses of wine before returning to join the party as one chooses. Even the swimming pool, so inviting in the heat of an August afternoon, remains unused and forlorn off in the distant corner under the well-laid out rows of apple trees.
But what to bring as a guest? Baker that I am, the usual bouquet of flowers or bottle of wine brought as a host/hostess gift just wouldn't do it for me. But as I had no idea of either how many guests would be attending the barbecue nor what kind of food would be served... neither husband nor I had any concept of what to expect at all... I decided to play it safe. I brought along a simple Lemon Pound Cake and a platter of chocolate cake. I knew that these former work colleagues of my husband just loved when he brought my baked goods to the office and I had an inkling that chocolate was a favorite. So I prepared two one-bowl chocolate cakes, covered both in chocolate ganache icing and sliced each into bite-sized cubes. I offer you both glorious versions: one lighter and fluffier, the other denser and chewy, both offering an intensely luscious chocolate flavor, equally moist and satisfying, equally addictive. Both are made with pantry ingredients almost always on hand, and both use vegetable oil rather than butter so when the craving hits or a party is on hand there is no need to wait for butter to soften to room temperature. One version is eggless so takes the "pantry staple" idea one step further: the ideal cake for either the egg-free diet or for those days when we open up the refrigerator to find.... no eggs on hand. And both are so simple and fast to make that even a beginner can create a fabulous home-baked treat that will please a crowd.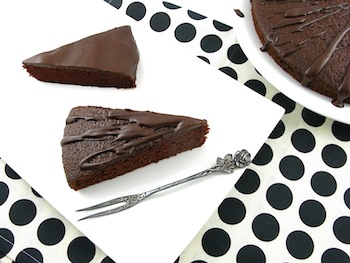 SPECIAL CHOCOLATE CAKE

My family's absolute favorite, a light and fluffy texture, always moist with a deep chocolate flavor, this is the perfect chocolate cake when one wants just that: a simple yet intensely flavored chocolate cake.

6 ounces (1 1/4 cups/175 grams) flour
1 teaspoon baking powder
1 teaspoon baking soda
2 tablespoons unsweetened cocoa powder
5 ounces (scant 3/4 cup/150 grams) sugar
½ - 1 teaspoon ground cinnamon
2 large eggs, lightly beaten
2/3 cup (150 ml) warm milk
2/3 cup (150 ml) vegetable oil
1 teaspoon vanilla

Preheat the oven to 325°F (170°C). Oil and line with parchment paper one 9-inch (23 cm) round cake pan.

Put the flour, baking powder, baking soda, cocoa powder, sugar and cinnamon in a large mixing bowl and whisk or stir to blend. In a separate mixing bowl or a large liquid measuring cup, whisk together the warm milk, the oil, eggs and vanilla.

Now it is simply a question of pouring the wet ingredients into the dry and blending well either with a whisk or a wooden spoon, although I prefer using a whisk. Make a well in the center of the dry ingredients. For a smooth, lump-free batter, pour about a quarter of the liquid ingredients into the well, and with small, brisk circular movements, whisk with just enough of the dry until you have a thick, smooth, lump-free batter in the center. Add some more of the liquid, pull in a bit more of the dry, and briskly whisk again until, aha! your batter is smooth. Continue until all the dry ingredients have been incorporated into your (now) lump-free batter, add any remaining liquid and give it a go. Pour this batter into your prepared pan and bake for about 25 to 30 minutes (depending on your oven) until the center of your cake is just set, firm to the touch and springs back when lightly pressed. The cake should start to pull away from the sides of the pan just after it is removed from the oven.

Remove to a rack, let cool for about 10 minutes, then slide a sharp knife blade around the edges to loosen, turn the cake out onto rack, peel off the parchment paper, flip back upright and let cool completely.

EGG-FREE "LICKETY SPLIT" CHOCOLATE CAKE
From ideals Hershey's Chocolate and Cocoa Cookbook, 1982

Much denser than my Special Chocolate Cake, this one-bowl cake has the advantage of being completely egg free, so perfect for either those whose diet does not include eggs or for a day when we are in the mood to bake but discover that, yes, we are out of eggs. Dense to the point of being somewhat chewy, this is a moist, very chocolaty cake that tastes wonderfully like a candy bar.

1 ½ cups (210 g) flour
1 cup (200 g) sugar
¼ cup (30 g) unsweetened cocoa powder
1 tsp baking soda
½ tsp salt
¼ tsp ground cinnamon, optional
1 cup (250 ml) water
¼ cup (62 ml) + 2 Tbs vegetable oil
1 Tbs vinegar *
1 tsp vanilla

* I only had cider vinegar in the house and it worked perfectly.

Preheat the oven to 350°F (180°C). Grease a 9-inch (23 cm) round cake pan with vegetable oil, bottom and sides, then line the bottom with a round of parchment paper.

Combine the flour, sugar, cocoa, baking soda and salt (and ground cinnamon, if adding) in a large bowl. Combine the water, vegetable oil, vinegar and vanilla. Using the same method as described in the above Special Chocolate Cake recipe to avoid lumps and produce a smooth batter, whisk the wet ingredients into the dry until well blended and smooth. Pour into the prepared pan and bake for about 30 to 35 minutes or until the center is just set and a tester comes out clean.

Remove from the oven to a rack, let cool for about 10 minutes, then slide a sharp knife blade around the edges to loosen, turn the cake out of the pan, peel off the parchment paper, flip back upright and let cool completely.

Both of these cakes are perfect when served with a simple dusting of powdered/confectioner's sugar on top. For a richer, more elegant dessert, drizzle or spread with chocolate ganache icing:

Finely chop 4 oz (120 g) semisweet chocolate and place in a medium-sized heatproof bowl. In a small saucepan, heat ½ cup (120 ml) heavy cream and 2 teaspoons unsalted butter over low heat until the cream comes just to the bowl. Pour the cream and butter over the chopped chocolate and stir until all of the chocolate is melted and the ganache is perfectly smooth. Continue to stir occasionally as the ganache cools. When the ganache is either drizzling or spreading consistency then just drizzle or spread as much as or as thickly as you like (not so much that the ganache overpowers the delicate cake). One bowl of ganache was enough for me to frost one cake and drizzle the other. Any extra ganache can be refrigerated and turned into chocolate truffles.
Jamie Schler lives, eats and writes in France. To read more of her work visit Life's a Feast.