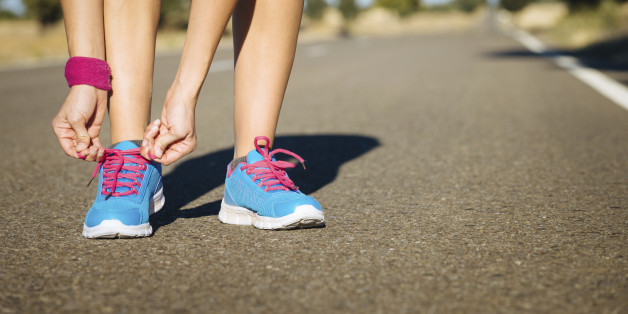 It's September, which means it's officially race season. And while many runners have been out pounding the pavement this summer, some runners are realizing just how quickly time can run away from them.
If you fell off the training wagon this summer, don't fret, there is still hope for a great race day! As long as you have a reasonable foundation of fitness, you can prepare for a race in about a month's time -- and steer clear of injury in the process. Here are five tips if you've found yourself cramming for that next race:
More challenge, less mileage:
You're limited on time, so you will need to be realistic about your mileage leading up to the big day. Instead of focusing strictly on the number of miles, try and make the next few weeks really count. Get in shorter workouts, but increase your speed and challenge (hill sprints or track intervals are always a good option here!).
And if you're at least two weeks out, look for a shorter race (half marathon for a full marathon, 10k for half marathon, etc.) to challenge your body by racing vs. just running the distance. Whatever you do, don't try to knock out any intensity or serious miles the five days before your race; it'll only do more harm than good.
Make a nutritional plan:
A lot of race day blunders can be attributed to poor nutrition rather than lack of fitness. The best way you can ensure a better race day is to be prepared when it comes to your fueling. Make a plan for your intake, and stick with it leading up to the big day. Make sure you know what foods you can tolerate while running and make a game plan for how much and how often.
Also, don't ever underestimate hydration: Stay on top of your liquids, and drink plenty of water leading up to and during your race!
Set realistic goals:
Be honest with yourself when setting your expectations for race day. If you didn't train consistently, you may not PR. You may even walk some of the race. If you go into the race with a practical mindset, you're more likely to stay positive and have a good race despite any training pitfalls.
Sleep and recovery:
Never discount sleep, ever. Sleep is one of the most important training tools you have. Make sure you get adequate rest especially the five to seven days leading up to the race. By then, your training is complete and quality sleep and ample rest can be the difference between a good and bad race day.
Start slow:
You've made it to race day! You're pumped. The crowd is pumped. The starting gun goes off, and you're feeling so great, you might break your personal record or even place in your age group! OK, not so fast... Slow your roll, literally.
If you're under-trained, its always better to start slow, not only to allow your body to warm up properly, but also to ensure you have enough in the tank to make it across the finish. The good news is that if you start slow and aren't feeling the effects of the race about mid-way through, you can increase your pace gradually until you are within reach of the finish line. The better news? If you stick to the plan and stay conservative in the first half, there's a good chance you won't have to drag yourself across the finish!
So there you have it; while it's not ideal to leave your training until the last-minute, it is possible to have a good race experience... if you run and rest smart in the final month or so before the big day. Yes, it's a race, but plan on going at your own pace, sticking to what you know you can do and trying to enjoy everything you can about the experience. And next time, all it'll take is is a little more lead time in your training to feel more prepared to hit the goals you'd like!