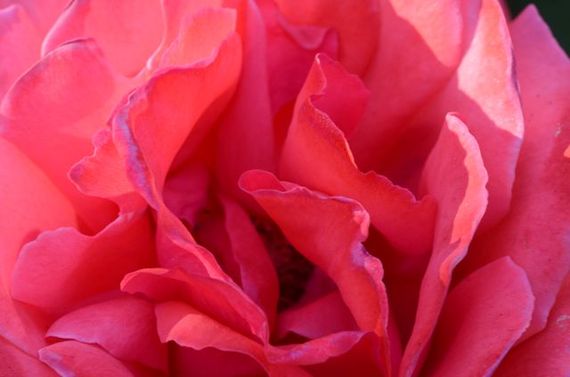 Yesterday I spent an hour in a rose garden. I photographed some of the most beautiful roses I had ever seen. It was breathtaking, and I was so grounded in the moment that I never noticed the passing of time. The roses were in all stages of their lives, from barely budding to dying on the vine. Each had its own majesty.
When I finished shooting, I felt light on my feet. Light in my body. Lifted up, in a way. And I remembered that this is a natural outcome. It always happens when I return to nature and when I start to create. Both things take me down the bliss trail.
When bedtime came, I was wide awake. I watched Tavis Smiley interview Roseanne Cash at 1 a.m. and got up to write a song. At 6:30, I woke up and wrote a poem. The poem is finished, the song is not. It seemed informed by the roses somehow, by all the dead petals lying on the ground, by the contrasting vibrancy of the tender buds. Life speaks to us in the wild. It has every answer we need. I wonder why I don't go there more often...
When I die
When I die
let them know I was ready to go
that I'd had enough fun
smelled enough roses
sailed enough seas.
Tell them I had no regrets
I laughed all the way
and could hardly wait
to slip through the veil
and see what was next
If they wonder what advice I left behind
say: add some silence to every day
sit alone in a quiet room
and feel the bliss of adoration

If they wonder did I believe in God
tell them every other week
and the rest of the time
I bowed down to Mystery.
Let them know I died saying thanks
and publish my papers that say what for.
When I die, bring out the guitars
the fiddles and harmonicas
Let the tears run down your ruby cheeks.
I've folded back in to Mind-at-Large
my flesh becoming words
that may find your lips in time.
Jan Phillips 2014