As Ebola began its march through West Africa earlier this year, health officials didn't have many tools at their disposal to fight it. But it didn't take long for health officials and my Red Cross colleagues in Guinea to realize something extraordinary: that one of the best defenses for a disease with no known treatment may actually be technology.
Knowing where affected patients are coming from and where they might be moving is critical to understanding and containing the outbreak. This is so critical, in fact, that we are now organizing volunteers to map communities affected by Ebola using OpenStreetMap. As of early April, digital humanitarians had already made over 1 million edits to OpenStreetMap. That's roughly equivalent to a year's worth of work by an advanced-level mapper. Humanitarian workers on the ground in Guinea are then using the maps to pinpoint suspect cases and study the spread of the disease.
The Ebola outbreak is the latest foray into humanitarian crisis mapping for us. This work is beginning to show dividends for our aid teams on the ground, particularly in areas that have little or limited infrastructure to begin with. For example, some communities don't have pre-existing maps to help aid agencies navigate already chaotic disaster situations. That's why we invested in technology to improve information management and visualization for better coordination and decision-making during disasters.
In 2012, we tested the power of Geographic Information Systems (GIS) amid the cholera epidemic in Sierra Leone.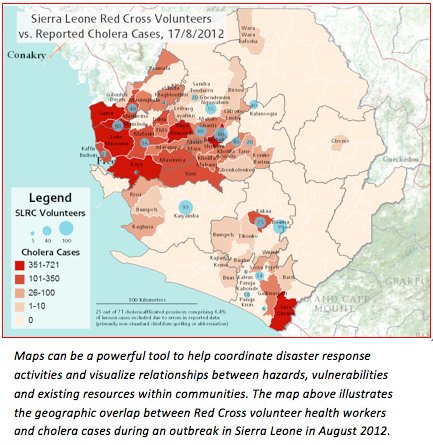 Working with the International Federation of Red Cross and Red Crescent Societies (IFRC) as well as the Sierra Leone Red Cross Society, American Red Cross GIS staff used primary and secondary data to create maps illustrating the geographic overlap between trained Sierra Leone Red Cross health volunteers and cholera cases by province. These maps helped to direct resources and improve coordination between the Red Cross and the Ministry of Health.
Just last year, we used this technology to assist the victims of Typhoon Haiyan -- and this time, digital volunteers helped create the maps. With the assistance of digital mappers from around the globe, the Red Cross could quickly update maps of disaster-affected areas. The volunteers used satellite imagery to trace roads, buildings and bodies of water from the comfort of their own homes. Each day, Haiyan responders were using the maps to measure damage and identify damaged infrastructure. This helped to pinpoint areas of most need and saved valuable response time on the ground.
The great news is that almost anyone can help in this effort. You don't need to be an expert to update OpenStreetMap. In fact, Dale Kunce, one of the Red Cross geospatial engineers, put a call out on his Twitter account the day after Typhoon Haiyan made landfall in November in the hopes that anyone with a few extra minutes would pitch in: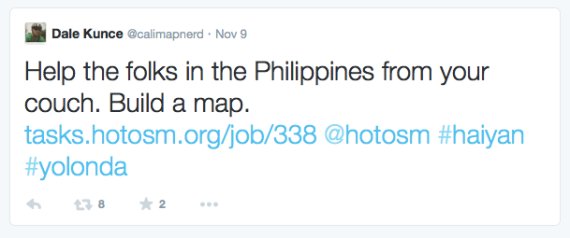 Volunteers from around the country and around the world answered his call. About 1,700 remote mappers contributed to the affected area on OpenStreetMap. Together, they made 4.8 million edits to the Philippines base map that was loaded onto Red Cross relief workers' GPS devices and utilized on the ground.
So join us and help create maps that are having an impact around the world from natural disasters to disease outbreaks, to helping a community better prepared for a future disaster. You can learn how to use OpenStreetMap at www.openstreetmap.org, then visit mapgive.state.gov and www.tasks.hotosm.org to find humanitarian "tasks."
Cisco partners with American Red Cross to respond to disasters with employee giving campaigns and volunteers who provide food, water, shelter, and relief services to people affected by natural disasters. For more information about about Cisco's focus area of critical human needs and disaster relief, please visit: http://csr.cisco.com/pages/critical-human-needs