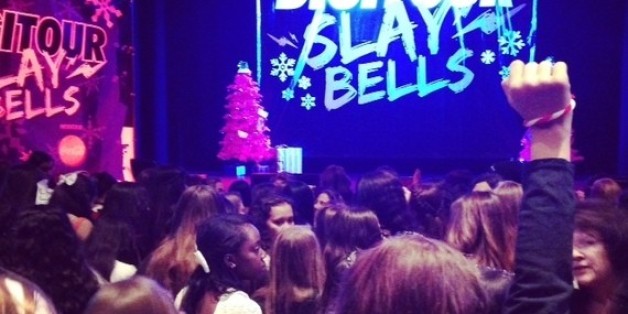 I recently attended the Digitour Slay Bells with my 13-year-old daughter. It was her Christmas gift and it made my heart smile that she wanted me, her mom, to join her for this very special experience. She was over the moon excited to get the VIP "Meet & Greet" with some of her favorite You-Tubers. Wow, how times have changed! It got me thinking about the teenager that she is becoming and what the future holds for her. After all, she is our first baby. She rocked our world, shook it upside down and made it better in so many ways. Because of her I was a mommy for the very first time. And now, our first-born daughter is thirteen years old! Where did the time go?
I have great memories of my thirteenth birthday. My mom rented a hall, had it catered and planned a boy/girl dance. For me, it was the party of the year! I remember feeling nervous dancing with some of my boy "friends" and having a blast dancing the night away to all the great '80s tunes. I received some great gifts and even made a special wish that night (which did come true!). So, in honor of my sweet 13-year-old, here are my wishes for her:
1. A love for your body, size and image. Treat it with kindness, self-love and nourish it with healthy food, plenty of sleep and exercise.
2. Great friends who will truly celebrate your success and love you for you. Friends who will laugh with you, cry with you, travel with you and protect you.
3. That you learn from the "mean girls" who will try to knock you down, threaten you, challenge you and try to take from you. May you realize that there will always be mean girls, but you have the power to choose how to react to them. You have the God-given ability to take back their power too by "shaking it off" (well-said Taylor Swift!).
4. Amazing teachers who inspire you to reach for the stars!
5. Good mascara and lipstick. These are must-haves. Keep them with you at all times.
6. A hero. Someone who steps up to help you when you need it most and the ability to be a hero to someone else in return.
7. The love of the arts, all of them. May you find your favorite and treasure it.
8. Laughter. May you always find the humor in life. Giggle, snort, laugh out loud moments are good for your heart and soul.
9. Find your inner fashionista! Experiment with different styles, designers, labels. Have fun with fashion and don't let your look be controlled by what "she" is wearing, but by what makes you feel most like Y-O-U!
10. Appreciation of family and the knowledge that family is not only who you are related to, but who celebrates and loves you in return.
11. Your voice. May you learn when to speak up, when to stay quiet and when to shout out loud. May your voice be strong, confident, kind, inspiring, forgiving and loving.
12. Your first love. Wait, never mind... not until you're 18!
13. Faith. May your walk be your walk, your journey and may you find the gifts that come from stepping out in faith whenever necessary.
As for my number one wish for me as I embrace the new year and my upcoming birthday-month: the patience to allow my teenager to explore her own wishes at her own pace. Oh and a pair of Louboutin heels (this mama needs a new pair of shoes!).