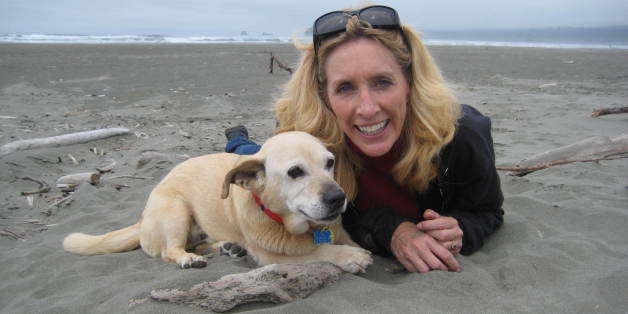 This story was produced in partnership with Facebook Stories. Submit your own Facebook story here.
---
On the afternoon of Sept. 9, 2013, the Clover Fire started in the rural hills southwest of Redding, Calif., and didn't stop until it burned more than 8,000 acres and 68 homes. From the windows of Haven Humane Society, we spotted a huge plume of smoke, which appeared very close, and quickly mobilized our Animal Control units, our Disaster Rescue team with a horse trailer, and our Rescue Coordinator with an empty mobile adoption unit. The rest of us stayed behind at the shelter, faced with the seemingly impossible task of making room for more animals.

When news of the fire got out, the phones started ringing off the hook. As executive assistant, I jumped in to help and started taking notes from callers offering their horse trailers, pastures, barns and dog runs for the evacuated animals. On the third such call, I choked up and couldn't speak. When I found my voice, I apologized for my unexpected absence in the conversation and explained that the generous offers from everyone calling had touched me and made me feel proud to be part of such a caring community of animal lovers.
That community continued to shine through the duration of the fire and in the weeks afterward. One of the most important outlets for us during this time was our Facebook Page, which we used to communicate important information, request donations and to share photos of animals that had been recovered so that we might find the owner. The response was incredible.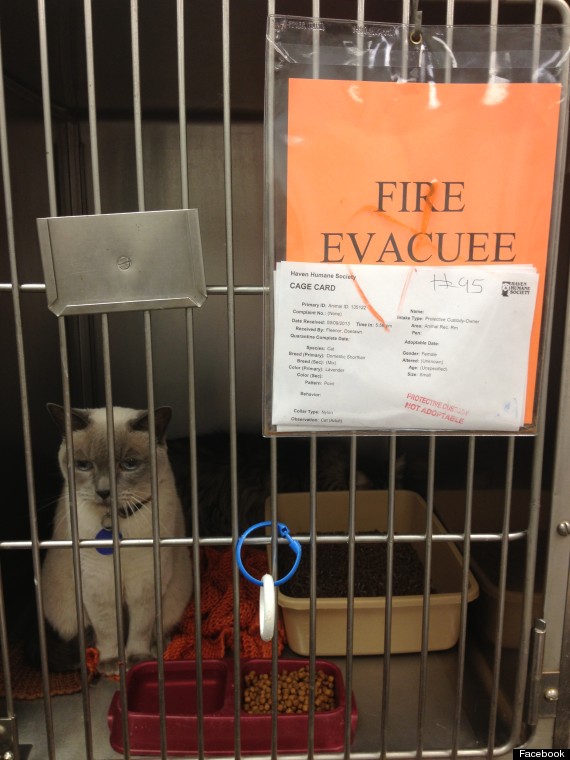 Disasters like these can put a huge stress on our shelter population. Our facility was completely full with dogs and cats. We didn't have a single empty kennel so we had to double the animals up to find as much space as possible for the new arrivals. We had no idea how many and which species of animals would be coming through our doors.
The first Animal Control truck arrived at the shelter to deliver 12 rabbits. Then the floodgates opened. Evacuees started arriving with their pets. People who had been in town when the fire started, and weren't allowed to return home, came to the animal shelter in a panic because their pets were at home and would surely be consumed by the fire. We dispatched our rescue team to their addresses with a description of the pets left behind. We found and saved many of them, and sometimes had the difficult task of telling evacuees whether or not their homes were still standing.
We posted the names and phone numbers of businesses offering temporary boarding services on Facebook. We asked the community to bring us donations of pet food and livestock feed to provide for the evacuated animals, as well as and those we were now caring for until their owners could return home.
The generosity was overwhelming, and by the end of the day, we had 84 bales of hay, pig and chicken feed and tons of pet food to help us care for the 104 animals at the shelter we had taken in.
As owners came to the shelter looking for their pets, I took some pictures of the happy reunions and posted them on our Page. As an animal lover, I know there's no happier story for fellow animal lovers than knowing a pet is as important and as loved as a child.
A week after the fire started, most of the animals we took in had been returned to their owners. I was posting a note and some photos on our Facebook Page in another attempt to find the owners of the last seven cats evacuated from the fire, all of whom were being treated for burns at our veterinary clinic, when I had a revelation. Over the years, Facebook has been an excellent forum for showing our adoptable animals and advertising our fundraising events. But in disasters like the Clover Fire, the ability to instantly share information and photographs with thousands of people is paramount in getting rescued animals back to their loved ones and bringing the community together to lend a hand to those in need.
My last post about the remaining cats was viewed more than 3,600 times and shared 61 times. The cats' owners have not been found -- perhaps they never expected a cat would survive the fire -- but through that post, we have placed all seven cats into foster homes where they are being loved and treated until they are healed and will be placed up for adoption.