I've always heard it takes seven compliments to undo one bad comment. But I actually think it's more than that. Waaaaay more.
When it comes to achievement, if 100 people say "good job" but one person says "you weren't that great," why do we always remember that one negative comment?
It's not rational. It's certainly not mathematical. Because 100 people to one said something good. So why does that one get so much consideration? Why does that one person's negative message seem louder than the 100 others who said "you go girl"?
As soon as I was published in The Huffington Post, I was on cloud nine. A huge dream of mine had finally happened. The article was liked by more than 126,000 people, shared on Facebook 24,519 times and emailed, pinned and tweeted hundreds more times on my behalf. I was amazed, thrilled, shocked. The emails and texts started pouring in, all positive. Friends congratulating me, saying "I knew you could do it" and "It's about time."
On Facebook, I started with 592 fans and ballooned to over 5,101 fans in a few days. And the biggest encouragements were the countless messages I received through Facebook, from other women saying my writing had spoken to them. (My #1 goal is encouraging other women, not making money or becoming a big "blogging star," so this was huge for me!)
You have by far become one of my favourite writers. Finally a woman speaking up about what it's really like to be a mom!
Words out of mouth and thoughts out of head!
This lady promotes women supporting each other, not tearing each other down, negating one another, or making it a competition. This lady really speaks the truth and very eloquently done.
I read the comments, and I got chills. I wept tears of gratitude. I thanked God because it was obvious that what is on my heart was coming through in my writings.
Not one negative comment on Facebook, on the site, via email or any other channel.
And then, after all that...
A few days later, I checked our email subscriber list and saw that three people had unsubscribed.
Why did they unsubscribe?
I saw that one of them had unsubscribed after opening my email about my DIY $4 Chevron bench makeover. Was that a boring post? Was it stupid? Was it not relatable? The questions were swirling through my head. Another person unsubscribed after my update on my HuffPost article being published. Was that conceited of me to send that? Were people disgusted at me showcasing my recent feature?
I'm ashamed to say that these thoughts, about three people who unsubscribed from our email list, actually kept me up for an entire night.
In the morning, I was soooo mad at myself.
For letting three people undo the compliments and good wishes and encouragements and motivations and inspirations that literally thousands of people had poured into me over the course of the last few days. When you add up all the support, that's 163,110 follows, likes, tweets, subscribers and page views. That I let three people undo.
Truly, it's incredible how much power we give the negative. If we allow it.
I let those three unsubscribers get into my head. And tell me that they were right. My site was boring. It was uninteresting. It was not worth reading.
But truly, it wasn't those three people.
It was my choice to allow those negative words to invade my thoughts about myself. It was my choice to let other peoples' doubts change how I thought about my writings. It was my choice to stop loving myself, or thinking I was worth it, because it seemed that someone else had.
If it can happen to me, two days after achieving a lifelong dream of being published in one of the most popular publications in the world, it can happen to anyone.
Don't give the negative that much credit. Don't give the doubts that much time. Don't give the "you could have done better" any chance of getting into your brain.
Because you are so worth it and so interesting and so valuable.
No matter what three strangers say.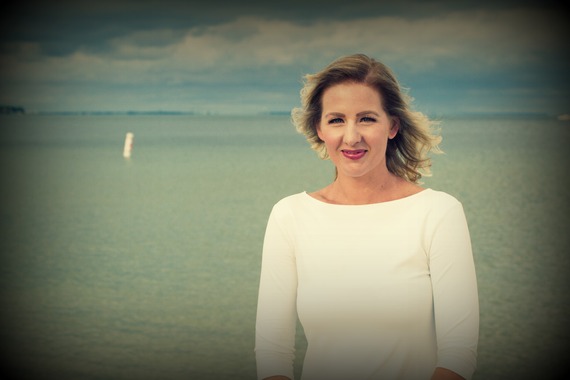 Photo courtesy: Kellie Hero Photography
Formerly an Emmy-nominated TV news reporter, Janie Porter is the creator of SheJustGlows.com and (often-unshowered) stay-at-home mama to two boys under 3 years old. Follow her on Facebook and Twitter for posts about green smoothies, less-than-perfect parenting, and finding your inner glow.