"What good is the warmth of summer, without the cold of winter to give it sweetness." -- John Steinbeck
Given all of the tragedy, grief and outrage that is enveloping our world right now, this is my favorite holiday 2014 image.
This powerful and provocative photo is worth a million words not only for the holiday season but for life in general. I don't know what is happening right now but it seems that everyone I know is going through a very difficult time and this image embodies the desperate, the weak, the hunger in us all coupled with the joy that can be both real and contrived. During this season of cheer, it seems that as much as we try and escape the long, dark and cold days of winter that bright lights and sugary sweets just can't distract from reality and the sometimes harsh truth of our human condition. Illness, strained family relations, poverty, violence, heartache, homelessness -- the list goes on and on. How do we stay hopeful and keep breathing?
My work as a mental health advocate is often filled with some aspect of grief and trauma. The key for me to stay healthy is not to fight the shadow but to embrace it. I have found that by accepting "what is" without judgement, an opening to healing and light can shine through with more potency. The elements of this prescription include noticing and expressing gratitude, slowing down to be present, connecting with others, fun and self-care. Each person has their own unique formula for wellness and these are the essential tools for me to navigate through dark times.
On the heels of advocating for the life of a man with schizophrenia on death row, coupled with the news of the unspeakable attack on the schoolchildren in Pakistan, intense racial strife in our nation and the anniversary of the tragedy in Newtown, I offer a glimpse of solstice solace through images of how I've tried to manage the delicate balance of the light and dark with some grace.

Friday, Day One - Presence and Hope
I wept when I watched the video of my son's eighth grade class on the feast day of Santa Lucia, the celebration of light where his classmates were all dressed in white angelically singing, "Santa Lucia, Santa Lucia". The procession was led by one of the girls with a wreath of evergreen and candles on her head as they slowly walked with presence, innocence and hope to deliver sweet, saffron buns to the younger children in the school. Yes, teenagers in 2014 embodying a throwback to a gentler time -- the closest articulation to peace on earth that I have ever witnessed.
(To top it off, a few hours later, my friend texted me this photo of her daughter who was Santa Lucia at a Waldorf school on the other side of the country)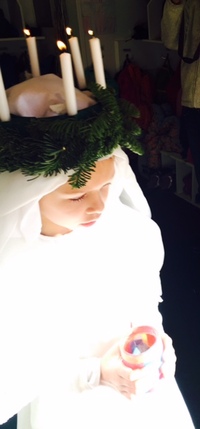 Saturday, Day Two - Connection and Self Care
Starting to feel sick from exhaustion, I slept on and off for most of Saturday and decided to rally for a yoga and music event called "Long Nights Moon". Soulful, quiet and inspiring, class began with everyone in a circle putting one hand on their hearts and the other hand on the back of the person next to them. The feeling of connectedness was palpable and the tight hugs with my two close friends who were with me were especially nourishing.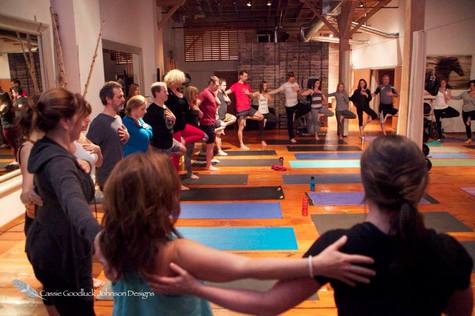 Sunday, Day Three - Gratitude
I have been writing about the tragedy in Newtown since that chilling day in December of 2012. As I prepared for the two-year anniversary, I started to write but each piece just didn't hit the mark and I was left wondering how I would create a meaningful remembrance. The day ended up being life-changing as I had the sacred honor of spending the afternoon with Richard Martinez who lost his son Christopher in the Isla Vista shootings last May. Richard was the guest speaker at a Moms Demand Action for Gun Violence gathering that was held at the home of a friend. Shadow and light -- life and death were powerful forces as we faced the painful issues around gun violence and our broken systems. One could feel the hope and gratitude in the riveting discussion with Mr. Martinez as we all held space for the pain while we simultaneously made cards for the family members of gun violence victims and the children played joyfully in the background of this festively decorated home. Our hearts were heavy with grief but also with gratitude and hope as we came together to take action for a safer and more peaceful world.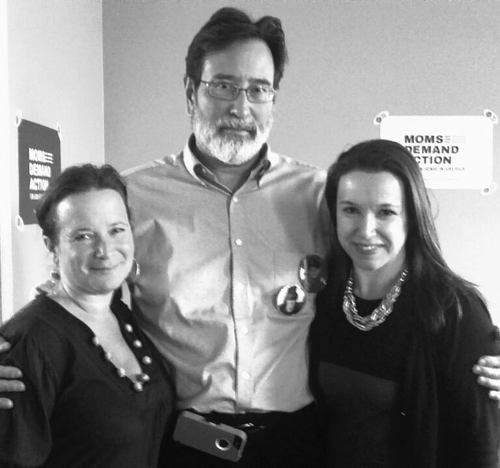 Monday, Day Four - Fun and Laughter
Zubin Damania, aka Z Dogg MD is one of the funniest video personalities on the internet and his recent holiday piece is authentic and hilarious. His Facebook posting of the video said, "My family... is not normal." Who can't relate to that sentiment? So far this season, I haven't attended a holiday party that has entertained me as much as this video.
As we embrace these cold, dark moments in the shadows -- together with the light, the gratitude, the laughter and love -- let's start by taking care of ourselves and giving from our overflow to our loved ones and our neighbors, our brothers and sisters in the larger family of our community and our country, our nation and world.