Startups today talk a big game.
Entrepreneurs' braggadocio has long been an item of parody, but their claims to "make the world a better place by disrupting (insert jargon)" highlight a deep-rooted problem in the world of innovation.
"There is no 'Uber for poverty', there is no 'Airbnb for solving homelessness," writes technology journalist Mic Wright, "... everything is political and technology does not exist outside of that environment."
For a sector obsessed with talks of "disruption," most of the noise in mainstream media's echo chamber seems to be reserved for companies thriving in large industrial verticals (e.g. transportation, music, online retail, social media) rather than social-centric, impact-driven ventures. This is hardly surprising. Talking about autonomous electric vehicles that drive faster than you fall is sexy; discussing mental health care is not.
Companies like Tesla, Facebook and Uber have indeed disrupted entire markets, are wildly popular, and have $30 to $200 billion in valuation or market capitalization. Perhaps that is why it is so easy to lose sight of technology's potential to solve some of society's more grounded problems in light of all the glamor surrounding its flashier applications.
Tech columnists and idealists lament how NASA launched a man to the moon in 1969 with the same computing power that we have on our phones today while "we launch a bird into pigs." After all, squandering our technical talents on making our toilet breaks marginally more enjoyable pales in comparison to building groundbreaking technologies that connect and advance humanity.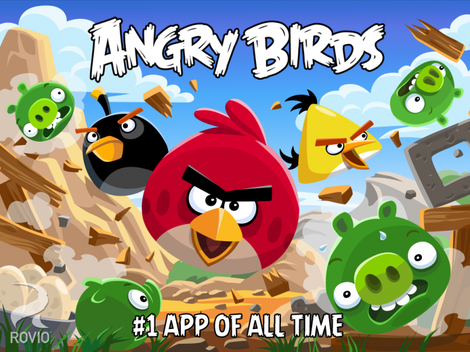 No offense to Angry Birds (all rights reserved by Rovio).
Ironically, the hubris to change the world in whatever way we see fit may distract us from the more immediate things that we could be changing. Launching people to the moon may push the frontiers of human knowledge, but it is important to not overlook the more grounded social problems that can be alleviated through technology today. We must take care not to leave some of us behind when we attempt to advance society.
To illustrate technology's potential as a means of elevating people to the luxuries many of us take for granted, I asked the Breaking Hoops community for startup suggestions and spent the following months reaching out to the founders and board members.
Below are some of the companies working to make our world a better place.
Imagine driving 10 hours to see your favorite band perform live, only to be suddenly overcome with anxiety, flee from the crowd, and drive back home in helpless anguish.
Patients like these are among the 15 million American adults suffering from social anxiety disorder that Joyable seeks to help. An online service that provides an affordable form of psychotherapy called Cognitive Behavioral Therapy (CBT), Joyable is a much-needed alternative in a $113 billion mental health industry beset by social stigma, lack of accessibility and dwindling government funding.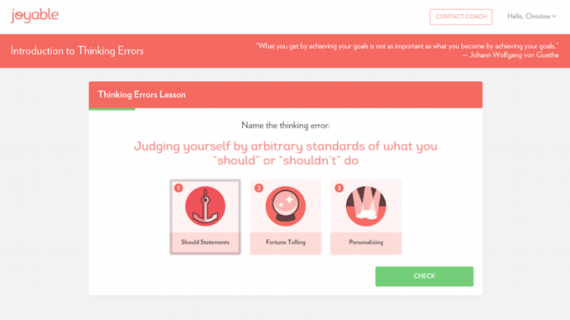 "People (with social anxiety disorder) are inhibited from being the best versions of themselves," says Joyable co-founder and CEO Peter Shalek, "We live in a time when we have more access to material comfort, which in theory should lead to a higher quality of life, but in reality people are the least happy now, more so than ever."
The San Francisco-based startup provides 12-week courses in which clients are paired up with personal coaches. Clients are guided through a series of cognitive restructuring exercises before learning to gradually apply them in real life. With 45 percent of currently untreated patients citing cost as a barrier, Joyable offers its courses at one-tenth the price of traditional therapy in an attempt to help more people help themselves.
"Just 30 years ago talking about losing weight was uncommon, but today everyone can feel free to talk about their physical health," Shalek observes, "Within 10 years, people should be able to talk about mental health with the same ease and fluency, and our goal is to advocate that while championing a data-driven approach."
Multiple studies have corroborated CBT as the most effective treatment in reducing social anxiety, and Joyable has since helped 90 percent of its clients reduce their social anxiety.
In David Lindsay's first year as a MD/Ph.D. at the University of Pennsylvania, his mother was diagnosed with breast cancer.
He scoured every outlet he could find to pinpoint the best care but was shocked and disappointed with the lack of reliable resources. Together with his friend Christopher Berlind (left in picture), a Ph.D. student at the Georgia Institute of Technology, Lindsay launched Oncora Medical, a startup that analyzes big data from cancer treatment centers around the world to predict the most effective treatments for specific cancer cases.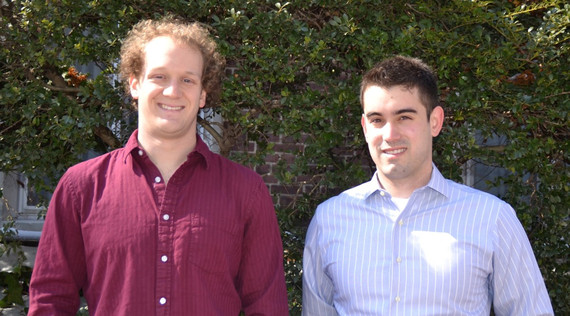 "Different cases of the same cancer may require vastly different treatments, with varying results," explains Lindsay, "Many times people who get this data have very specific purposes for it, but they are not looking at other possible usages. They are also not looking at historical data... and there's a lot we can do with it."
Lindsay is particularly shocked by how data-driven solutions seem to dominate much of today's business, but remain relatively untapped in oncology, a $100 billion industry battling 8.3 million deaths a year. To him, the troubling thing was that the essential data to predict the best cancer treatments already exists in hospitals all around the world, but has barely been made accessible to oncologists. Oncora's mission is to allow radiation oncologists to tap into the data, predict treatment outcomes and ultimately develop customized treatment plans and help more people successfully overcome cancer.
The Philadelphia-based team recently received a $20,000 seed fund from Dorm Room Fund, a student-run venture fund, to streamline its product. In the long run, Lindsay still considers pursuing neurosurgery, but for now he is determined to tackle cancer head on with data science.
This Berlin- and Nairobi-based social enterprise is tackling a problem that many are uncomfortable to discuss: feminine hygiene.
While cotton disposables or cloth pads are taken for granted in the developed world, menstruation care is often poorly dealt with in the developing world. Roughly half of all girls in Kenyan slums have sex with older men in exchange for sanitary napkins -- otherwise, unclean items such as leaves, rags, mud or bark are used. As a result, infection and diseases are common, which in turns inhibit women's education and livelihoods.
Ruby Cup co-founder Maxie Matthiessen is determined to change that.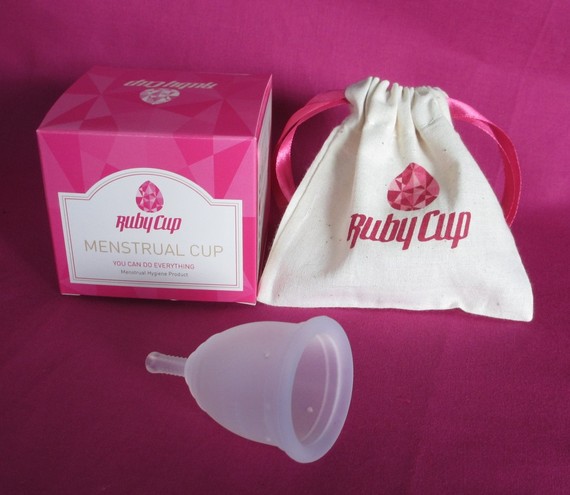 "I was inspired by Steve Jobs, who in his Stanford speech said 'innovation is about connecting the dots'," Matthiessen explains, "I was studying in university about the problems faced by women around the world and came upon the problem of menstruation care... earlier, my sister introduced me to reusable menstrual cups. I put two and two together and started Ruby Cup."
Ruby Cup eventually took the form of an online store for menstrual cups. These cups are made from medical-grade silicone, are reusable, offer up to 12 hours of protection and are a more eco-friendly substitute to disposable tampons and sanitary napkins. For every Ruby Cup sold, Matthiessen and her team give one to a girl in Kenya at a "symbolic price": girls pay whatever they can for their cups to encourage self-reliance, and no girl is turned away if they cannot afford to pay anything.
"Menstrual cups are safe and reliable, and I thought if I liked this product, then it should also be available in parts of the world where it is needed the most," says Matthiessen.
Matthiessen's team started off with a seed fund from the ministry of development in Denmark and have since provided 5000 cups, with an additional 10,000 waiting to be shipped soon. Perhaps the most important fact about Ruby Cup is that unlike traditional "buy-one-give-one" models championed by companies like Tom's Shoes, Ruby Cup does not compete with local producers in Kenya -- because there are none.
"We are truly trying to fill a void and make an impact," Matthiessen says, "and that excites me."
4. ShareTheMeal
Ever thought of feeding a malnourished child with two taps on your phone?
Now you can.
When I started chatting with Berlin-based ShareTheMeal co-founder Sebastian Stricker, we took a screenshot of their website's counter, which keeps tracks of how many meals they have delivered to hungry children through the UN World Food Program.
After a brief 20 minutes, we checked the counter again and compared the numbers -- and were pleased to see 1361 hungry mouths about to be fed.
Stricker used to be a strategy consultant at the Boston Consulting Group and worked with the UN on food security and nutrition. Through that experience, he learnt that 750 million people around the world are severely malnourished, with a paltry 1 to 2 percent reduction every year.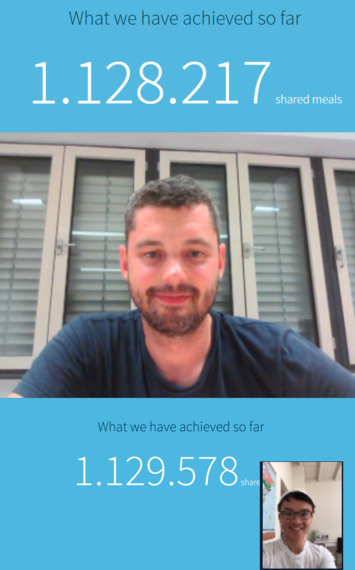 "What that tells me," Stricker says, "is that hunger is not that unsolvable of a problem. However, at the current rate, the end of hunger will not happen until a couple decades from now."
To take matters into his own hands, Stricker co-founded ShareTheMeal, a mobile application that allows users to fund a meal for a person in a developing country with 40 cents in Euro (or 44 cents in USD). The founding ideal behind the application, according to Stricker, is the concept of giving back.
"The 'I've been fortunate, I've had enough to sustain my life, and it's my duty to share with you' mentality is something we are trying to promote."
ShareTheMeal's central tenet seems to have struck a chord with people around the world.
"Every minute, someone shares a meal," Stricker says.
"For us it was never about making money, but whether we can prove that we can make a tool to tackle food security... everything happened because of our amazing community."
At the time of our speaking in July, ShareTheMeal has received 110 million downloads. Today, Stricker and his team have funded 1.5 million meals in developing countries.
Check out the remaining 2 startups on Breaking Hoops - a blog on people making an impact!