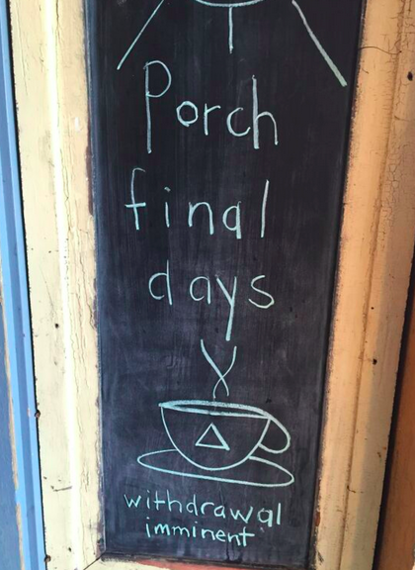 The day last week when Bondi hotspot Porch had to close for renovations to expand to accommodate their rapidly growing community...

We moved home to Sydney, Australia from Portland, Oregon five months ago to continue to run our 10-year old company gDiapers from here, get the kids into Aussie schools and be closer to family.

In reacquainting ourselves with our old neighbourhood we noticed a funny thing. In a one-kilometre radius from our place at North Bondi Beach there are no less than seven cafes. Seven. And not seven homogeneous Starbucks. Seven independently owned cafes offering Short Blacks, Long Blacks, Flat Whites, Piccolo's and Doppio Espresso Machiattos (these are all coffees by the way) with banana bread, kale shakes and ricotta pancakes. A Frappuccino-free marketplace. But that isn't the interesting thing.
The interesting thing is seeing what makes one café more popular than every other café. Is it the one with the best view? The best Barista? The best Menu?
The one with the best view, Speedos has been a stalwart for years. When the Oprah Winfrey Show did an entire episode on Sydney and Hugh Jackman did a little spin around the beach for her, he hit Speedos. The coffee is pretty good and their selection of the newest American food innovation, Cronuts is amazing. But it lacks buzz.
BRU is further away from the beach and run out of the garage of an apartment building. It has a solid little crowd but with limited seating doesn't really have a vibe. Jo & Willy's has a killer Chicken haloumi salad, good coffee and a great team but they aren't THE place either.
No, THE place to be is Porch & Parlour. But strangely enough it is in the worst place. It looks over a busy road facing the back of the North Bondi Surf Life Saving Club. Not only that, it is in a hexed location. The place has seen at least five cafes come and go. No one could make it work.
When I first walked by, I was so intimidated by the sheer number of beards, tatts, flannel shirts, felt hats and Leica cameras, I just couldn't make myself walk through the door. A 45-year old in the hippest café in town is never a good look.
But then a funny thing happened. My wife / co-founder Kim and I needed some young Dad's for a photo shoot for gDiapers. We roped in a mate from the surf shop and his little one. And then he roped in his mate, a waiter at the aforementioned Porch & Parlour and his bub. And yes, he has an epic beard (the waiter, not his baby daughter. Yet). We did the shoot and in figuring out how to pay for their time, landed on a bottle of Jameson's Whiskey and a bottle of Sailor Jerry Rum. (NB: We are Australians. 80% of us are the product of Irish Convicts. Rum was used as a currency here 200 years ago. I am really hoping my expense claim for two bottles of alcohol in return for a photo shoot passes muster with my US CFO. We shall see).
I digress. I delivered our waiter / model his bottle of Sailor Jerry's rum and in doing so was invited into the most popular café in the Southern Hemisphere. Perhaps even the world. And then I got it. Sitting there I saw the community that the couple who had started it had created. It was vibrant, welcoming, fun and energizing. My waiter mate shared our little alcohol-for-photos barter story and a large group discussion ensued. You didn't need a Tatt, a Leica or a beard. What made the place was the people. The view was irrelevant. And a large group of people create yet more people wanting in. There is a constant queue outside the place. So much so that this week they are closed for renovations to expand into the next door space. The location with a hex on it is now hexed no more. Not because of the paint job, the view, the coffee, the cronuts or the stools. It's the people. The guy who was happy to be paid with rum for his time got me sold on the joint. And we met him through the guy at the surf shop who teaches our son surfing. And once you're in, you're in. So it really is all about the people. The community. The one person who know another person and introduces them to the group. And that group grows. And grows. And grows.
In the digital world, Facebook was such a place. Facebook said we, the people could build our own communities and grow them and interact with them. Then in the only way they could work out how to monetise 1.4 billion monthly users, they built a wall around our own communities, the people we ourselves created and now we have to pay for the privilege to speak with our own people. Nice one Facebook. As Scott Galloway says, it was the greatest bait and switch in modern business memory and I am not sure how many people really understand the implications.

Porch & Parlour demonstrates how community is the key to growing a passion brand and create a meaningful enterprise. It's not the number of followers on Facebook, a flash website or the best coffee in town. It is people, people, people. It is that simple and that hard. Because there are seven cafes in North Bondi and only one is really crushing it.