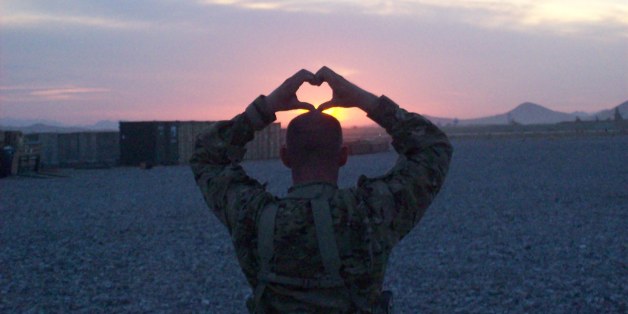 This story was produced in partnership with Facebook Stories. Submit your own Facebook story here.
---
After my wife Kembra had our fourth miscarriage and the doctor said we had no more options, we gave up and accepted that our one-child family would remain unchanged.
At that point, I went on to finish the last stages of stateside training with the Army National Guard, and Kembra went on with her life, which included completing a mission trip to the Dominican Republic. After catching a bug on the trip, she came home and continued to be sick, even after everyone she traveled with seemed fine. The furthest thing from our mind was pregnancy, so we thought it could be a parasite. Finally, she took a test and lo and behold, it was positive. The same doctor who said a baby wasn't possible had to recant and say that, in fact, Kembra had a sort of parasite that turned out to be close to 8 weeks old! I was still training for deployment to Afghanistan and would be leaving the country in the next few weeks. Luckily, I was able to get home one last time to see the first ultrasound.

That would be the last ounce of involvement I would have in person. I missed the doctor's appointments, the feeling of my baby kicking for the first time, discovering the gender, and -- hardest of all -- the birth of our second son. It was weird to not be a part of any of that. Some men hate dealing with pregnancy but honestly I loved it, all of it. It broke my heart to know that I would miss it. Though it was a struggle to be away, Facebook made it possible to follow along will all the new changes. I couldn't wait for Kembra's next post, hoping for pictures of her, or of our oldest son, or even a new ultrasound. Without the pictures to document everything, it would have been like the pregnancy didn't even happen, except of course, there would be a brand new baby waiting for me when I returned home.

The Internet service at our base in Afghanistan was sketchy at best, but it was an improvement over my first deployment in Iraq in 2006. Back then we could only go online from a shack set up with computers. Our time was limited and our opportunities to speak were few and far in between. Email was our best option, but it made getting pictures difficult. The worst part of that was our first-born son Jeshua was about 9 months old when I left and close to 2 years old when I returned. You can imagine how much he changed in that time.
This deployment however, I had the Internet in my room so I left Facebook open all day. Every chance I got, I sent messages home and checked to see if there might be any new pictures posted. Seeing photos was my connection. I couldn't wait to see how my family was doing and to see how Kembra and Jeshua were growing, each in their own way of course! The highlights were the ultrasound pictures. I couldn't wait to show my buddies. I don't think in the eight months I was in Afghanistan I ever logged out of Facebook. It was the lifeline to my home, my family...my life.
I was still more than 7,000 miles away when Kembra went to the hospital to have Baby Tucker. Thank goodness for modern technology and the kind hearts of the hospital staff who did everything they could to get an Internet connection. Thanks to them, I was able to use Skype to witness the birth of our second child, our little miracle. While the picture was a bit blurry, that distinct sound of Tucker's first cry was nothing less than perfect. I witnessed his first breath, his first cry, and that first moment when Kembra got to hold that miracle of a child and look into his eyes. It was torture not to be there, and yet it was the most beautiful thing God has ever allowed me to see.
As time passed, I would get to see other firsts through Facebook, like his eyes being open wide and his first smile. Kembra also posted pictures of our two boys together. Nothing warmed my heart more that to see the joy in my oldest son's eyes when he held Tucker for the first time.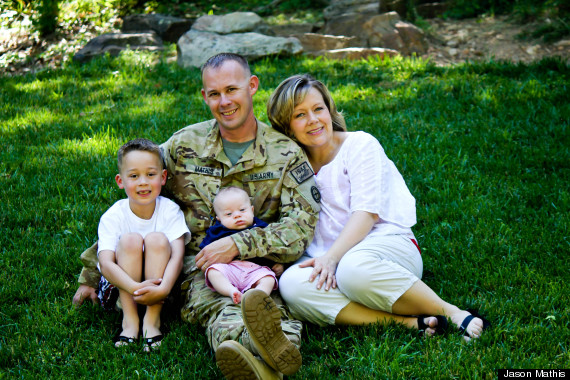 About three months later, in June, I returned home to Arkansas. It was amazing, but completely surreal. We were a solid family of three when I left, but by God's grace alone, I returned to a family of four. Stepping into the living room for the first time in nearly a year and finding that tiny creature sleeping soundly in his bassinet was overwhelming. That's when I realized, we really did just have a baby! It's hard to explain that feeling. We bonded immediately. Tucker is such a sweet, happy baby.
Let's not forget Jeshua who was nearly 8 at the time. He has grown into such a wonderful boy. I'm teaching him about radio-controlled airplanes, which has been a hobby of mine since I was 10 years old. Now it's something he and I can share together.

Though being home was stressful at first, it has been so much fun to be home with the boys. I've missed my family so much. Now that I'm home, I use Facebook to keep up with all my buddies I was deployed with. It's how we take care of each other but I also enjoy seeing how all our lives have changed and continue to change.

I have since reenlisted in the National Guard another four years in order to complete the full 20-year career. I'm really looking forward to serving stateside, which was the whole reason I joined the National Guard 16 years ago. Though I can't see the future, I'm hoping I won't be deployed again. I don't want to spend another moment away from my family, but should that time ever come again, I know I can rely on Facebook to help keep us connected.