Most of Hawaii's startup scene is focused on web, smartphone and other digital technologies. But Hawaii is also a great crucible for analog startups, and in the case of Bluesmiths, it's technology for people who spend more time surfing the waves than the Internet.
Bluesmiths, a Maui-based company created by a former chaser of windsurfing speed records, seeks to be the premier source of technical clothing for watersports enthusiasts. So far, they're making great progress.
"I started Bluesmiths to make the hardest working and most versatile waterwear available," said John Smalley, Bluesmiths' founder. "People who love their sport, whatever it is, like to invest in great gear, but clothing is an afterthought. I wanted to create a brand that treated clothing like the critical piece of gear that it is."
He's right. You can ride your $4,000 carbon fiber bicycle, hop in your $3,000 Kevlar canoe, then jump on your $4,500 jet-driven surfboard--all while capturing every moment on your $400 HD camera.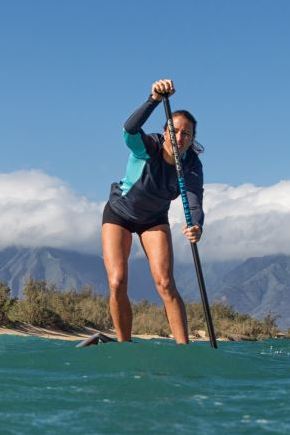 So why are you wearing $60 board shorts and a $30 rash guard?
Smalley, born in a landlocked English town he described as being "as far from the coast as you can get," isn't your typical waterman, or your typical clothier. He's an accountant by trade, having worked in finance, giving him a technical, quantitative mindset. He got into windsurfing 25 years ago and, as he excelled, began visiting Hawaii in the mid-90s.
"I was sponsored by a Hawaii company to attempt to break windsurfing speed records," said Smalley, in a casual, unpretentious "Didn't everyone?" manner.
"I was testing lots of hardware for Naish and other brands, seeing that they put a lot of time and technology into their products. I started thinking about clothing and saw an opportunity to create something unique that could embrace ocean activities and tell a different story than just fashion."
Smalley also saw that the image being portrayed by some watersports brands was a bit disingenuous.
"You walk into a store and it's nice to see a big image of Kelly Slater getting barreled in Tahiti," noticed Smalley. "Most people don't do that, don't get barreled every time they surf, don't go to exotic locations. But it's still fun for us to be out on the water."
He figured that he could create a brand that would enhance the activity, not just the idea of the activity.
During a winter snowboarding trip, Smalley saw the engineering, fabrics and technical features that went into snowsports clothing. He asked himself, "Why doesn't this exist for ocean sports?"
Digging deeper, he went to a textiles show in Germany and met the CEO of Swiss company Schoeller, a manufacturer of cutting edge fabrics and textile technologies, like their "coldblack" fabric that, although dark, keeps wearers cool.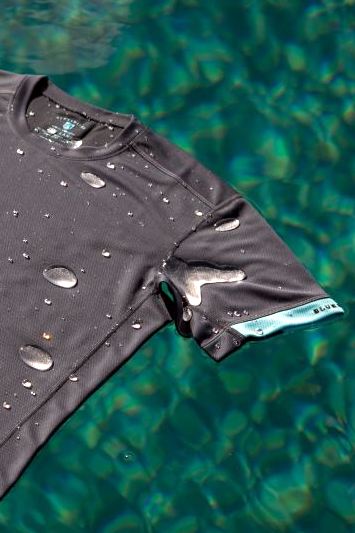 "The fabrics were so far ahead of what surfers were being offered at the time, I knew that there was an opportunity," recalled Smalley, so he ordered some fabrics and made some prototypes.
"Testing is simple," he explained. "You make shorts. You wear them. You hope they don't fall off. We must have tested 50 or so fabrics and designs before we got the right one. But I don't want to build any gear unless it adds value to the sport or the athlete. Bluesmiths' gear is extremely considered and refined. There's enough generic gear out there."
Beyond testing and design, there's also Smalley's unrelenting focus on quality.
"From the beginning, we wanted people to think of it as an investment in gear," he continued. "Our fabric is five or six times more expensive than what any major brand uses, but it's worth it. And we use a specialized, small-run shop in Canada to ensure that the manufacturing quality matches the fabric quality."
And that focus on quality is working. Since launching their online-only shop in July, 2012, Smalley says they have had lower-than-expected returns and exchanges.Bluesmiths' "The Spartan" shorts--yours for an investment of $175--were named to Men's Journal's "Gear of the Year" list, while Outside Magazine called them "the nicest we've ever worn."
"Our name reflects the practical, hands on nature of how we operate--build, test, perfect, re-test, re-perfect," Smalley explained. "Think of Bluesmiths as the blacksmiths of the ocean. Instead, we're craftsmen of waterwear."
And, as a craftsman, Smalley knows that success doesn't happen overnight.
"I know that we're starting this from scratch and that it'll take a few years to get to a good point," Smalley added. He has patience, however, and plans to continue investing in the brand, quickly identifying and moving beyond mistakes and the growing pains that every entrepreneur faces.
"It would have been helpful to have more retail or clothing experience early on," Smalley said. "We went down some dead ends. But we learned a lot. Now that we're up and running, it's quite exciting! And we're getting considerable interest from partners and investors, which is quite flattering."
The key to continued success, according to Smalley, is maintaining the highest possible quality.
"Most important is that people really like the product," said Smalley. "We have extremely, extremely loyal customers and we want to keep it that way. Usually, a new customer asks something like, 'Why would I buy such expensive shorts?' Then they come back later and buy three more pairs!"
Beyond enhancing the enjoyment of ocean sports, Smalley also gives back to the Maui community as a sponsor and active supporter of Paddle Imua, the annual standup paddleboarding event that raises funds for children with special needs.
Of course, like any entrepreneur, Smalley knows that he'll face new challenges along the way, but he's learning and he seems pretty happy.
"Time really flies," Smalley said. "It's constant, 24-7 work, and we're small so I'm working on all aspects, everything from sales and marketing to testing new fabrics to developing new concepts."
But I'm sure he has a place to go when he's stressed, and I'm guessing that it's blue and liquid.
And he probably knows exactly what to wear.
(Photos provided by Bluesmiths.)