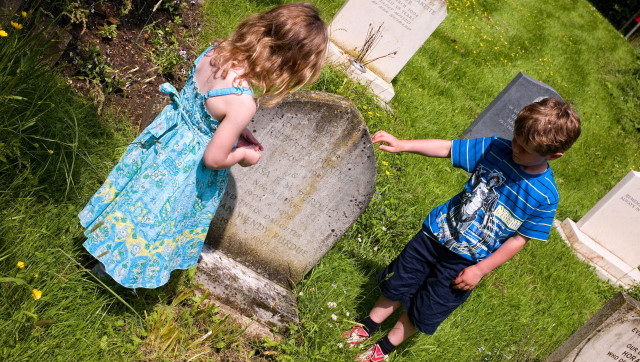 Today's headlines and interesting recent reads:
-- Over at Motherlode, KJ Dell'Antonia recounts her experience over the weekend with her youngest daughter, who during a meal at a diner "opted, while waiting for her sunny-side-up eggs to arrive and spooning the whipped cream from her hot chocolate into her mouth, to explore death."
-- It's difficult to discuss death with anybody, but Dell'Antonia's story reminded me of a report by Catherine Saint Louis reported in the NYT about the trend to intentionally include kids in the grieving process. Louis writes that it "was only a few decades ago that "children often didn't attend funerals. The thinking was that they should be sheltered from the pain of losing a loved one." More recently, "the opposite view -- that children should be as involved in the grieving process as adults are -- has been taking hold, reflecting an increasingly common belief that children are better off when their grief is acknowledged and they are allowed to mourn in the company of relatives and peers."
Why so much on kids and death? I have been reporting a feature on home funerals, a do-it-yourself movement that largely skips the funeral home. My piece, which will be online soon, focuses on a young girl who died of complications from Niemann-Pick disease, a terminal metabolic disease that gradually leads to the breakdown of the nervous system, brain and lungs.
Caroline Kirk died when she was nine and her mother, Alison Kirk, told me that it's one thing to talk to kids about the concept of death and another entirely to talk to them about their own death that's rapidly on its way. "People often ask me how did you talk to her about dying. We never did," Alison, who lives in Nashville, told me during our interviews. "She never developed to the point where she was asking questions about death. And that's what they tell you about kids: you let them take the lead."
But what about when it's not kids who take the lead? After the Newtown, Conn. shooting, hearing and thinking of the tragic deaths was unavoidable. At Mother Jones, Kiera Butler's piece from just days after the shooting explored how to speak to kids about the violent deaths of other kids.