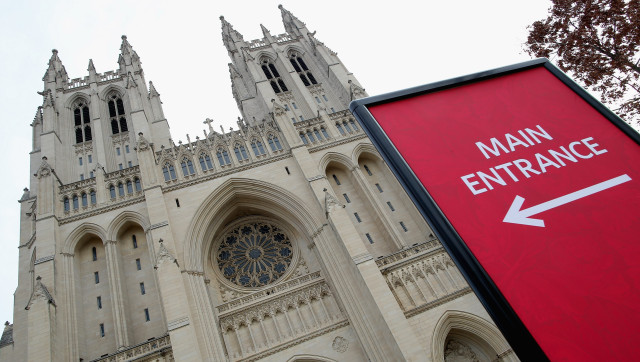 Welcome to my new blog, where I'll be posting a mix of links to news I'm reading, short bits of reported news, commentary and the occasional ask for your help in fleshing out stories that are in progress. Lots here is subject to change and I welcome your feedback, via email, Twitter or Facebook.
Here's what's making news in religion today:
-- The 106-year-old Washington National Cathedral will start officiating same-sex marriages. It's no surprise that an Episcopal church would bless gay partnerships, but as one of the nation's most prominent churches and one that's hosted presidential inaugural services as well as funerals of former Presidents Ronald Reagan and Gerald Ford, the move a symbolic of big shifts the nation has gone through when it comes to approval of same-sex marriage.
-- As the politicking continues over the nomination of Rep. Chuck Hagel to be the Secretary of Defense, including controversy over previous remarks he made about an "openly aggressively gay" ambassadorial nominee, TPM unearths additional comments Hagel made in the 1998 about anti-Catholicism and the Sisters of Perpetual Indulgence, the gay rights performance-activist group.
-- In The Washington Post, religion reporter Michelle Boorstein looks at the trend of kirtan worship, which she says "may be the prayer of the spiritual-but-not-religious."
-- Speaking of people who are "spiritual but not religious," CNN's Dan Merica reports on a study that says they are likely to face issues with mental health and drug use.
-- Yesterday, the Presidential Inaugural Committee made religion headlines when it announced that Myrlie Evers-Williams, the wife of slain civil rights activist Medgar Evers, would give the invocation at President Barack Obama's inauguration on Jan. 21. Less emphasized in the news was that the Rev. Louie Giglio, pastor of Passion City Church in Atlanta, would perform the benediction. A few days before, GetReligion had an interesting take on why one of Giglio and his popular Passion Conferences haven't gotten much coverage.
-- Obama plans to name Jack Lew, his current Chief of Staff and an Orthodox Jew, to be Treasury secretary.
-- After an Indian man was pushed into an oncoming subway train in New York by a woman who said "I hate Hindus and Muslims," Muslim organizations in New York held a rally and said the attack is part of a broader anti-Muslim sentiment in the city. HuffPost's Matt Sledge reports on the rally.