After nine months of waiting, the end begins. Over the past 5 years, Lost has been one of the most watched, most cherished, and most debated shows ever. Saturday night, ABC premiered the first hour of what will be Lost's last season on the beautiful Waikiki beach in Honolulu, Hawaii. In front of over 10,000 fans, on a perfect Hawaiian day, most of the cast and crew of Lost made appearances to thank the fans for all of their support and to avoid letting any of the details of Season 6 slip out.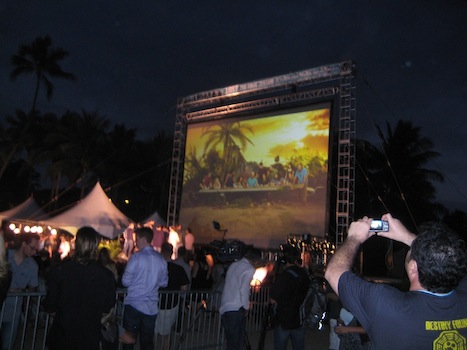 I was on the red carpet of the premiere and what I experienced was pure pandemonium. The show's stars, producers, writers, and directors were like the Beatles with thousands of screaming fans surrounding them. For most of the actors, it was all about soaking it all in. Josh Holloway (Sawyer) described the end of Lost as being like one's senior year of high school. If so, it was one hell of a homecoming party. In fact, all of the actors that I spoke with over this past weekend exhibited that mixture of excitement and melancholy that comes with the end of any great journey.
As for the first hour of the premiere? As members of the press, we had to sign non-disclosure agreements to be on the red carpet. However, I wouldn't spoil it for you even if I could. This show is meant to be enjoyed as the powers that be intended it -- experienced first hand on a television screen. I will say this though: the premiere that had a lot of high expectations succeeded in meeting all of them. There is one line in the first hour that had me wanting to squeal like a fan girl and I'm sure most fans will as well.
In short, the Lost premiere was awesome and while it might be sad to see the show end, I for one can't wait to devour every hour.
We will have tons of exclusive footage and interviews from our trip to Hawaii featured on www.JayandJack.com and www.nuDia.tv. We will begin our Season 6 Podcasts after tomorrow's premiere on ABC at 8pm Eastern.