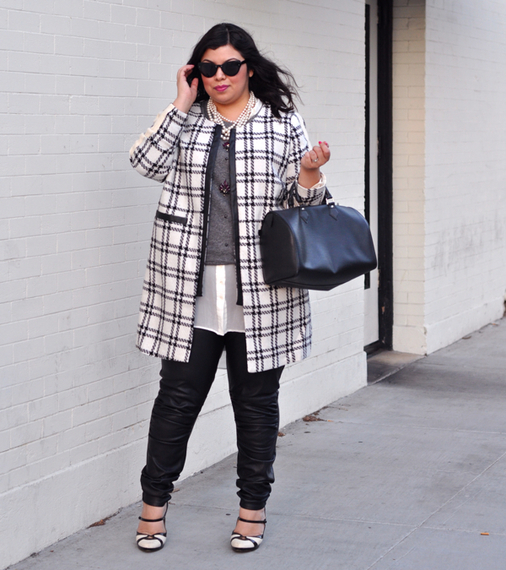 Leaves are turning, mornings are chilly again and you're not sure if you want to buy a pumpkin spice candle or drink a pumpkin spice latte. It's fall! The season also heralds the beginning of a new year for fashion. You might have already dog-eared some pages of your favorite fashion magazine's September issue. You're just like any other woman enjoying fall fashion trends -- except you're plus-size.
Until recently, plus-size girls who wanted to wear the trends had to wait at least two full seasons to find them. If you wanted a sculptural blazer or were questionably drawn to harem pants (weren't we all), you scoured your usual haunts only to come back home with your bank balance intact. Two years later, there they'd be on a rack before you. But by then, both you and fashion world had moved on to other things. The tide is turning though.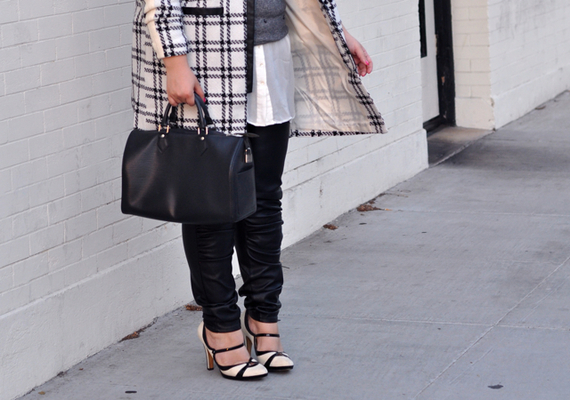 Yes, those are faux leather trousers. It's easier than ever to find current trends in your size. Somewhere, there is a robe coat or oversized, drop waist dress with your name on it. You will probably have to shop online for it, but it's a step in the right direction. I share outfits and tips on my style blog, Jay Miranda, the ethos of which is that great plus-size outfits are the result of savvy shopping, creativity and a bit of moxie. Great style is not about blending into the crowd, but about standing out in the best way possible. None of the fall fashion trends are off limits to plus-size women, but here are a few of my favorites and a few tips.
Robe Coats: Good for wrapping around yourself on chilly days, this also happens to be the most essential piece of clothing to wear to your meet-cute at the local café. Ladylike silhouettes work well, but choose your coat slightly oversized so you have enough room for a sweater while looking like a trendsetter.
Plaid: Cast aside any schoolgirl memories. This season, plaid is one of the most popular and elegant patterns you can wear. I got the plaid coat I'm wearing in the photo above from a client I've worked with in the past, plus-size fashion shop Navabi, which stocks some of my favorite labels like Carmakoma and Manon Baptiste. The Europeans currently have the edge when it comes to fast fashion too, as seen in the continued success of UK plus-size fashion retailer ASOS Curve.
Bright Fur: If I could find a magenta faux-fur cropped jacket in my size, I'd certainly add it to my closet. For now, I am happy with a pair of calf hair ankle boots in a plumy hue. Remember, accessories like shoes, bags and jewelry can be an easy way to add trends to your fall outfits without worrying about sizes.
Knits on Knits: The coziest of fabrications, knits are notoriously plus-size friendly and this can be one trend you shop in both straight and plus-size. My favorite iteration of the trend is wearing a knit skirt and semi-slouchy sweater. Or, you can try a set that features a knit trouser, but wear a fancy flat or heeled shoe to ward off any loungewear connotations.
Fall Colors: There is no singular fall color, but some of the trending tones that made the biggest impression on me are: gray, black and white, cobalt and mauve.
For more plus-size fashion, outfits and tips, visit my blog jaymiranda.com or find me on Instagram @pinklip.