The holiday season is a time to reflect... ok, or a time to shop, cook, prepare for family to visit and try to cram everything in before another year goes down in the history books. What the holiday season should be, however, is a time to reflect about the year that has been, and what we have to be thankful for and look forward to in the year ahead -- which in the case of Ishani Sathianathan and her parents, is a lot.
For me, I'm especially thankful for ongoing pediatric cancer research that enables the lives of children like Ishani to be saved. If you're lost as to where I am going with this, let me start by telling you about this family and their nine-year-old daughter Ishani who received an early holiday gift this year -- clear scans marking three years in remission.
Ishani and her family have been members of Team Alex for several years now. You see, Ishani was diagnosed with stage 3 rhabdomyosarcoma, a cancerous tumor of the muscles that are attached to the bones, in 2006. It was a simple, or should I say typically uneventful, moment that changed the path of Ishani's life and that of her family's that year. While playing with her older sister Monisha in the yard, Ishani fell off the monkey bars. As a parent, can you recall a time when your child fell off the monkey bars, tripped on the sidewalk, or simply took a tumble an inch out of your reach? I'm sure the answer is yes, it happens to all of us, but this time, it was different. When checking for bumps and bruises on Ishani, her parents found a hard lump in her calf. Concerned, they took her to get checked out and after several tests and one surgery, it was discovered that Ishani had cancer. To anyone who has ever heard the "c" word in relation to their children, that moment is transformative.
Ishani sustained 42 weeks of chemotherapy and 4 weeks of radiation before being declared in remission. For a year and a half Ishani was a kid again, and her family relished the happy moments until the cancer returned. This time, Ishani and her family were told that there was no treatment protocol for relapsed rhabdomyosarcoma. Ishani's doctor went on to consult with experts to create a treatment plan, coming up with a combination that luckily worked for Ishani. The family considers themselves fortunate as the combination of drugs that Ishani received and worked, doesn't always have the same positive outcome for other children who relapse. Ishani's family became part of Team Alex because they know all too well that more research needs to be done - so children like Ishani can grow up and live long, happy lives. Clearly Ishani and her family have a special reason to celebrate this year, and every year after, as the treatment she received truly saved her life; but all children whether they are suffering from relapsed rhabdomyosarcoma, neuroblastoma or one of the numerous other types of childhood cancer, deserve a chance at life.
I have always loved the slogan of the American Cancer Society -- they are the official sponsor of birthdays- - well maybe it's not as catchy, but we could be the official sponsors of the opportunity for children to grow into adults, or put in even simpler terms, the official sponsors of enabling children to get back on those monkey bars and to be kids again. Ishani and her family have been an inspiration to our Foundation through their story, Ishani's doctor who came up with the protocol that worked for Ishani, and the family's dedication to continuing the fight against childhood cancer by hosting lemonade stands and other fundraising events in their town. Did I mention that Ishani's family has raised over $44,000? That is an incredible feat.
In honor of Ishani and the hope that research can bring to other children like her, we are dedicating our 2012 holiday ornament to Ishani, which is inspired by a lemonade stand created by her family during the Red Poppy Festival Parade.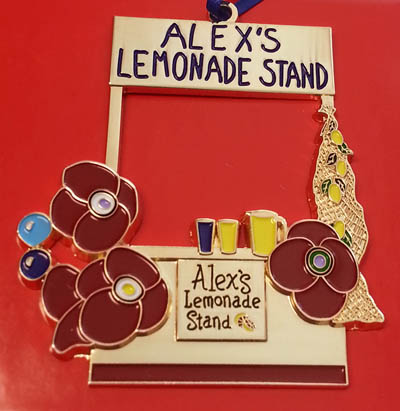 We have set a goal this holiday season to raise $44,000 in Ishani's name by the end of the year, after all every single dollar counts toward the cure and to prolonging the lives of young children who deserve the ultimate gift each and every holiday season -- life. Join me in honoring Ishani this year, and all the children and their families who face childhood cancer.