An exciting, sophisticated restaurant has just opened in this fair city in a majestic tower called The Century, at 10 West Century Drive, off Avenue of the Stars. (It's in the bottom of the building famous for being the future home of Candy Spelling, who is building her new abode in the penthouse.) David Myers' new eatery is called Hinoki & The Bird (310) 552-1200. We will write a definitive review shortly for Huffington but don't wait, go now to experience the delicious Asian-inspired California cuisine from Executive Chef Kuniko Yagi, who appears on this season's Top Chef Seattle. Chili Crab Toast, Drunken Duck Breast, Fried Oysters, Short Ribs, Wagyu Beef and an amazing Lobster Roll. You will be delighted.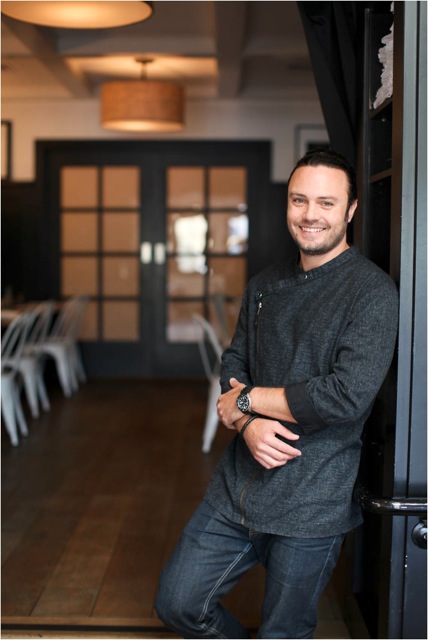 Chef David Myers
The amazing Lobster Roll with its dark bread and overwhelming lobster filling.
It's easy to criticize. I do it all the time and will never stop. But I decided not to blog here on Huffington my feelings about the recent Oscars show -- but I must comment that any show that opens with an offensive song entitled "We Saw Your Boobs" has a real problem. I felt much of the humor was misogynist and anti-feminine. (Read The New Yorker, The Atlantic, Bob Lefsetz' blog for my feelings.) Still, I think Les Miz was a truly spectacular film, and my considered opinion is that Zero Dark 30 was a brilliant, thoughtful, deeply moving film, so well written, directed and acted. It was waylaid by political considerations. Getting Tina Fey and Amy Poehler to emcee next year's show will not solve the inherent problems in the Academy. Letting the talented Dawn Hudson, brought in from the independent film world to oversee the Academy, would solve them if she had free reign. Not gonna happen -- too many huge egos around her.
If you have an i-Phone, you should immediately consider downloading an application, Google Maps, to it. Go to the App store, enter your Apple ID and Google password, and download it for free. It is an amazing helpful app -- just enter an address where you want to go anywhere in the city, and the lady inside your phone will guide you there while the map on the phone will detail your progress. When you get there, it will show a picture of your destination. Just great.)
The Shanghai Soup Dumping at ROC Kithcen on Sawtelle.
If you love Chinese dumplings and dim sum as I do, then visit a new shop called ROC KITCHEN at 2049 Sawtelle, three blocks north of Olympic in West Hollywood, a neighborhood hotbed of wonderful Asian restaurants. ROC just opened and it is busy but worth the wait. XLB are Shanghai soup dumplings, large morsels filled with hot soup and pork, crab, or chicken stuffing. Be careful to eat them over spoon. They have wonderful crisp onion pancakes, a dish called 3 Cup Chicken which is delicious, and so much more. No msg and low sodium, the dumplings are almost the equal of those at DinT'ai Fung, the Taiwanese dumpling shop in Arcadia which is the mecca of such food. Across the street at 2004 Sawtelle is Dennis Mao and Mako's superb grilled jidori chicken spot, Robata-Ya, with the tastiest chicken soup this side of a kibbutz.
A scene we wish we had filmed: the hallway at Craig's after the Oscars when Ben Affleck pulled out a scissor brought by his wife, Jennifer Garner, and cut off his lucky "Argo" beard. He said his family had seen enough of it. Inside, George Clooney and Randi Gerber were downing shots of their new tequila, Casamego...Yes, it's true.
I do videotape Morning Joe on MSNBC Channel 49 every weekday from 3 m to 6 a.m., then watch it at my leisure during the day. Joe Scarborough and Mika Bryzinski have the best, most interesting guests every day, and the discussion is intense, sometimes frustrating, but always enlightening...
I'm about to close a film option deal on an astonishing Jackie Collins novel, The Love Killers, and will keep you informed. Her latest novel, The Power Trip, is just fascinating -- five power couples cruising the Mediterranean on a Russian billionaires' yacht. Love the way she mixes fact and fiction so it is seamless. A great writer and a beautiful woman...
Jackie Collin (right) with manager Barry Krost
Cavalia's ODYSSEO just opened in downtown Burbank and will be there for three weeks. Trust me, this horse show is the most exciting such exhibition you will EVER see. Glorious animals, amazing riders, stunning acrobats and more. I am going back again this weekend. My birthday, March 9th, will see me celebrating it with Richard Wagner's THE FLYING DUTCHMAN at the L.A. Opera. As they say in the ads, "Only love can break the devil's curse." My friends Michael and Malsi Forman made this production possible via a grant in honor of his opera-looving mother, Dorothy, His father, Bill Forman, who was my client for many years when he bought the Cinerama film company... Senator Elizabeth Warren for President if Hillary doesn't run!
Finale dressage in the lake at Cavalia's ODYSSEO!
To subscribe to Jay Weston's Restaurant Newsletter ($70 for twelve monthly issues), email him at jayweston@sbcglobal.net