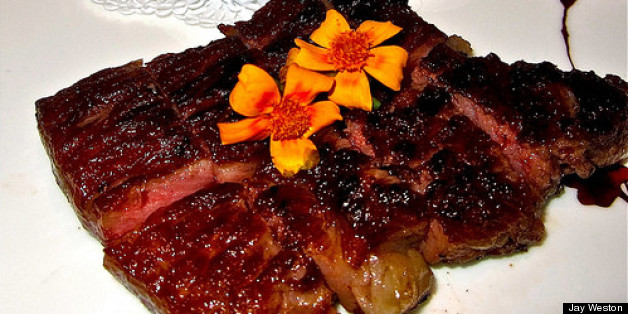 My Huffington readers are well aware of my passion for Chinese food. I have reported that I will go anywhere in the world in search of a new, exciting Chinese meal. Lucky Angelenos have hundreds of wonderful spots in the San Gabriel Valley to explore, and I have just finished writing a magazine article about the world's best dim sum restaurant (in Arcadia), DIN TAI FUNG, coming next Spring to the South Coast Plaza. My favorite Chinese kitchen at Cecile Tang's JOSS, diagonally across from the Peninsula Hotel, is so close to my Beverly Hills home I often walk over for a feast of Peking Duck. My funky little favorite, HOP WOO, at Olympic Blvd. and Sepulveda, offers me lunch specials once or twice a week, and I often visit Vicky Mense's XI'AN on Canon for a meal of healthy Asiatic vegetables. On Sundays I drop in upstairs at the Palace on Wilshire and Barrington (formerly the VIP Harbor) for the dim sum served from rolling carts, indulging in my love for chicken feet and offal dumplings. A Clippers game will see me dining before at Wolfgang Puck's elegant, downtown WP 24 in the Ritz-Carlton, and our recent article here about Wolf's venerable CHINOIS-ON-MAIN resulted in a spate of readers returning there.

Stunning interior of Chi-Lin.
Now the newest and one of the finest of the lot, CHI-LIN (9201 Sunset Blvd., West Hollywood (310) 278-2068) has opened at the border of Beverly Hills, where the Hamburger Hamlet used to be. It shares a kitchen with sister Italian restaurant RivaBella, both the spawn of Innovative Dining Group, the BOA people. My long-time buddy, Cecile Tang, the Hong Kong filmmaker-turned-restaurateur, consulted with them on crafting the Hong Kong-style gourmet menu, and many of the dishes were first seen at her Joss when it opened on Sunset Boulevard before moving to Beverly Hills a few years ago. (Cecile was in China last week and emailed me about the best Peking Duck she ever had at The Celestial Court in TsimShaTsui; she is learning about organic produce there, the best morels in Yunnam, and said Kunming has better bird's nest than Thailand. Reported she had braised shark fin stuffed in homegrown muuqua melon in Macau-a dish which is now forbidden in L.A.) The new Sunset Blvd. restaurant with its double red doors is absolutely stunning, designed by Studio Collective to reflect the colors and tones of the Hong Kong skyline. I liked the sultry lighting and the authentic Chinese design elements of the open-air patio and formal dining room. The main dining room is lit by 300 suspended lanterns and features mesmerizing garden vignettes with the optical illusion of the path of the white butterfly. (Trust me, its beautiful. They assured me that all of the butterflies died naturally before they harvested the wings.) The bar and lounge are highlighted by seductive reds and jet-black granite bar top and surfaces, and the attractive Natassia will greet you and get you set.

Lobster Cantonese over home-made noodles.

Mongolian lamb served in crispy rice cakes.
But it is the food which makes a visit here so exciting, so here are some of the highlights: Lobster Cantonese Xiong-Tong ($52), a live Maine lobster with ginger and scallions over home-made noodles; their Pin Pei Chicken ($24, a half-chicken with golden crispy skin in the style of Peking Duck but a lot less expensive) carved and served with hand-made porbien crepes, plum sauce, julienned cucumber and scallions; Wagyu New York steak ($84), Japanese A-5 quality, several chunks of this special beef seared and served with the chef's special XO sauce, delicious albeit expensive; and the unique Leaves of Wild Yam in lemon zest, ($14), a super food, dark green leaves of wild yam lightly sauteed with ginger and garlic, sprinkled with lemon zest and topped with honey-glazed yam cubes. The Aberdeen Alaska King Crab ($36) is meaty crab legs cooked with crispy garlic and chilies in the style of Hong Kong's Aberdeen region, in their shell, twirled with clear mung bean noodles.

Wagyu Japanese Beef is expensive, but the best meaty flavor I ever tasted.

Pineapple Rice is baked in a pineapple.

Chef Andy worked at the original Joss some years ago.
But at the start, there are several soups: a vegan Szechuan Hot & Sour soup ($8), Shrimp Wonton soup ($8), Lobster & Corn Chowder ($15), and my favorite, the Quail Consomme with Chinese berries and ginseng ($12). Appetizers include an awesome Pork Belly Lettuce Cup ($15) made with the rare Mangalitsa pork in butter lettuce leaves; a savory Prawn, Crab and Asparagus Toast ($14) made with brioche toast with crab mousse; and the many dumplings--Shanghai soup ones ($17), pea leaf and water chestnut ($11), and lots of chicken and pork sui mai. Of course, BBQ Baby Back Ribs ($19) are somewhat unique, with an orange glaze, served with Shanghai sea beans, while my favorite starters were the Clams with XO Sauce ($19), in-shell cherrystone clams with the chef's spicy xo sauce and sausage, with a Kale & Mushroom Salad ($16) which my friends tell me is superb. (I don't come to a Chinese restaurant to eat salad.) Rice and noodle dishe show the Cecile Tang touch: Heirloom rice and grain ($8), with its forbidden rice and grains scented with ginger and green onion, and my favorite...the Jia-Jiang Mien, house-made hand-pulled noodles topped with minced pork, mushrooms, chiles and bean paste...succulent goodness. Skip the steamed sticky rice ($14), too sweet and sticky, but there's a unique Pineapple Rice ($16) out of Hong Kong, pineapple rice tossed in the wok with shrimp and chicken, then baked in a hollowed pineapple! Fish is foremost here, with two smashing dishes: Chilean Sea Bass ($31), the fish filet steamed with ginger and scallions, very aromatic, while my favorite is the Braised Black Cod ($29), the fatty fish so good, although I could do without the fava beans. I tasted the Chrysanthemum Chicken ($19) with its mushrooms and Parma prosciutto, just okay, but loved the Scallops ($28), a spicy dish with toasted black bean sauce and chiles in a garlic sauce. Peking Prawns ($22) are on a bed of chive blossoms. The Peking Duck ($72), rather expensive but awesome with its lacquered skin, served with those por bien crepes. I would be careful about the expensive steak dish, a few chunks of authentic Japanese Wagyu beef, but I must admit that it was the best meaty beefy flavor I have ever experienced. Instead, think abut the Filet Mignon ($26)--the beef sautéed with a black pepper sauce, Thai and opal basil, topped with crispy shiso leaves. My love of lamb resulted in a request for the Mongolian Lamb ($26), this Northern Chinese dish is served with spicy rice cakes in which you stuff the lamb mixture. As my guest Jerry Friedman commented, it was not what we expected, but interesting.

My favorite starter was the Jia-jiang-mian noodles topped with spicy minced pork.

Charred Haricot Vert with Chinese Flavors was astonishing.
One evening, we ordered the Scorched Pepper Tangerine Beef ($24), a startling dish of filet wokked with scorched Chinese hot peppers and dried tangerine skin... my date Alison Miller said it was her favorite dish. Lots of vegetable sides...but always head first for the Baby Eggplants ($13), made with a chef's spicy pickled sauce and chopped coriander leaves. I love Chinese veggies, so the Vegetable Medley in a Melon Cup ($16) was a hot choice - wok-tossed veggies in a light ginger sauce and served in a steamed hollow mu gua melon. Amazing haricot vert ($13), French green beans wok-charred and served with ground pork and dried shrimp, with garlic ragu..a wonder, and a must-to- order. The helpful asst. g.m. Alan Young told me that the desserts are from the master pastry chef next door at RivaBella, so they were excellent...my favorites, the Chi-Lin Napoleon ($13) and the Chocolate Cake ($12).

End your meal with the Chi-Lin Napoleon.
I have to comment on the innovative cocktail list with its distinctive Asian notes. Think of this, a Hot & Sour Martini, created with tequila, yellow Chartreuse, lemon, a hint of serrano chile and dried Chines plum. My favorite was the Kowloon Cooler ($14) with its jasmine liquor, rum, shiso, fresh lime and topped with Prosecco. Cecile has always been particular about the wines served with her food, so the list is extensive and interesting.
I really, really like this sophisticated, elegant Chinese eatery...it is a sparkling larger, fancier copy of the Joss we all have cherished over the years. My only concern is that it is so 'special', so dark and stunningly beautiful, that you may be hesitant to drop in here a few times a week for a quick Chinese fix. For that casual bite, I will still go at unexpected hours to the scruffy Hop Woo (and take home a hanging roast duck) ...but I do suspect that Chi-Lin will draw much of the Mr. Chow celebrity crowd...the food is even better, equally expensive, and the lighting is dimmer, more flattering. This is Chinese grub for the grown-up, affluent eater which we all aspire to be.
To subscribe to Jay Weston's Restaurant Newsletter ($70 for twelve monthly issues) email him at jayweston@sbcglobal.net.