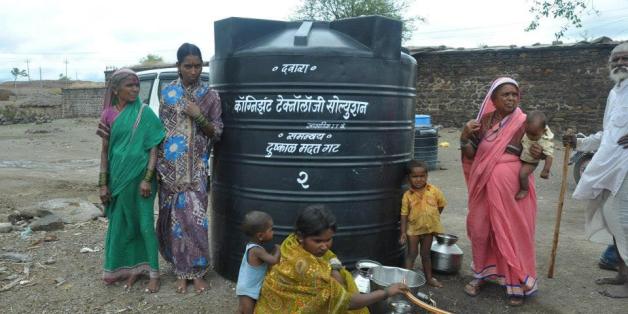 This story was produced in partnership with Facebook Stories. The company announced Tuesday that more than 100 million people access Facebook in India each month. Submit your own Facebook story here.
Last year, there was a severe drought in Maharashtra state of India. Usually we have our rainy season from June to September, but last year, there was very short rainfall and conditions became dire. It was the worst drought in 40 years.
There were reports of deaths and it was very difficult for a large number of people to find drinking water in drought-affected areas. Cattle deaths were reported. There was a rise in farmer suicides.
I felt that humanity should not suffer such crisis and started thinking on how we could help. I am involved with many social projects, including a computer literacy campaign for rural students and career guidance for rural students through SMS message. I am always inclined toward how technology can solve public problems and benefit a large number of people.
My mentor Ravi Ghate and I coordinated and called a meeting of our immediate friends in February 2013. Around 40 people were present for our first meeting. We discussed the problems and decided to form the "Drought Help Group."
The work would be tremendous and practically exhaustive, but we wanted to understand the actual needs of the citizens of drought-prone areas and provide relief. So we decided to connect drought-affected people to other citizens who wanted to either donate money or help some other way. We would appoint village coordinators who could report what help was required in the village so that urban donors could provide it.
We also decided to create a Facebook Group in our first meeting. This would allow us to build a network and appeal to more and more people. We started a Facebook Group instead of Facebook Page because we felt that being a "member" of group would make people feel more responsible and inclined toward the drought relief cause rather than just being a "fan."
Our group members started finding friends in the affected areas and appointing local volunteers to become village coordinators. These people provide information about the required quantity of water storage tanks, water tankers, cleaning and widening of canals, and other needs. Donors choose a project and provide resources. When help reaches its destination, the village coordinator reports back with photos to maintain transparency.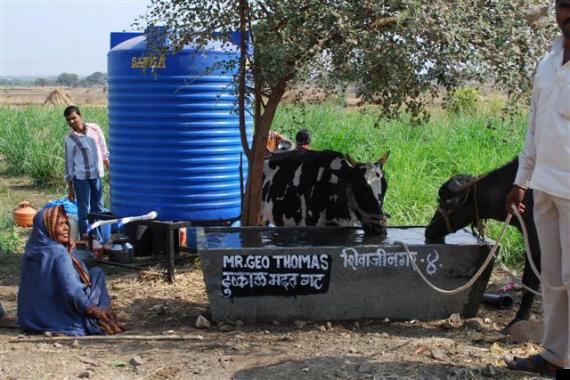 Our group is not registered with any government or private institution. We do not accept any money or pay anyone. We just coordinate so that funds can reach villages directly. People liked this approach and helped us raise $120,000 in funds and in-kind donations. Through the efforts of the Drought Help Group, nearly 1 million people from seven districts of Maharashtra have gotten ample drinking water until next rainfall season. Some families have enough water for farming. A large number of cattle and wild animals have survived.
More than 10,000 people have joined our Facebook Group. The Drought Help Group received the prestigious Manthan Award from Digital Empowerment Foundation, New Delhi for its use of social media to bring immediate relief service to drought-affected people.
This year, few drought affected areas have received satisfactory rainfall and others still continue to experience irregular rain. With approximately two months to go before rain season, it seems that drought situations may continue in some parts of Maharashtra. Though an official report for this year is yet to be released, our surveys say that most districts at least have water for drinking if not for agriculture.
Drought Help Group's current goal is to expand this movement and work for water conservation on a large scale. We are working on how this model can be replicated to serve other causes or make this model work at other locations. The group is also planning on creating awareness among people on how to prevent or survive the disaster of drought.
Jaydeep Pathare lives in Pune, Maharashtra, and helped found the Drought Help Group. Join the group on Facebook.