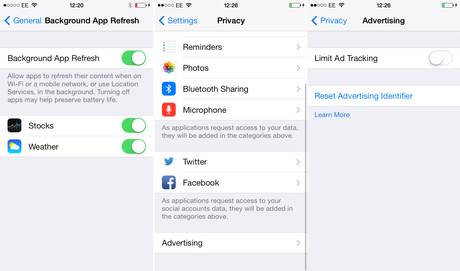 While the hardware in Apple's iPhone and iPad pales in comparison to Android offerings, it's in the software development that Apple stands apart from the competition. Last week, the tech giant released the newest upgrade to its second-screen operating system, iOS 7. Despite unfavorable beta reports, the public release of this new update includes some really useful privacy and integration features.

1. App Privacy Settings Have Tighter Control
Ever since the NSA came under public and media scrutiny for their data mining practices, digital privacy has become a hot-button issue among the tech community. With so many apps and games available on a retail iPhone (and jail-breaking it opening even more possibilities), it's difficult to keep track of who has access to what. To alleviate the growing concern of personal privacy, iOS 7 tracks app permissions at the root level.
Within the privacy settings, you can scroll through each app installed on your iPhone or iPad and adjust the settings individually. In addition, at the bottom of the list is an option called "Limit Ad Tracking." When enabled, this feature will block marketers from harvesting cookies on your device. In addition, you're now given an icon to show when an app has accessed location data. You can enable and disable location access on an individual app basis, or turn it off entirely. Privacy advocates should feel comfortable with some of these new features.
2. Siri Learned Some New Tricks
Wikipedia is a great research resource. Apple recognizes this, and found an interesting way to compete with Google's search capabilities -- Siri can now search Wikipedia. The addition of the crowd-sourced encyclopedia project is a win-win for both companies; Apple has exponentially grown Siri's knowledge base while being given a reason to keep the non-profit project afloat. We may never see another banner from Jimmy Wales asking for donations ever again.
Siri's intelligence isn't the only functional improvement Apple made to the iOS integrated app suite; beneath the shiny new lock screen and 3D user interface are some thoughtful enhancements. I texted my colleague about a meeting tomorrow and noticed a link was inserted on the word, "tomorrow." Curious, I clicked the link and was presented with a pop-up window offering to "Create Event" or "Show in Calendar." This app integration has already made me more productive and is easily my favorite update thus far.
3. There are Lots of New Third-Party Apps
An exciting part about any iOS update for Apple users is the barrage of 3rd-party app updates that comes along with it -- iOS 7 is no different. Almost immediately after resetting my phone to complete the iOS 7 install, I was greeted with update notifications from Google, Twitter, Dropbox, and nearly two dozen other apps. Twitter and the blogosphere has been buzzing all weekend as consumers around the country installed and explored updates to every corner of their phones.
When Ashton Kutcher's Steve Jobs biopic, Jobs, flopped at the box office, many critics and investors took it as a sign that post-Jobs Apple was losing relevancy. Early reports on the iOS 7 beta weren't favorable, but Apple's stock rose after the mostly positive response to the release of the replacement to iOS 6, released in September 2012. While some consumers may reject the new OS, I doubt many will leave Apple for an Android or Windows device. As CEO Timothy Cook notes, "when you look at things like customer satisfaction and usage, you see the gap between Android and iOS being huge."
4. Some Features Are Still Missing
Despite criticism about the new look (which is subjective), there's no flop in this year's iOS update to rival last year's Maps debacle. What I can complain about is a missing feature: I still can't update a custom keypad input method. I prefer using Swype, but that's still not an option in iOS 7. Copying and pasting text from a third-party app remains the only workaround, and this feels entirely too archaic for such an elegant device.
Folders have been updated so they can store more icons, allowing you to streamline your home screen. You're still unable to create a subfolder though. Dynamic backgrounds allow for a personal touch to your home screen, but widgets are still missing, and Apple's lack traditional lack of customization options remains.
Additionally, the ability to password-protect specific image albums is still missing; a feature I really hoped would be added.
5. Overall, iLike It
I'm still getting used to the new lock screen and graphics. I haven't even finished reading the updated terms and conditions (yes, I actually read those). Although the changes in iOS 7 feel drastic in some places (white font replacing black within the texting app) and unnecessary in others (a permanent icon for Facetime cluttering my home page), the updates it included are effective and intuitive. It's nice to see Apple hasn't lost its touch with software. Time will tell whether or not they can continue innovating with their hardware.