Meteorologists attributed the recent bout of record-breaking cold temperatures in the Midwest to the polar vortex. This thing was an arctic blast on steroids -- a savage, stinging cold that lent itself to wacky backyard experiments with boiling water. More than just the lead story on news broadcasts, this was the kind of weather that required a tutorial from climatologists. Whereas I am not a student of atmospheric shifts, and could not confidently relate any facts about the stratosphere without consulting Wikipedia, I am from Chicago and I know cold.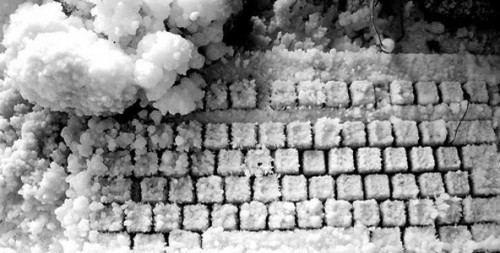 The polar vortex is Al Gore's worst nightmare. This cyclonic mass of cold air, capable of stirring up extreme changes in the upper atmosphere, emanates from the North Pole. As it rotates, it merges with the polar front and weakens, triggering a cascade of events that can wreak havoc on the Northern Hemisphere. To add insult to injury, we were dealt this hand on top of several days of heavy snows (including a monster blizzard on New Year's Eve). On the day that we were supposed to get back to business after the holiday season, we here in Chicago awoke to our lowest temperatures and wind-chill factors in decades. The most frequently-uttered phrase from Omaha to Ohio was, "I'm working from home today."
The holidays mean spending time with family and friends and postponing business operations until after January 1. We all carve out some much-needed R & R, decompress, and eat a lot of baked goods. People like me -- who view what they do as a passion, not as a job -- cannot afford to unplug or shut down. There is too much going on, too much at stake. Evidently, many professionals feel the same way. LinkedIn use was way up as compared to past holiday seasons. And whereas there are those that hide behind auto-responders and voicemail during the most wonderful time of the year, the metrics bring to bear that LinkedIn is increasingly becoming an integral part of daily life for businesspeople.
I wanted to hit the ground running and get off to a great start in the New Year. But winter in Chicago means attaching a label of "weather permitting" to everything you do. Your best-laid plans can be derailed at a moment's notice. So when the polar vortex forced me to cancel several important appointments over a two-day span, I rerouted my focus to, you guessed it, LinkedIn. Along with my regular share of client work, writing and planning, I became a social networking cyclone of my own. Perhaps you did as well.
For those of you who were also affected in some way by the harsh conditions, were you productive? Here is what I was able to do:
Circle Back with Collaborators
In business today, we spend a lot of time bridging communication gaps, picking up dropped balls or atoning for delayed responses. We reach out, chime in and touch base. I prefer to circle back with people. A circle implies completeness, symmetry and harmony. It is the path that brings us back to where we left off and keeps our collaboration on the road to fruition, not perdition. When I was forced into the toasty warmth of my home office, LinkedIn research was instrumental in my being able to restore the lost momentum of several projects that gathered before the holidays.

Move Key Relationships Forward
If you are active on LinkedIn, then you are constantly evaluating and growing your professional network, trying to extrapolate from what you see on the computer screen. Connecting is easy; advancing new or existing relationships to a meaningful business dialog is the challenge. We can "tag" or title people as clients, prospects, service providers, connectors, mentors, trusted advisors, strategic alliances and so forth. But it is up to you to isolate the people who you feel bring the most present value to you and focus on building trust and micromanaging your brand. That takes time, time usually spent indoors. LinkedIn is an indispensable piece in this process.
Let The Weather Catalyze Conversations
Conversation management is an essential element of social networking strategy. Often, getting into a good conversational rhythm is difficult. Your first few moments on the phone are critical in setting the tone for what follows. Nowadays, the opener defaults to, "Is this a good time to talk?" (Judging by how busy most people are these days, it's probably not.) The polar vortex allowed me to break the ice (pun intended!) by taking a mundane topic like the weather and turning it into a humor-tinged, relationship-building exchange. With those in my part of the country who were sharing the misfortune, I commiserated. My colleagues in Phoenix, Miami, and Southern California, basking in warmth, rubbed it in. And then we talked business.
Parting Thoughts
Sudden, radical shifts in the weather will unquestionably take you out of your game and force you to adapt. Common sense dictates that you do not venture outside when the mercury dips to near 20 below zero. The accessibility of LinkedIn can be a gift to you when face-to-face meetings are impossible. Thanks to the polar vortex, I got stuff done.