You know when you're thinking about someone, and suddenly there they are. Well, that's what happened with me thinking about Geneen Roth. You know, the author of Women, Food and God, who inspired Oprah to ditch dieting a few years back. Last we spoke, Roth and I were discussing her book, Lost and Found. That was more than a year ago. Then, last week, there she was, having a heart-to-heart discussion with a group of binge eaters on The Dr. Oz Show.
OK, I've glossed over the truth. I'd already been in touch with Roth's people about interviewing her for this unfolding series on women, food and body image. Still, it struck me as more than a little fortuitous that I literally got to see what the mindful author was doing.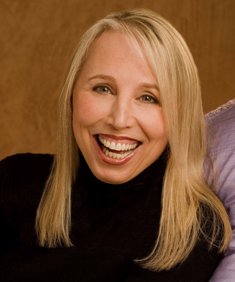 Unfortunately, co-leading a binge-eating intervention with Dr. Oz left Roth no time to talk in any depth about anything on the show. In fact, the show left me craving answers to more questions than I'd originally planned. For one: How did the mindful author feel about Dr. Oz's on-air approach to binge eating?
Happily, soon after her airtime with Dr. Oz, Roth answered all my questions in a brief, in-depth phone interview. If you'd like to know what she had to say about this, that and the other thing, read on!
Q. You've been spreading the mindful-eating message for decades, and yet, diets are as popular as ever. Sadly, so are eating disorders. What keeps you swimming against the diet tide decade after decade?
A. First of all, I know it [my approach] works. I believe in it. I have direct experience of it in my own life, and with so many of the people I've worked with. I've also had direct experience that the other -- diets based on deprivation, guilt, punishment and not truly understanding the reasons we turn to food when we're not hungry -- don't work. I'm most interested in what leads to long-lasting changing, not only with our relationship to food, but with our relationships to our own lives, to what really matters. That's why I'm still here.
Q. On The Dr. Oz Show, you said what you've been saying all along: "It's not about the food, but the feelings." For people unfamiliar with your work, can you explain what that means in a nutshell?
A. Our relationship with food -- how, when, what and why we eat -- is a direct expression of our underlying feelings, thoughts and beliefs about ourselves. It has to do with stances we take that get reflected not only in our relationship with food, but in all our relationships. It just so happens that the relationship with food causes enough conflict, grief, shame and hurt that we're willing to look at it. Because we want all of that to stop, and our relationship with food seems as if it's the problem, we're willing to look at it.
Q. What do you say to astute readers who are thinking "But it's about the food, too"? Food is fuel, and the quality, quantity and frequency with which you fuel up has a big impact on body and mind.
A. I say: "You're right! What you eat really matters." One of the eating guidelines I teach is: "Eat what your body wants." It's different than what the mind wants. What a body wants, except in cases of true food allergy, is to feel as alive as possible. What a body wants is to get the sustenance it needs. We cannot live our lives fully without having a body that functions well. To function well, a body needs the fuel that it particularly needs. It takes some discernment to figure out what your particular body needs. Some people do really well as vegetarians, and some people simply do not. Some do well eating a lot of fruit and vegetables, and some do not. There is no one answer. In my own life, I've had to keep experimenting and refining what feels good in my body.
Q. You're often quoted as saying: "For every diet there is an equal and opposite binge." So I'm curious how you felt about Dr. Oz sending the binge eaters on his show to a residential weight-loss center?
A. First of all, I don't know enough about that treatment program. What I appreciated about Dr. Oz was that he didn't bring people onto the program, have them look at difficult issues and then not do anything to help them. [Getting them treatment] was a responsible thing to do. I have no idea if they'll [the program facilitators will] put them on a diet or not. I am imagining they won't, but I don't know. I've known a lot of people who've gone to treatment programs. Some have really been helped, and some have not. I hope they get help.

Q. How have your ideas about mindful eating changed over the decades?
A. The fundamentals have not changed. The truth is the truth, whether it's spoken now, 50 or 100 years from now. If you're asking me have I understood more? Have I explored more? The answer is "yes." Have I changed my mind about using food as portal into the inner recesses of one's life, "no."
Q. What about people like Oprah who invest in mindful eating for a while, then reinvest in dieting? How do you understand their change of plans?
A. I can't speak for Oprah, but, in general, for somebody to commit themselves to what I'm talking about requires really wanting to change one's life. It's not a fast fix, although I get literally hundreds of letters from people who tell me they've read one of my books, they've started following the eating guidelines, and they've lost weight. It depends on your own longing to live a different way and, therefore, to eat a different way. How you eat is a reflection on how you live. What you do with food, you undoubtedly do in the rest of your life. If you don't take time for yourself, if you don't value yourself, if you're not kind to yourself, if you berate, deprive and punish yourself, if you believe you have to achieve in order to be loved, that will be reflected in your relationship with food.
This [approach] requires a certain understanding that the way you've been doing it hasn't really worked. It might work in the short-term, but it doesn't lead to lasting change. [Unless you explore] the unspoken reasons you were using food to begin with, the [problematic eating] pattern is not going to stop. Some people are willing to have that be the case. They're not interested in looking any deeper. [They'd rather] go on a diet every six months or a year, lose weight and gain back more, then go on another diet. When something unexpected happens as something unexpected always does -- someone you love gets sick or dies, your spouse loses his or her job, you're in an accident -- the reasons why you use food when you're not hungry will come back. You'll be haunted in some way.
Q. How do you understand why so many people struggle not only with eating issues, but with bad body image, too?
A. We have ideas about what we should and/or want to look like in order to value ourselves. Those ideas often don't have to do with our particular bodies. When there's a separation between our ideas and what we actually look and feel like, we see ourselves through the filter of our judgments. It's our willingness and quickness to judge ourselves, not just our bodies, but on almost every other level. Many of us are most aware of our bodies [and how they don't measure up.] It's so cruel, harsh and unforgiving, but it's the tendency to be cruel, harsh and unforgiving to ourselves that we need to pay attention to. Bad body image is only an expression of that tendency. It doesn't show up just there.
Q. Any simple suggestions for softening that judgment and boosting body image?
A. A couple of times a day, I recommending asking yourself: "What's not wrong with my body now?"

Q. Is there a new book in your future? Do tell!
A. I took a little break from writing when Lost and Found came out about a year and a half ago. Now I'm writing again. That's all I can say because the creative process, as you know, happens mostly in the dark.
Photo by Susan Schelling Photography
Jean Fain is a Harvard Medical School-affiliated psychotherapist specializing in eating issues, and the author of "The Self-Compassion Diet." For more information, see www.jeanfain.com.
For more by Jean Fain, LICSW, MSW, click here.
For more on body image, click here.