China looks gorgeous! Never afraid of red, yellow and blue, our host remains a consistent visual treat on Work of Art. With no lines to memorize, she thus comes prepared. So, why start this blog highlighting the stylish host? Her runway looks might be an aside -- but 10 minutes in, China, waft in lavender, is more visual treat than the thrift store art.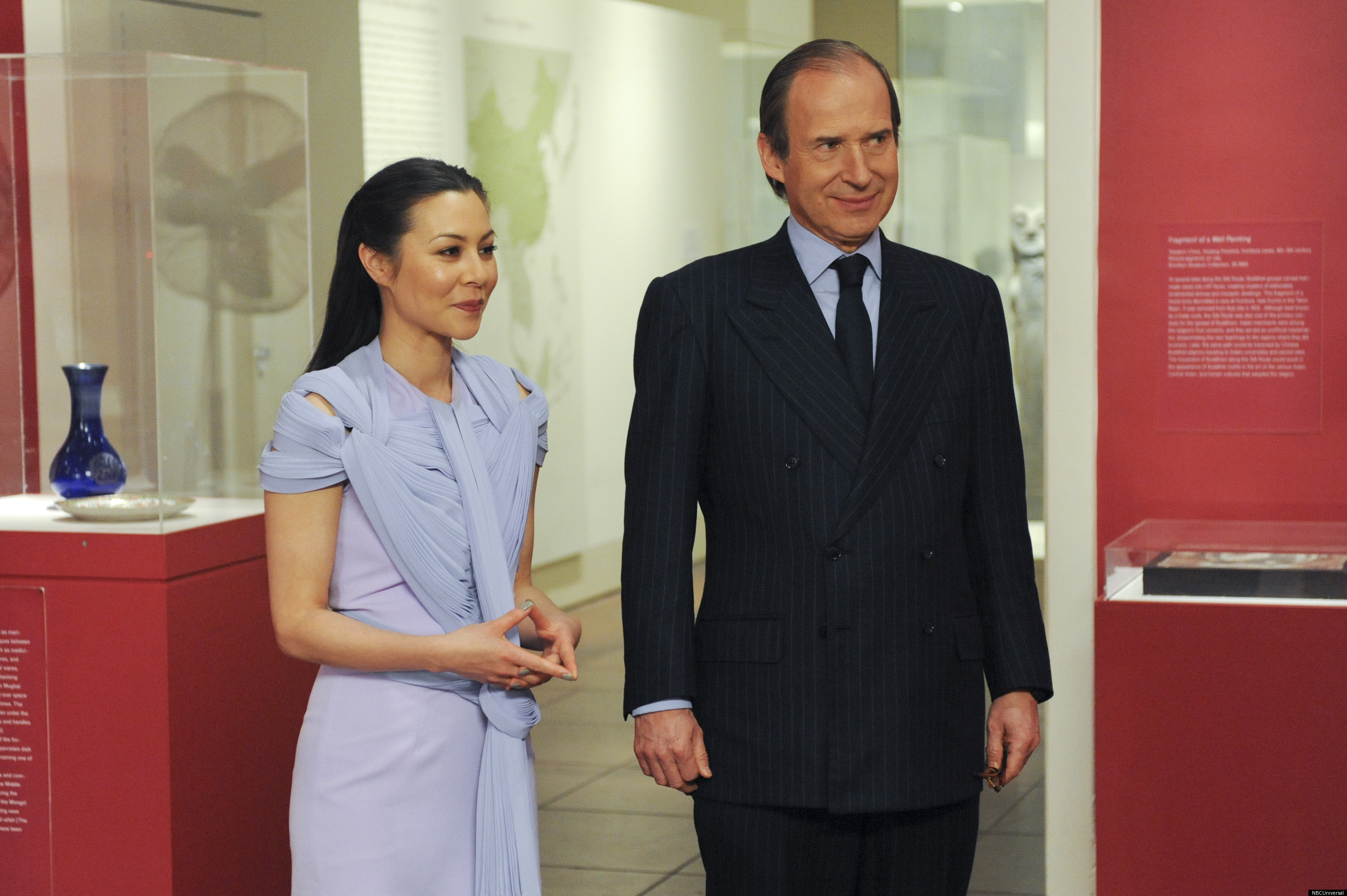 We meet Season 2 contestants at the Brooklyn Museum. I question why the camera does not take us on a collection tour of this great museum. The challenge, entitled "Schlock Art," in concept is cool -- but I don't want to see these kitsch cast-offs in this museum so full of treasures! But, the pun is clear to the artists -- to get to the top of the art world with a show at the Brooklyn Museum, they must start from the bottom.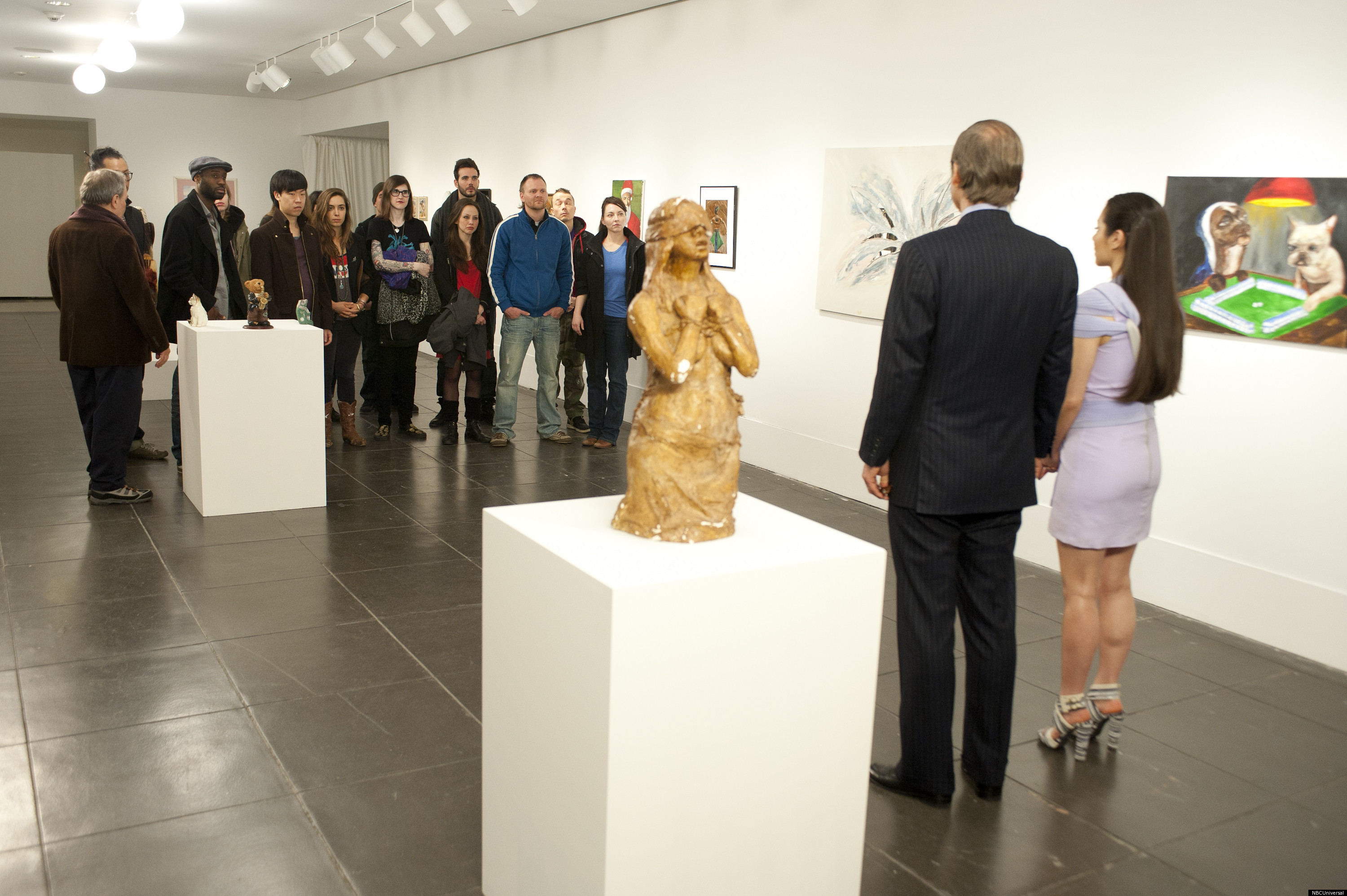 Is it the camera, or the art that needs a tweak? The long, far away camera shots do not help. And, art always needs a lot of help -- thus an industry built upon Gluckman white boxes, curators and white glove installers... While the WoA camera often grabs telling facial expressions up close, it barely has time to rest on the artworks. I'm missing a camera's loving, lingering eye. Paint, clay and saw should show as sexy as the icing, batter and knife.
I wanted to get a closer look at the kitsch offerings before and after -- Michelle's owl totem, as well as the strange mountain paintings of Kymia -- which do not reproduce nearly as well as applauded by the judges. I wanted my TV screen to fill with the details of Jazz-Minh's coiled ceramic sculpture. We look at art from two-vantage points -- far away, and the connoisseur's close up. A photogenic artwork thrives in today's media. Thus, the artwork either needs to reproduce well, or benefit from a great photographer.
A cool visual gimmick, this season introduces the sped-up camera -- this works great, as we see the artists building up their hours of work in seconds! The sponsor' stocked studio looks generous in scale and is properly non-descript (remember the decorator striped wall in season 1?). But, enough said about set and production. As the artist's dwindle, we will certainly meet a more intimate eye of the camera...
As an outside art advisor for the show, I spent an afternoon reviewing the finalists DVDs -- the producers had narrowed it down to their top 20 of each sex. In the female group, for example, I put down my vote for Sarah (Cranbrook grad and art professor), Michelle (Marilyn Minter's beloved desk assistant) and Lola (worked for sculptor Robert Graham). The 26-year-old Sara Jimenez, though, sounding as if she was on a dating service and described herself as "open, honest and willing" -- also made the cut. Kymia was my alternate for a girl named Dinorah -- who never made it through the final interview process. I knew Kymia would be a Magical Elves/Pretty Matches/Bravo favorite alone from her uninhibited dance on her tryout reel. And they were right -- she will be super fun to watch! All the women look pretty strong on this opening episode.

My real disappointment was when practicing LA artist, Sean Duffy, dropped out of the running last minute. He just could not bring himself to sign the contract. Lots of phone calls -- back and forth -- questions of who would own his work output (turns out Magical Elves) and so on. I don't blame him -- but next season stronger artists must apply -- or it will just be more of the same. Though missed, I am thrilled he considered the show, and the dialogue with the producers proved relevant. Of course, the show would benefit from head to head combat between titans, rather than mortals. Amateur vs. professional. But still, people love real people.
And, of the boys -- they range from sweat hick art teacher to more than one confident street artist. The self subscribed "super villain," Sucklord, might be hard to take seriously. I don't care that Simon has bought one of his works -- for which I can only imagine was a whim street-fair purchase. First impression -- his smirk and lecherous stare down is creepy, though benign. Perhaps his disguise will slip? And, his tag, Sucklord, hmm. I prefer the single-named performing artist -- Cher, Bjork, Madonna, Prince, Beyonce, babyface... With my prissy midwestern upbringing -- I don't even like to say the word "suck" -- it goes in the yucky word category, such as "zit" and "cunt." But, I give him HUGE credit as perhaps the single artist on show who makes a bona fide living on his art!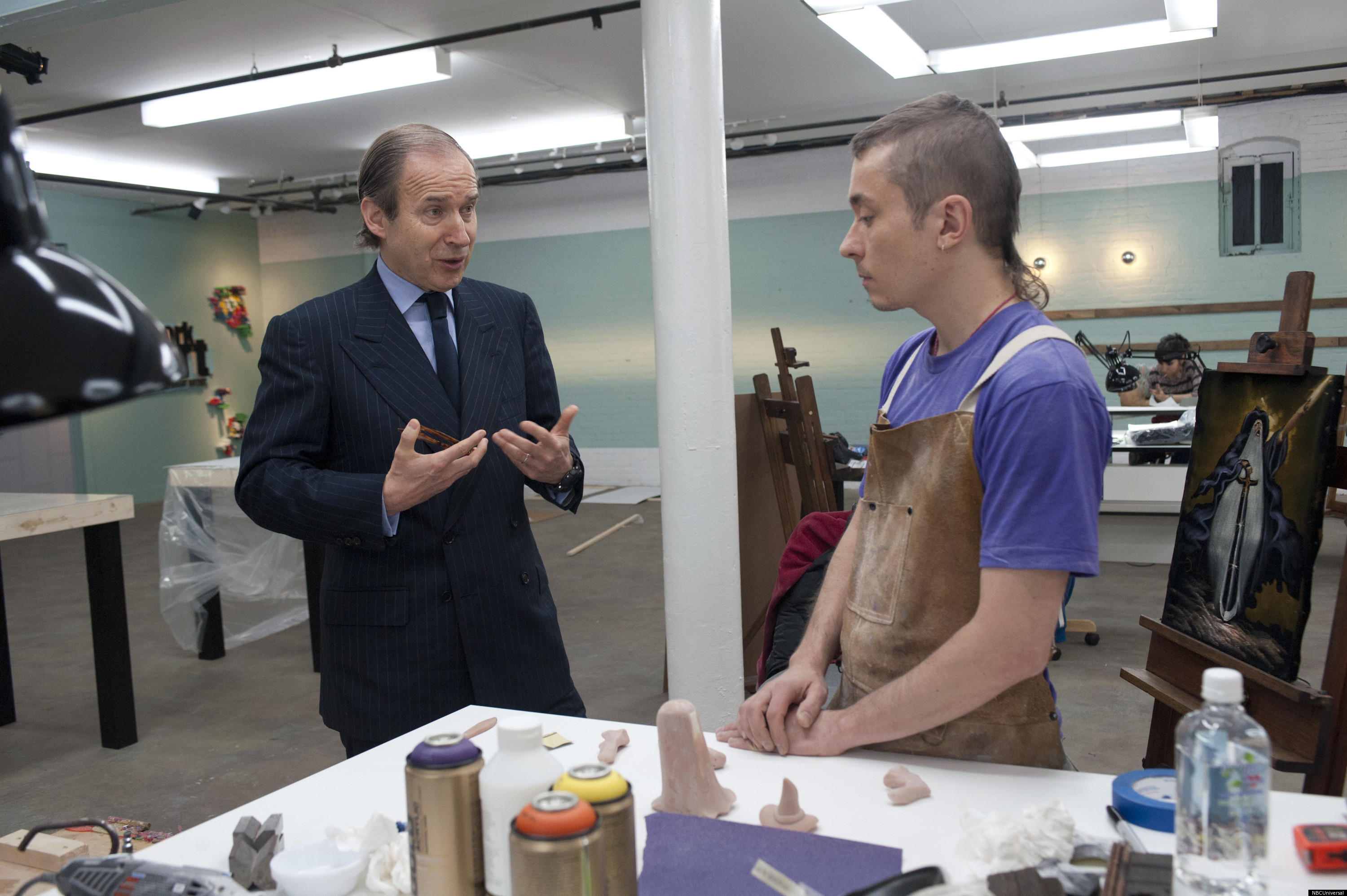 Ugo had his minute. Though great eye candy -- the judges made the right call. Bayete, though called down, will hopefully be a quick study. And, go, go Michelle. Guilt by association to Marilyn Minter, I cannot help but root for her. (Though when I join in as a guest judge, I promise to wear a professional hat.) Her description of her recent car accident was disarming. And, who knew she was a real life Edward Scissorhands?