Nearly half of Israelis say that Prime Minister Benjamin Netanyahu should not speak before Congress on Tuesday. The poll, taken earlier last month, is remarkably consistent with polls taken in the U.S. over the last few weeks.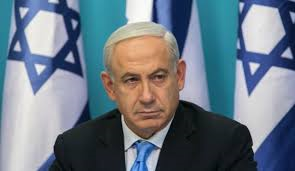 According to an Army Radio poll from February, 47 percent of Israeli's believe that Netanyahu should have cancelled his Tuesday address. In contrast, 34 percent said he should not have cancelled and almost 20 percent had no opinion.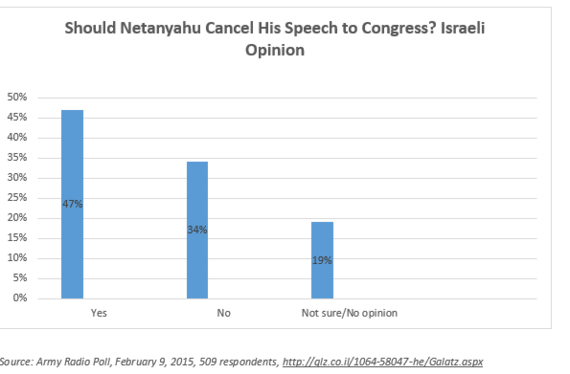 These findings are remarkably similar to the results of the latest NBC News/Wall Street Journal poll which show that 48 percent of Americans oppose Netanyahu's decision to speak. Almost half of those questioned said that House Speaker Boehner shouldn't have invited the Prime Minister, while 30 percent support the invite, and 22 percent do not have an opinion.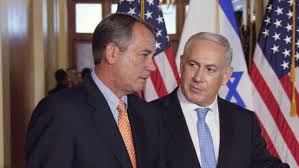 Despite the disapproval, however, more than 6 out of 10 Israeli's say the speech will have no impact on their vote in the March 17 election.
Similarly, despite a lack of support for the way in which he was invited, the NBC News/WSJ poll finds that Netanyahu's approval rating among Americans has increased to 30 percent (up 6 percent from what it was last year). This is in keeping with a Gallup poll released Monday which found that 45 percent of Americans view Netanyahu favorably (an increase of 10 percent from 2012).
While the Army Radio poll shows almost half of Israeli's surveyed oppose Netanyahu's address, another poll taken a month earlier found that opposition to the Prime Ministers speech is even greater. The Peace Index Column from January found that 58 percent of Israeli's thought that the Prime Minister should have rejected the invitation from the GOP. That same poll found that almost 7 out of 10 Israeli's (67 percemt) feel that Netanyahu's trip was designed to influence his election prospects at home.
Opinion can change, particularly as an event draws closer, so looking at polls of Israeli opinion in January and February may be misleading. That said, available polls show that while almost half of Israeli's oppose Netanyahu's address to Congress, the vast majority also say that it will not impact their decision at the voting box. Similarly, whereas the American public tends to disapprove of the way Netanyahu was invited, they nevertheless support him and are interested to hear what he has to say about a potential nuclear deal with Iran.