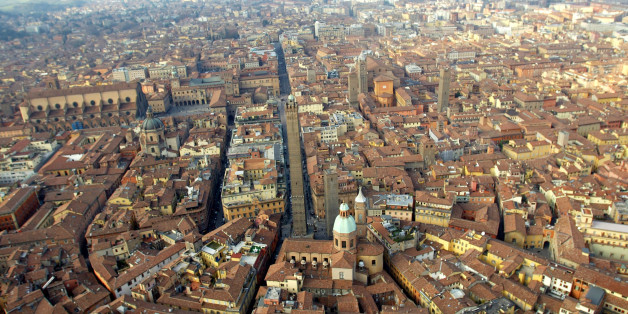 As 200 rescued African immigrants, including children, arrived by bus at a refugee center in Bologna, I sat down with acclaimed Teatroaperto founder/director Guido Ferrarini in this northern Italian city last week, to discuss the launch of a new international theater arts project on the unfolding immigration shift in Europe.
In one of the largest refugee exodus in years, more than 63,000 immigrants from largely African and Middle East countries have already made the dangerous boat crossing from Libya to Sicily in recent months. Last month, Italian officials retrieved 30 dead bodies in a fishing vessel. Dozens more were reported as dead or lost in the sea off Libya today.
"I'm not sure anyone understands the trauma we carry," Frederick, a Nigerian immigrant who had made a similarly treacherous boat journey to reach Italy, told me a few days ago in Bologna.
For Ferrarini, who founded Teatroaperto in 1974 in the tradition of "Nuovo Teatro Popolare" movement, this sense of urgency was one of the driving forces behind the founding of a timely and unique intercultural theater arts collaboration to pull back the curtain on the immigrant experience, often lost in the endless political debates, provide a stage for immigrant voices, and foster dialogue and cultural exchange with actors, artists and audiences from "Mare Nostrum" countries in Europe, Africa and the Middle East.
"With this theater arts project," Ferrarini told me, "we are touching one of the most important, compelling and unavoidable issues of our times: the integration of peoples. This process is inescapable, and our role is to reintroduce in the theater the challenges of immigration, or better, the migration of people on earth."
As part of the commitment and goals of the intercultural arts collaboration, Teatroaperto will launch a European and eventual world tour of an original play on the parallels between today's immigration stories and the past, and sponsor a special laboratorio per attori stranieri at Teatro Dehon in Bologna. Through the laboratorio, students and actors will incorporate their own stories, music and theatrical traditions from their respective countries on their migration journeys and cultural contributions, as part of the Teatroaperto training process.
In a time of unprecedented migration and cultural clash in Europe, Teatroaperto's initiative also draws from Italy's own historical narratives of migration and diversity, dating back to Ancient Rome and the creation of the first "Mare Nostrum."
Since an immigrant boat tragedy off the Sicilian island of Lampedusa last October, which resulted in 366 deaths, including children, the Italian government has established a "Mare Nostrum," or "Our Sea," marine rescue policy.
"It is unacceptable that a boat filled with children is allowed to sink only because it is not clear who's responsible for it," Italian Prime Minister Matteo Renzi told the European Union members last month. "In these very hours, there are record numbers of women, men and children arriving on our shores, 96 per cent from Libya."
But the primary mission of Italy's "Mare Nostrum" and European Union's Frontex border mandate -- saving lives -- is in jeopardy, as Italy struggles to foot the growing bill almost single-handedly on Europe's southernmost border.
As the US struggles to handle the crisis over refugee and immigrant children arriving from Central America this summer, according to Ferrarini, such a global theater arts initiative should even go beyond Europe's own borders. More than 5,000 unaccompanied children have also been included among the arrivals in Italy.
"The stage is the ideal and recognized place where a catharsis can take place," according to Ferrarini, who has worked with Nobel prize winners Samuel Beckett and Dario Fo, as well as European artists Fernando Arrabal, Jean Baudrillard and Cesare Garbol. "This project already proposes in itself an integrated process: it involves members from three important border regions -- Italy and fellow countries in the Mediterranean Sea, the United States, and Canada -- in a cross-cultural participation in its artistic production."
Recent immigrants also include young men like Frederick in Bologna. In his early 20s, he left his civil war-torn Nigerian town, dodged criminal gangs across the Niger deserts, and hid out in Libya until he managed to make the boat journey to Sicily.
"Returning is not an option now," he said. "Perhaps in the future, but not now. There are too many pieces to put together."
For Ferrarini and other international members of Teatroaperto, including myself, the theater -- as the stage for Europe's unfolding Mare Nostrum challenges -- can at least provide for a safe, healing and creative space, as well as a historical and narrative context, for such stories to be voiced and heard.