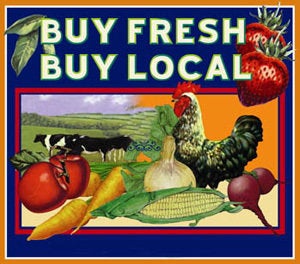 Campaigns that highlight the importance of local independent business can provide a big boost for small businesses and local economies battered by the recession, suggests a new survey by the Institute for Local Self-Reliance.
Data on 2010 revenues gathered from nearly 2800 independent business revealed those businesses in communities with grassroots "buy local and independent" campaigns averaged a solid 5.6 percent increase over the previous year. This gain more than doubled the 2.1 percent increase reported by independent businesses in areas lacking such a campaign.
Retailers in "buy local" communities fared especially well. They enjoyed a 5.2 percent increase in holiday season sales, while independent retailers elsewhere reported average gains of just 0.8 percent.
Additionally, nearly two-thirds of respondents said public awareness about the benefits of locally owned businesses had increased in the last year and 55 percent believe their local campaigns increased customer loyalty.
These local alliances, now active in some 140 communities, typically are started through collaborations between concerned citizens, business owners from all sectors, and civic organizations.
While local governments and chambers of commerce sometimes are allies in such efforts, these entities often introduce campaigns defining "local" so as to include corporate chains with a local outlet.
Stacy Mitchell, who conducted the ILSR survey, views these promotions skeptically. "These campaigns don't resonate with people. According to our survey, what's motivating people to change their buying habits is desire to support locally owned, independent businesses and wrest control of their economies away from big corporations. Slapping a 'buy local' sticker on a Walmart doesn't work," says Mitchell.
Local alliances typically get word out through community talks, generating media coverage, posters, bag-stuffers and a wide array of other means to make the benefits of doing business locally-owned an everyday message. Since these alliances typically start with modest investments by local businesses and citizens (though more local governments are beginning to fund genuine alliances), they rely on the exposure generated by each member using their own websites, windows, vehicles, etc. to spread the message.
Focusing on local ownership is a core component of effective campaigns, which encourage citizen engagement as well as shifting consumer choices. "Obviously, we want residents, businesses and institutions to do more business locally," said Steve Bercu, co-founder of the Austin Independent Business Alliance. "But we also want citizens to recognize their right to influence local policy and level the playing field for independently owned businesses."
The Austin IBA played a crucial role in successfully rallying citizens to stop a $2.2 million city subsidy intended to attract a chain competitor just a block from Bercu's independent store, Book People. Tellingly, without the subsidy, the chain never came."
While the ILSR survey doesn't prove these alliances caused the respondents' sales increases, strong correlation in each of the survey's four years offers strong evidence that well-designed campaigns do shift local culture. Supporting evidence also was provided by a separate study recently released by the research firm Civic Economics. Their Indie City Index ranked all 363 U.S. Metropolitan Statistical Areas according to estimated market share of their retail sectors held by independents. More than half of the top 36 performers are home to Independent Business Alliances or Local First groups.
Since the study measures metro areas, not individual cities and towns, some cities may fare dramatically better or worse in reality. Nevertheless, it offers a useful baseline for metro areas to gauge their future progress in sustaining their independent retail sector.
Civic Economics has conducted several economic impact studies for cities across the country (New Orleans, Austin, San Francisco and Chicago, for example) showing a powerful local multiplier effect that results from recycling of capital spent at independent businesses.
Mitchell believes this multiplier is a key to our economic recovery. "Spending and investing more with local independents is powerful economic stimulus for communities," she notes. "And, when done right, campaigns to promote local independent business can play a vital role in enhancing that multiplier."